Our Favorite Organizations
Wounded Warrior Anglers of America, Inc.
Wounded Warrior Anglers of America, Inc. was founded in 2012 by Dave and his wife Judy Souders. Its mission is to "help rehabilitate the mind, body and soul of all service members who have been injured, wounded or disabled in the line of duty no matter what their era of service."
The organization helps its warriors by taking them out on the water for a day of fishing. This outing helps promote a friendly and peaceful environment to help warriors heal.
Wounded Warrior Anglers also help the warrior's caregivers by treating them to a day of relaxation at the spa.
Learn More at
Save Auburn Ravine Salmon and Steelhead
SARSAS is trying to do with one stream, the Auburn Ravine, what must be done to all streams and rivers on the entire West Coast and that is to make the entire length of the ravine navigable for Anadromous Fish.
The health and well-being of Salmon is directly linked to that of people. If we improve the health and well-being of Salmon, we improve the health and well-being of mankind and therefore ourselves.
Salmon are as resilient and adaptive as humans; when they can no longer adapt, neither can mankind. They need our help….NOW.
Save Auburn Ravine Salmon and Steelhead (SARSAS, Inc.) is a 501C3, tax exempt, public benefit corporation with EIN 80-0291680 All donations to SARSAS are tax deductible for the donor.
Learn More at
Rivers of Recovery
Rivers of Recovery is dedicated to providing rehabilitation to physically and psychologically injured combat veterans through innovative, outdoor-based therapies and pioneering research.  We strive to provide our participants with therapeutic programs which result in measurable and sustainable improvement.
Our programs are designed to re-enable and re-energize participants and provide the support and self-confidence necessary to maximize long-term recovery.
Learn More at
http://www.riversofrecovery.org/
HEROES ON THE WATER
OUR MISSION
To help warriors relax, rehabilitate and reintegrate through kayak fishing and the outdoors.
HOW WE HELP
Since being founded in 2007, Heroes on the Water has been organizing no-expense kayak fishing trips for active-duty military and veterans of the U.S. armed forces and their families. Heroes can reflect in solitude or connect in groups as they learn kayaking and kayak fishing basics.
Recurring activities give heroes and their families camaraderie and a lifelong social network with like-minded people. Plus, no experience or equipment is needed, and kayak fishing is adaptive to those with disabilities.
Learn More at
https://heroesonthewater.org/who-we-are/programs/
PROJECT HEALING WATERS
Project Healing Waters Fly Fishing (PHWFF) began in 2005 serving wounded military service members at Walter Reed Army Medical Center returning from combat in Iraq and Afghanistan. Since then, PHWFF has expanded nationwide, establishing its highly successful program in Department of Defense hospitals, Warrior Transition Units, and Veterans Affairs Medical Centers and clinics.
Project Healing Waters brings a high-quality, full-spectrum fly fishing program to an ever-expanding number of disabled active military service personnel across the Veterans Affairs Healthcare System, in Military Hospitals and the Warrior Transition Command. We focus our resources wherever the need is greatest and expand our partner base in the process. PHWFF has become recognized as an innovative leader and model in the field of therapeutic outdoor recreation for the disabled, through its successful application of the sport of fly fishing as a rehabilitation tool.
Learn More at
http://www.projecthealingwaters.org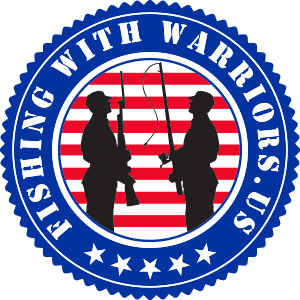 FISHING WITH WARRIORS
Our Mission
Say Thanks
Give Back
Catch Fish
Feed The Soul
Honor Sacrifice
What We Do
Dedicated to the more than 21 million veterans of the United States armed forces, Fishing with Warriors is a not‐for‐profit, volunteer run organization, that seeks to help the brave men and women of all branches of the armed forces experience the joy, passion and spirit of high level sporting events and activities at no cost them.

Founded and led by former service members, Fishing with Warriors connects worthy warriors to world class sports. Whether it's that once‐in‐a‐lifetime fishing trip in the blue seas off of Costa Rica, the thrilling last day of the U.S. Open golf championships, or the championship playoff games for the NHL, NFL , NBA or MLB, our goal is to create lasting, lifetime memories for those who have served our nation.

Fishing with Warriors handles all costs of these veterans' trips – transportation, lodging, meals and any entry fees – and 100% of donations to the organization are dedicated entirely to covering these costs.

This is a small way to say 'thank you' to men and women who have given so much in service of our nation. Please join us in this effort, on behalf of exceptional American heroes.

We are a group of Vets that know you need a break from the normal stresses of daily life. We are dedicated to giving you a trip you will remember forever. To us; nothing makes you forget your daily life's troubles and stresses like fishing for fish as big as you are. All you have to do is watch the waves and sky and the horizon. As your worries melt away the fish will find you.

When you are not fishing you will be surrounded by others that only want to fish and enjoy themselves. Good food, Good accommodations, Great atmosphere and friends that understand exactly what you have had to deal with.
Learn More at
https://www.fishingwithwarriors.us
Take a Warrior Fishing
Established in 2011, TWF events are designed to support military personnel and their families, by creating an adaptive, community-based outdoor recreation experience through the sport of fishing.
Goals
Support positive social interactions with the civilian world
Restore disconnect in the home by increasing family interaction
Encourage outdoor recreation as a therapeutic outlet
Empower Veterans to advocate for positive self growth and change
Learn More at
http://castforkids.org/project/twf-program/
Cast Hope
Cast Hope is a 501(c)(3) nonprofit organization looking to provide kids with the gift of the outdoors. As an organization it is our desire to bring kids and mentors together outside through the sport of fly fishing. In this day and era it seems that our lives are constantly bombarded with screens, whether tvs, computers, ipads, ipods, and gaming systems. Here at Cast Hope we want to break that pattern by immersing people into the environment. Through guided fly fishing trips, fishing clinics, fly tying events, camp outs, road trips, and conservation outings we are trying to create a healthy hobby that kids and mentors can do together. We believe if you provide a positive experience for kids where they grow deeper in their relationship with the mentor, learn how to effecitvely fly fish, receive free necessary equipment, find out that the outdoors has much more to offer than their latest gadget, and learn about how to conserve and sustain our natural resources, then they will naturally want to become outdoor enthusiasts. As an organization it is important for us to provide an environment where kids can become stewards of the outdoors and fly fishing.
Learn More at
C.A.S.T. for Kids Program
The C.A.S.T. for Kids Event was designed to create an adaptive environment where children, ages 5-17, and adults could both benefit, sharing a day of fun on the water that they may not otherwise have the opportunity to experience.
Goals
Expose children, who may not otherwise get the opportunity, to the sport of fishing and the enjoyment of the outdoors
Encourage continued participation in fishing by developing skills in the children along with their parents
Provide education and understanding to children about fish as a natural resource
Increase the awareness of all participants, parents, sportsmen, and volunteers, to the capabilities of children with disabilities, in effect strengthening local communities
Learn More at
http://castforkids.org/project/cast-for-kids-program/
Fishing Kids
"Getting more kids fishing, more often", established in 1996, with a focus on urban youth and teaching angling and environmental stewardship.
Goals of the Fishing Kids Program
Provide a meaningful and enjoyable fishing opportunity to local youth
Promote fishing as an alternative leisure activity
Offer education elements such as angler ethics, fish identification, and water safety to local youth
Develop skills that provide a lifelong hobby
Learn More at