Whiskeytown Lake Kokanee bite heats up!
6-25-2017
Written By Jeff Goodwin
(707) 616-1905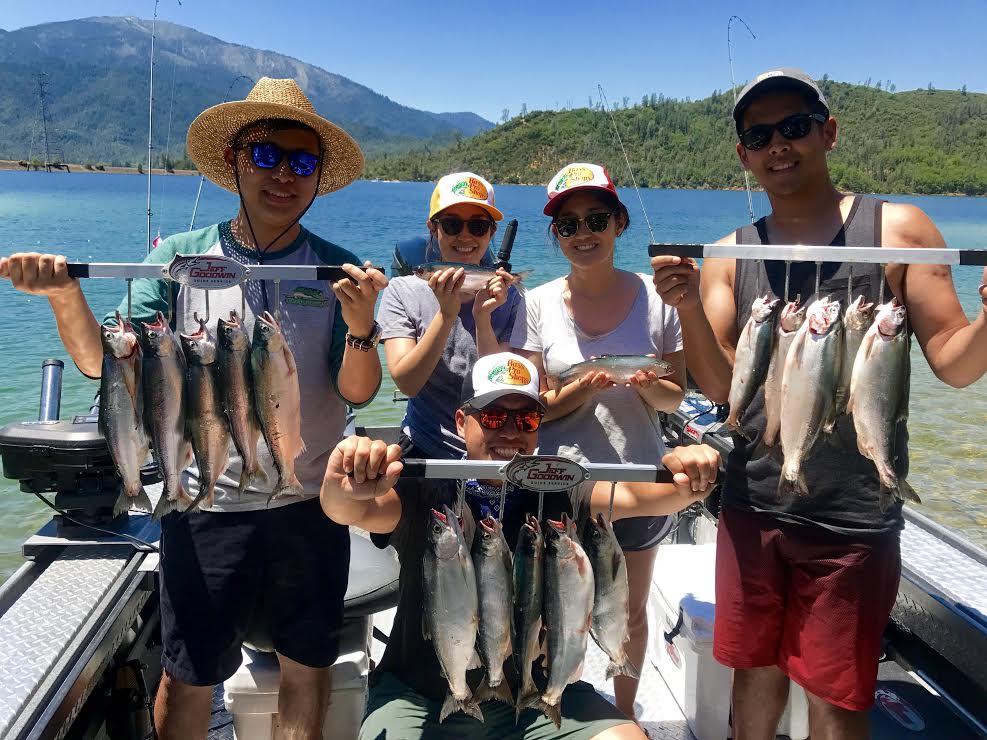 The week preceding the Father's day weekend has once again seen an improvement in the Whiskeytown Lake Kokanee bite.  Surface temps on the lake have risen nearly 14 degrees and water levels have stabilized near 1209' feet for the time being.  Strong winds and triple digit air temps kept a lot of pressure off the Kokanee, but the number of boats on the water this weekend is definitely on the rise.  Overall, the bite has been slow and sporadic for most boats, but many of us who fish Whiskeytown a lot are finding a lot of bites every day.  With cooler air temps and lighter winds forecasted for Whiskeytown Lake next week, I believe most boats will see an increase in their bites as we head into July.
My latest success on Whiskeytown Lake was found at 53'-55' and most, if not all, of the Kokanee were caught at that depth.  It's really not hard to tell what depth you should have your lines set at because you will clearly see the line of fish on your sonar.  I did mark Kokanee as shallow as 40', and even at 60' feet in some areas this week, but there is a depth that you will find the biters.  Try to stagger your lines at different depths to find the active biters.  Once that active depth has been established, often times you will catch fish there all day long.  You can then adjust all of your other lines accordingly while trying different baits and colors until you find something the Kokanee are keying in on.  Often times the Kokanee will be spread out over many locations on the lake.  You can troll and pick up Kokanee as you go along, or you can stay on a school when you find one with biters.  
The key to my success with Wjhiskeytown Lake Kokanee is to work for your bites all day.  If you don't try different colors, different baits, different depths, or even different scents on your corn, you will have some slow days on the water.  Every day you Kokanee fish should be treated as a new day and not like it was yesterday.  There may be days when that one bait continues to produce, but most often your hot baits will change from day to day.  As an example, a bait or a color that is killer in the morning may not even get touched in the afternoon. That's just how these Kokanee are.  Always start with your basics or what experience has provided you on previous outings and then make the necessary adjustments throughout the day to find the right baits and the right depths for that particular day.  If you fail to make the daily adjustments and just troll around doing the same thing you've always done, you will come up short on most of your outings.  Practice the recommendations I have laid out for you here and I expect you will be pleasantly surprised at the results while fishing for Kokanee on Whiskeytown Lake.
http://www.norcalfishingnews.com/fish_reports/67878837/whiskeytown-lake-kokanee-bite-heats-up!.php