6-6-2017
Written By Jeff Goodwin
(707) 616-1905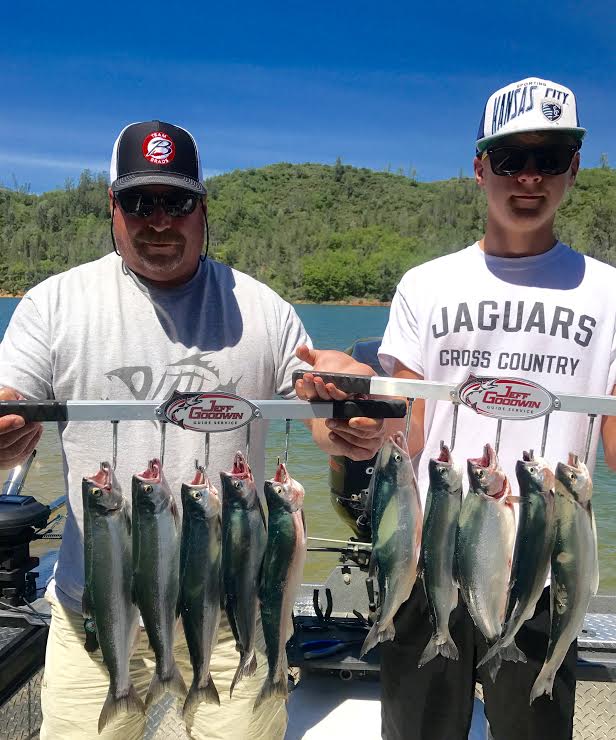 Whiskeytown Lake Kokanee action improving
Last year, there were a lot of NorCal Kokanee anglers out there who got to experience some of the fastest action Kokanee fishing on Whiskeytown Lake in many recent seasons.  Just about everyone who fished Whiskeytown Lake last summer caught at least a few Kokanee if not full limits.  For many, it was the first season they had fished Whiskeytown Lake and boy did it leave a lasting impression.  As this spring approached this year, Kokanee anglers eagerly anticipated another great start to a non stop Kokanee catching season on Whiskeytown Lake.  As the lake began to warm up and as the rains slowly subsided, boats started to venture out onto the Whiskeytown Lake Kokanee grounds in big numbers.  Everything seemed to be in place for another stellar season of non stop Kokanee salmon action on Whiskeytown Lake.
As Kokanee anglers started to catch the first few Kokanee salmon, it seemed everything was right on schedule and by mid April the fishing was good!  That is until spring disappeared for a few weeks, chilling the lake with cold, brutal winds, day after day until the Kokanee simply just shut down.  After a few weeks worth of easy limit fishing, anglers were left scratching their heads and wondering where all the Kokanee had gone.  Catch numbers dropped dramatically and frustrations on the water were running high.  Everyone had an opinion why the fishing got so bad and began to blame the weather, water, crowds, and even social media for the poor fishing.  The truth is, the fishing didn't go bad, it just wasn't easy anymore.  
I'll admit, I was spoiled by the great Kokanee fishing on Whiskeytown last year too.  Throw on your favorite baits and dodgers, include some pink or orange in your presentation and it was easy fishing.  You could drop your lines to 30', 40', 50', or down 60' and simply catch fish at every depth.  Double or triple hook ups were seen almost daily and most days were short after getting limits in just hours.  Let's face it, last season was epic, but can we really expect Whiskeytown Lake Kokanee fishing to be that good every year?  I don't think so unfortunately, and here's why.
There are always environmental factors which play a role in any fish containing environment, including Whiskeytown Lake.  Last year the Redding area saw some decent rainfall over the winter season, but it was nothing compared what our area saw this year.  This most certainly has had some kind of an effect on this year's class of Kokanee in Whiskeytown Lake.  The number of Kokanee we are seeing so far this season is obviously a reflection of the success of the spawn that created this years fish nearly three years ago.  Remember, we didn't have a lot of rainfall in November of 2014 and that's part of the equation for a successful spawn in the Whiskeytown  tributaries.  The bite last year was insane and a lot of this years Kokanee were caught and harvested which most likely has put a small but legitimate dent in the overall population of this years fish.  One indicator of a smaller population of adult Kokanee is increased size due to more available food.  If there are fewer fish in the system, there will be more food available for the fish that are residing in the lake now.  These factors can all play a role in the overall health of any given population of fish stocks, in any body of water.
It's my opinion that this year is going to be different than last year and more like the previous seasons we are used to seeing on Whiskeytown Lake.  I believe the fishing will be very good this year, not that it's bad now, it's just going to start a little later than it has the past few years. Ask any old timer on Whiskeytown and they will tell you the good fishing begins in July, not in April.  So until the fishing really picks up and the bite improves, take this time to go out and fine tune your Kokanee fishing skill set.  Step out of the box and try something different.  Some of the baits and or techniques you might stumble on while trying new things will really surprise you.  There's no better time to go out and improve your skills than right now and the time you put in during tough fishing conditions now will really pay off later on this season.  I'm trying baits I would have never thought would catch Kokanee, and guess what, I have some new favorites!