Whiskeytown Lake Kokanee fishing report
Written by Jeff Goodwin
6-12-2017
Website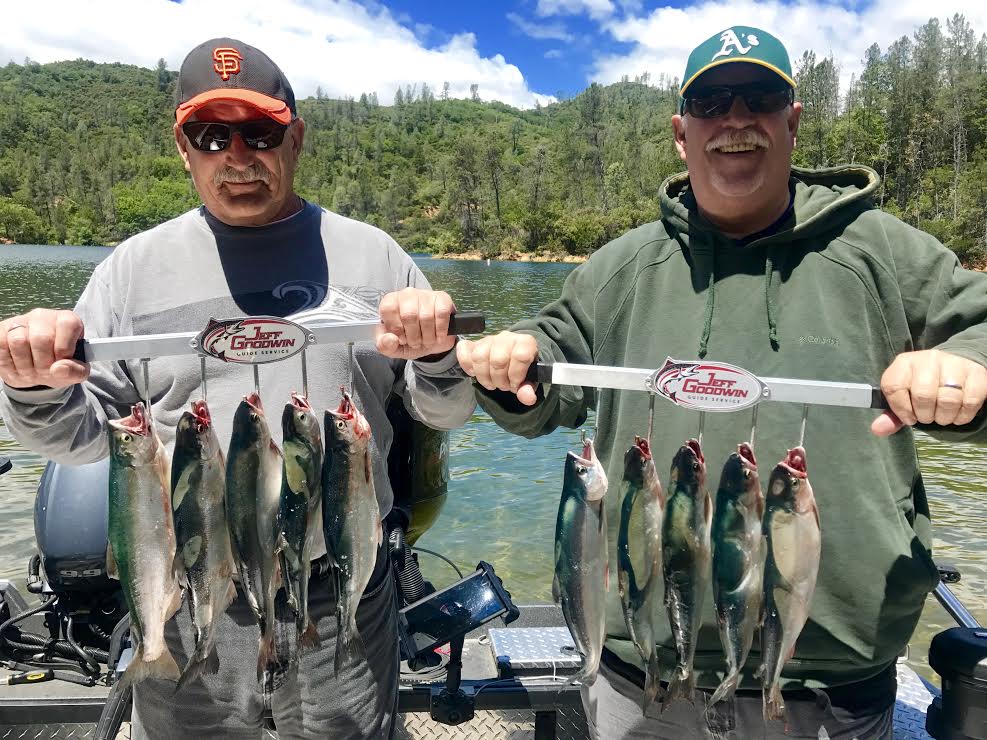 Kokanee Salmon
Happy clients with easy limits of Whiskeytown Lake Kokanee salmon. Photos courtesy of Jeff Goodwin's Guide Service.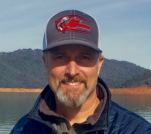 I've been on Whiskeytown Lake running guided fishing trips for Kokanee salmon during the past few weeks and can honestly say that the fishing has improved dramatically.  Just about everyone who pays attention to the Kokanee fishing on Whiskeytown knows we had a lull in activity at the end of May and the Kokanee fishing was tough.  For me the lull has come to an end and both the bite and numbers of Kokanee that are available has been impressive.  No, it's not a drop-your-lines-anywhere-using-anything-and-catch-a-Kokanee kind of good, but it's absolutely been good-enough-to-get-full-limits-for-the-boat kind of good if you put in the time.  
The Kokanee are now, and have been, sitting at 40' in the lake no matter where you are.  If you want limits right now, stick to 40'.  We do have triple digit temperatures coming by the end of the week so look for the Kokanee to react to the warming water this week.  We may be fishing at 50' by the weekend.  Trolling speeds are at the standard 1.1-1.5 mph and "S" turns here and there are triggering bites throughout the day.  I've been playing around with corn scents and they are all working, just make sure you're using one kernel per hook. The biggest problem many are having right now is that they are failing to use lots of different colors and types of presentations throughout the day.  If you've been hitting fish at 40' all morning on an orange hoochie that's great, but chances are, the Kokanee will lose a taste for that bait and will key in on a different bait at some point in the day.  You have to keep showing them different baits to keep those bites coming all day long. Last but not least, make sure you stay on the fish unless you feel like trolling lots of water. The Kokanee are running in small packs so there are areas of the lake that will be void of Kokanee. Either stay on the schools or be prepared to have some time in between bites.  Follow these tips and you should find success on Whiskeytown Lake daily.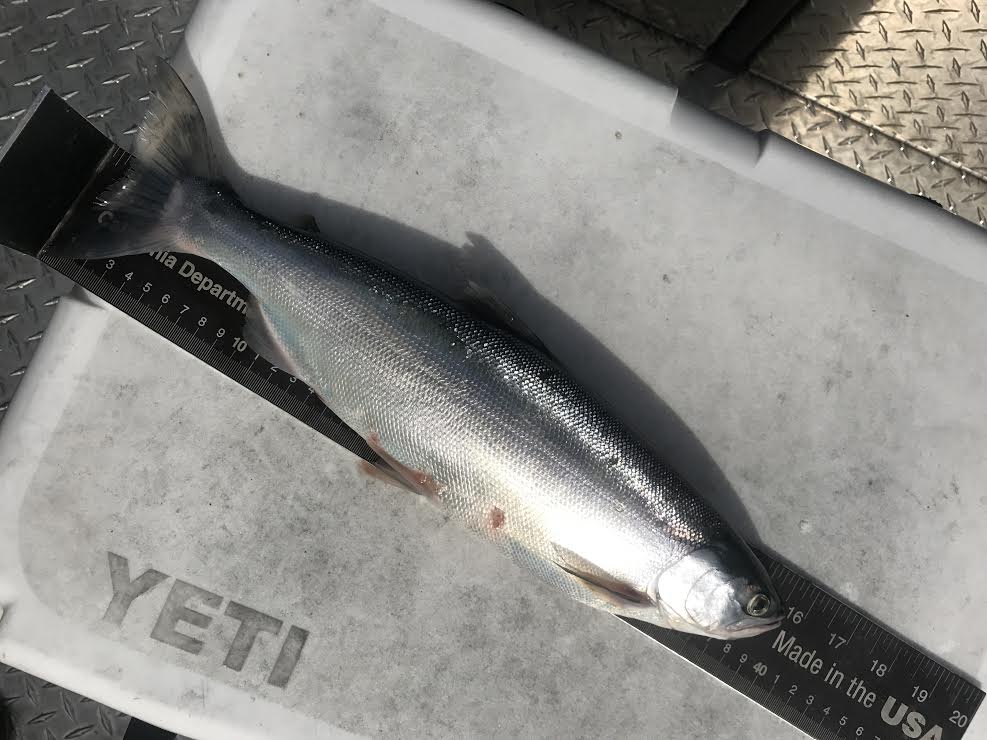 Kokanee Salmon
Kokanee salmon are averaging 14"-15" with many pushing the 16" mark this week.
I'll be fishing and guiding on Whiskeytown Lake all summer and will continue to keep everyone up to speed on current conditions.  This is an awesome fishery and it's gaining in popularity every season.  With Sac River King salmon fishing in somewhat of a slump for the next few years here locally, the landlocked King and Kokanee salmon fishing here in Redding will undoubtedly see a rise in popularity.  For anyone who is interested in learning how to fish Whiskeytown Lake for Kokanee salmon or would just like to spend a day on the lake fishing with friends or family, I'd love to introduce you to this amazing fishery and know through experience that you'll have a great time.  There's no rush and as long as you get out on Whiskeytown Lake by the end of September, the Kokanee will be available for everyone who gets after them.
Jeff Goodwin is a full time Northern California fishing guide.  He guides year round for salmon, trout, steelhead, Kokanee, and bass on Northern California rivers and lakes. He fishes many bodies of water in the Redding area, but also guides the Sacramento River and Feather River during certain times of the year. Jeff can also be found on the California coast chasing ocean fresh King salmon and steelhead each year. To learn more about the fishing trips Jeff has to offer, please visit Jeff Goodwin's Guide Service.  You can also find him on Facebook, Instagram, and Twitter, or please feel free to call him anytime at (707) 616-1905.
http://www.norcalfishreports.com/fish_reports/67878287/whiskeytown-lake-kokanee-fishing-report.php