Written by E.B. Duggan
7-17-2017
Website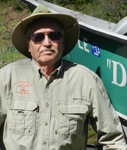 It appears that the Trinity River releases are in a planned release surge program. Lewiston Dam is releasing the July water surges to help move river bottom silt, fines and gravel. It also emulates snow melt for when nature would have hot days and cool nights.  This also helps move the smolt down the river towards the Klamath and onto the estuary where they will have the time to acclimatize to go out to sea. By moving the fines and some spawning gravel around to help for the fall run spawning, it also signals the spring run to get up stream so they can get into their creeks from where they originally came from. The surges will also push more gravel around so that when the fall run salmon do come up the river they will hopefully have gravel beds to spawn in. The big problem that many guides have complained about is that movement of the gravel also fills in or decreases the size of the cool holding pools. I have fished in the Upper Trinity and at times after these water releases I have witnessed this happening but not to a large scale. I have seen some good holding areas fill in and caused fishing to move elsewhere. I have noticed that spawning of some fall run salmon have moved down river from where they used to spawn. This has caused some concern about the Trinity River Restoration Program and is it doing what the science predicted some 30 years ago. 
With the great snow pack that fell this last winter many of us that fish the trinity were hoping that the spring releases would help keep the river cooler longer, but from what I have noticed this heat spell has negated the snow melt cold water and is heating it back up to the temperatures similar to that of when we had low water storage behind the dam. Water temperatures at the Hoopa water gauge is showing water temps of 67 degrees already even with the higher than normal water releases. Salmon do NOT do very well when the water temperatures reach 72 degrees and above. They die!! And eggs do not survive. 
Fishing: Lewiston Dam releases are down to 1,200cfs and many of the in flowing streams are starting to decrease in volume. There is still some good fishing but the salmon are starting to move a little faster up stream and holding up in the colder holes below incoming streams. Right now the best place to get a limit of salmon is at Grays Falls or Burnt Ranch Falls. If you hike down in the early morning you had better start out before noon because for the next couple of weeks it is going to be hot in the afternoons.  Last week, Ashley from Senora came up to fish in the Falls area and was able to catch 4 fish, one salmon was about 14lbs. He was able to catch and release two native steelhead and kept one hatchery steelhead. All of his fish were caught below the Falls and he fished with plain yarn, both red and orange. Not bad for a weekend of fishing. I have also heard of some being skunked but that is fishing. Most of the decent fishing on the Trinity has been happening above Douglas City in the early morning. 
Mid-Klamath: Iron Gate Dam is releasing 1,033140cfs so the upper part of the Klamath has become very fishable. Trout and steelhead fishing above I-5 has really picked up as the water flows have been dropping. Report from Seiad Valley are fishing is good in the early mornings with some action in the late evenings. This is good news for the fly fishers. The Mid-Klamath around Witchpec has also started to pick up with some salmon being hooked below the bridge and down to Young's Bar. I have to say that the early morning is the best because it really starts to heat up after noon. 
Lake Conditions: Whiskeytown is 98% of capacity with inflows of 2,098cfs and releasing 1,842cfs into Clear Creek & on to Keswick. Shasta is 90 of capacity (a decrease of 1% & minus 2ft) with inflows of 5,104cfs and releasing 8,269cfs, Keswick is 93% of capacity with inflows of 9,957cfs and releasing 9,921fs; Oroville Lake is 65% of capacity (a decrease of 10% & minus 2ft), inflow is 3,046fs and releases are 6,891cfs; Folsom Lake is 96% of capacity (minus 2% & minus 1ft.) inflows are 3,077cfs and releases are 3,783cfs. 
Trinity Lake: The Lake is 21ft below the overflow (increase of 0ft) and 85% of capacity (2% decrease) Inflow to Trinity Lake is 44cfs and Trinity Dam is releasing 2,803cfs to Lewiston Lake with 1,601cfs going to Whiskeytown Lake and on to the Keswick Power Plant with 9,921cfs being released to the Sacramento River. 
Trinity River Flows and Conditions: Lewiston Dam releases are 1,202cfs, water temps of 49.5 air is 89 degrees at 1:00pm. Sunday. Limekiln Gulch is 5.8ft at 1,238cfs, water temps are 52.3egrees and air is N/A.  Douglas City is 7.1ft at 1,241cfs, water temps of 53.1, air is 94. Junction City is 3.1ft at 1,200cfs.  Helena is 10.9ft at 1,425cfs with water temps of 57.6. Cedar Flat is 4.9ft at 1,557cfs. Willow Creek is estimated at 1,732cfs air is 90 and water at 64.5. Hoopa is 13.38ft at 2,011cfs with water temps of 67.1.  Flows at the mouth of the Trinity River at Klamath River are estimated to be 5,125 cfs.
Klamath: Iron Gate Dam releases are 1,033cfs.  Seiad Valley is 2.7ft at 1,604cfs. Happy Camp is estimated at 1,713cfs. Somes Bar is estimated at 718cfs. Orleans is 3.9ft. at 3,124cfs. Klamath River at Terwer Creek is 9.7ft at 5,791cfs, water temperatures of 70.1 degrees. Flows at Smith River, Dr. Fine Bridge are 5.4ft at 541cfs. 
Temperatures in the Valley last week were 97/53 degrees with 0.00 inches of rain with a season total of 84.45in of rain and 3.5in of snow. Temperatures in the valley next week are expected to be 91/48 degrees; with sunshine most of the next couple of week and temperatures running 95 to 50. A cool down from the three digits of last week. This should make for good fishing in the early mornings and possibly late evenings.