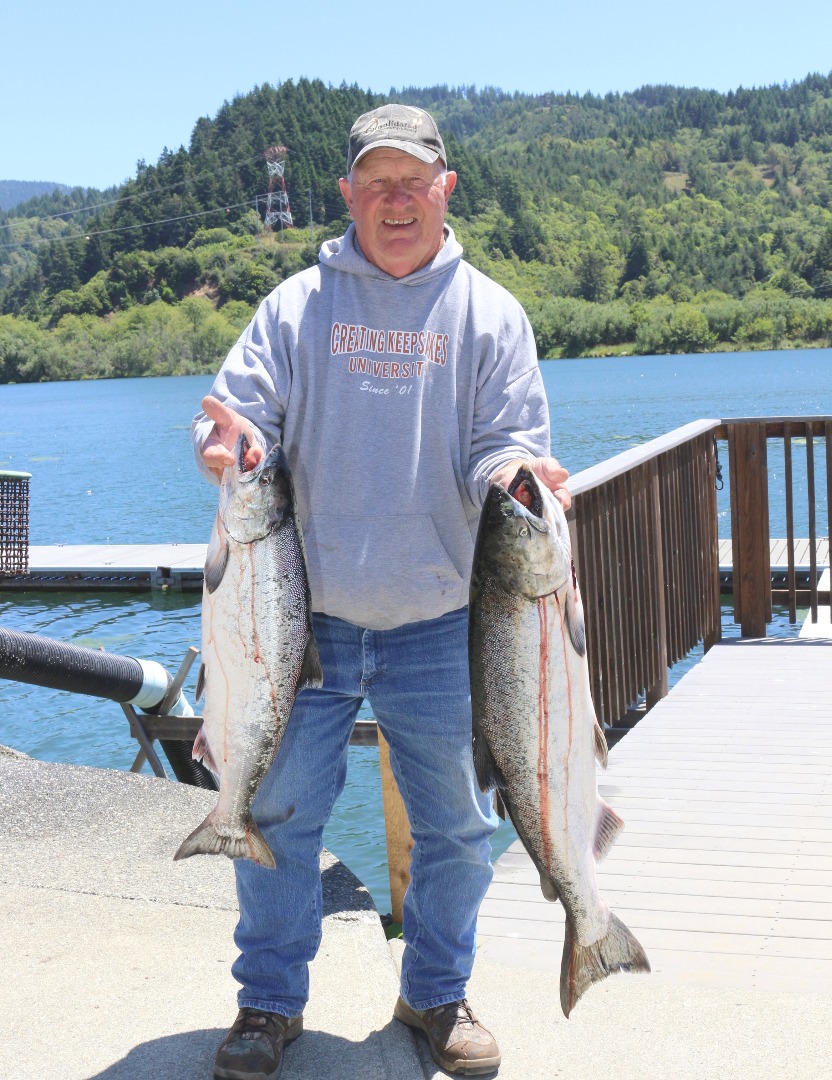 Dennis Tuttle of Grants Pass, Oregon caught these two Chinook last week while trolling a spinnerbait/anchovy rig in the Rogue Bay in front of Lex's Landing. Photos courtesy of Larry Ellis.
Written by Larry Ellis
7-15-2017
Website
The Chetco Bay, the Rogue Bay and the ocean out of the Port of Brookings Harbor are all kicking out a combined smorgasbord of usual and unusual seafood delights.
For approximately one week now, Pacific jacksmelt from 8- to 14-inches long have been caught by anglers throwing standard sabiki rigs.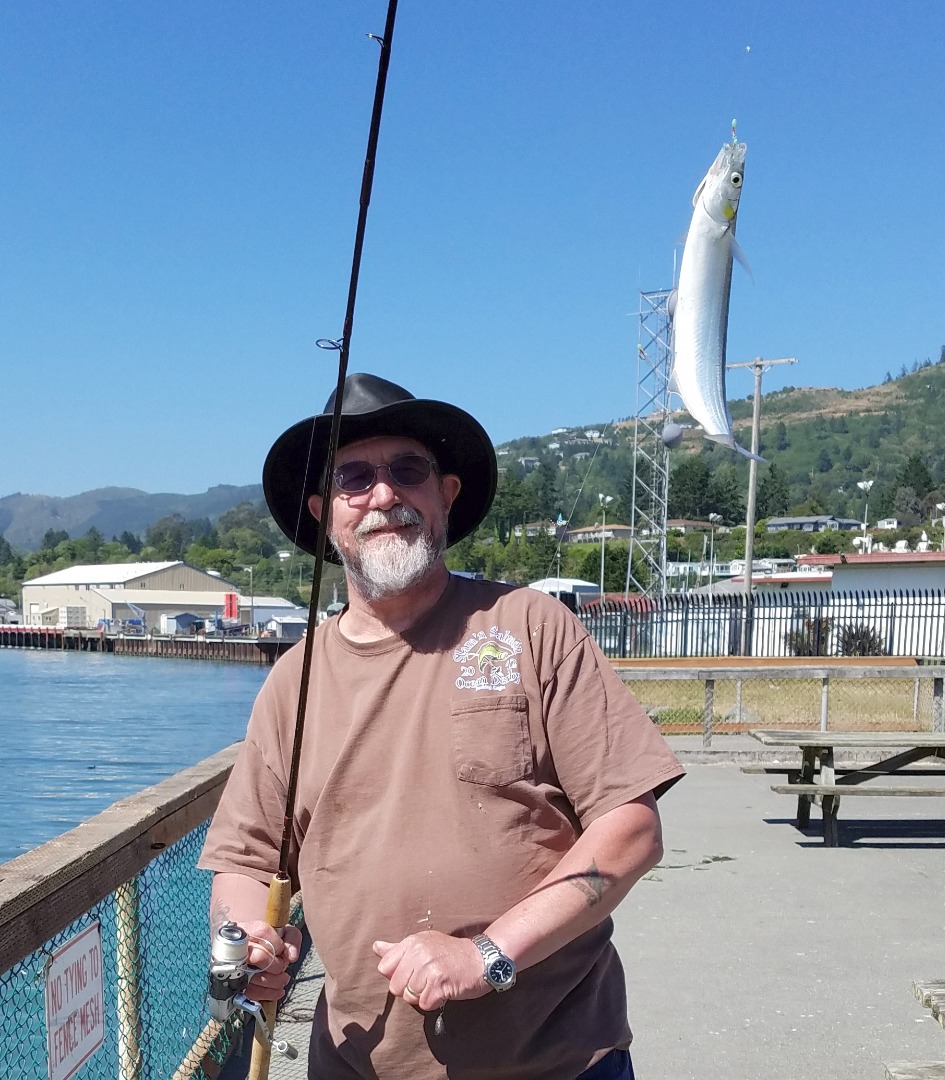 Tony Hobbs from Brookings, Oregon hauls in a giant jacksmelt out of the Chetco Bay with a sabiki rig still in its mouth.
These are some of the largest jacksmelt I have ever seen, with some of them over 14-inches long.
The routine has been to cast and retrieve sabiki rods on lightweight spinning gear using no more than 1/2- to 3/4-ounces of weight.
Jacksmelt are neither jack salmon nor are they actual smelt - they belong to the silverside family.
They are quite easy to catch however, be very mindful that they only have a daily limit of no more than 7 fish, since they belong in the groundfish category. In other words, if you catch your limit of 7 rockfish in the ocean, it is not permissible to catch any jacksmelt at all.
How long the jacksmelt will be in the Port of Brookings Harbor is anyone's guess.  They could stay for a lengthy period of time or they could be gone tomorrow.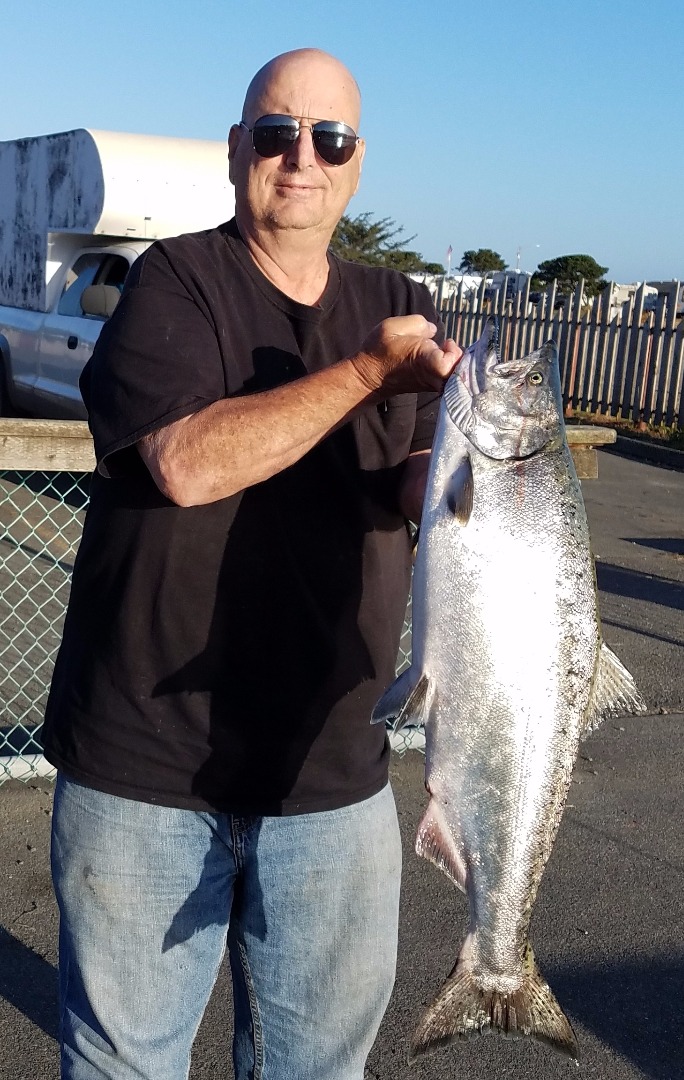 The author caught this 14-pound Chinook while casting a 1-ounce chrome Krocodile from the Brookings crab pier located on the south jetty.
The anchovies that have drawn so many feeder Chinook to the Port of Brookings Harbor have made the occasional Mecca out of the harbor and into the surf.  As long as the anchovies keep coming into the harbor, the feeder salmon will follow.
There is not much pressure right now on Chetco River feeder kings, which prompted yours truly to take a couple casts with a 1-ounce chrome Krocodile with a fluorescent red side stripe.  On the second cast I hooked up with a frisky fighter.  The Chinook made 3 runs before finally wearing itself out and it was netted by a nice fellow.
Folks, I do not recommend fishing directly from the jetty boulders as they can be very slippery and dangerous.  Instead, try and land your salmon directly from the crab pier.  Does one do this you might ask?
I suggest using either a long-handled net with those concrete construction tube extensions, or even better, lower a crab ring down to the water from the jetty and pull the fish onto the ring.  If you think your crab ring may not be deep enough, then simply transfer the netting from a large landing net onto the crab ring.
Folks, do not take any chances on the jetty.  A fish is not worth your life.
In addition to salmon being caught from the Brookings jetty, feeder Chinook are still being landed with relative frequency in the Rogue Bay.
While fishing with guide John Anderson of Memory Makers fame, we probably witnessed at least 30 fish being caught. On Sunday, Anderson got hold of a very large Chinook that took him for a ride around the prop.  But the next day... "We must have caught 8 surfperch while we were fishing for Chinook," Anderson said.  "We have 3 salmon on board now and we're going for our fourth Chinook which will limit the boat out, but those pesky redtails keep eating our bait."
So, if you are fishing near the sand spit, make sure to bring at least two trays of anchovies per person - 3 would be even better.  If a surfperch doesn't beat a salmon to the trough, one of the numerous seabirds surely will.
Trays of anchovies can be bought at the Rogue Outdoor Store, Lex's Landing or at Jot's Resort.
All of the people who work in these tackle stores are more than happy to show you how to rig up the right way.
In addition to salmon in the Rogue Bay, redtail surfperch are being caught with frequency at the Gold Beach south jetty spit.  Remember that Anderson caught well over half of a limit of the mottled flat-siders while fishing for salmon.  Redtail surfperch are more than capable of opening their mouths and swallowing a number 2 hook.
So hit Crissey Field, McVay Park, Kissing Rock, the Gold Beach south jetty spit or the Nesika Beach Wayside areas for unsurpassed surfperch fishing. This year has been without a doubt, the best redtail surfperch fishing I have ever seen in the 36 years I have lived in this section of the coast.
Tight lines!
Larry Ellis, author, writer, columnist and photographer has had a 50-year passion for fishing in California and Oregon's saltwater and freshwater venues. He is a well-known writer for Oregon, Washington and California Fishing and Hunting News, Northwest Sportsman, California Sportsman and Pacific Coast Sportfishing. He currently writes monthly for Salmon Trout Steelheader Magazine, and is the weekly fishing columnist for "On the Water" for the Curry Coastal Pilot Newspaper. He particularly loves living in his hometown of Brookings, Oregon - The heart of salmon country and gateway to fishing paradise. Posted with permission of the Curry Coastal Pilot of Brookings, Oregon.
http://www.myoutdoorbuddy.com/articles/67879623/water-bodies-on-fire!.php