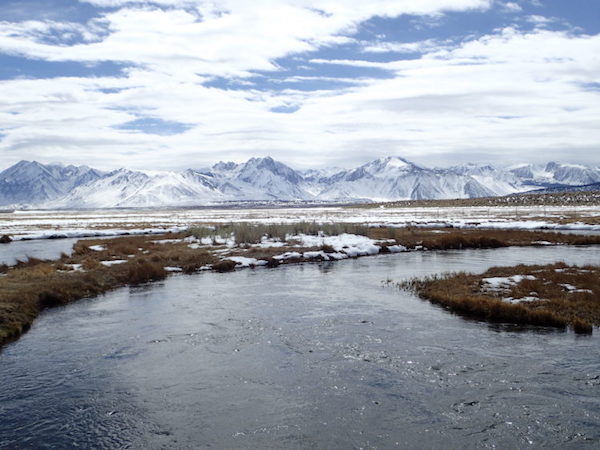 Upper Owens River Fish Report
3-7-2018
Tom Loe
 (760) 935-4250 
Not enough snow for our snowmobiles, & too much to drive around! The access roads are a mess after a foot of snow covered the Long Valley floor. Watch those two tracks even if you have an all wheel drive. Some of the drifts are tank traps with two feet of snow in the deeper ruts.The mud is nasty after the ground thaws. Numbers of Crowley Steelhead have declined recently, & your quest for bigs will be tough. The snow is melting along the banks, & in the Big Springs drainage (which are the headwaters of the UO), making the river dirty and off color. Flows are on the high side to begin with as the LADWP continues to lower Grant Lake. Some smaller resident fish are sipping on midge clusters in the pillow water of the larger pools during periods of warmer weather.  Getting your rigs on the bottom with water conditions like this require obscene amounts of weight, lengthy leaders, and aggressive mending tactics to achieve drag free drifts. Crystal Eggs, San Juan Worms, #16-18 Assassins (dark and light), #14-16 Crystal Leeches, and #16-20 Copper Tiger Midge, Zebra Midge, and Gillies have been good patterns fished with plenty of weight below an Under-Cator.  
Hopefully we will see an early run of cutthroat trout moving in March if the weather turns more seasonal.
Source Link:
Shop Torn Waders
A true heavy weight, the durable 100% ring spun cotton resists both fading and shrinking. These shirts will quickly become your favorite. A new version of our Old Glory Fly Rod design, this shirt is a must have for fly fishermen anywhere!