Trinity River Fishing Report
Written by E.B. Duggan
6-26-2017
Website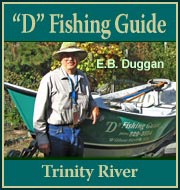 FISH LAKE
The Fish Lake "Kids Fish Derby" was held Saturday June 24th up at Fish Lake above Orleans. As the Derby opened there were only 61 kids signed up and things were looking very bleak for the Derby but then parents and kids started trickling in and by mid-time of the Derby we had 98 kids (the most ever) signed up and out fishing. This year we had many children that had never fished before. It was great to be able see these kids learn about fishing and about our natural resources. Naturally the lake was stocked by California Fish and Wildlife before the event so many of the fish were of the same size and it was very difficult to win any of the first prizes but lucky for the fishers there were some very good hold-over's from last year and some nice larger fish were brought in to win the first prizes. (Photos in follow up article) The fishing was great but I can't say the same for the casting contest. There were some good casters amongst them but for the most part many of the children had never cast a fishing line before and they were having a hard time. As hard as they tried they were casting all over the place, mostly into the bushes. Over all it was very good and everyone had a great time. The Hot Dog Lunch went over great and most everyone went away with plenty to eat. The best part was after the Hot Dog Lunch the Schwan's truck pulled up and handed out ice cream to everybody. (Courtesy of Coast Central Credit Union) After lunch the prizes were handed out and all f the winners had their pictures taken. After the Derby was over some of the parents went out fishing and were able to catch plenty of fish for dinner Saturday night. 
The weather has turned HOT! Here in the valley it got up to 106 degrees but up in the mountains it was only in the high 90s. It has been cool for so long that when it turned hot no one was ready for it. Flowers and gardens were wilting and the people were trying to find a way to cool off. Even the rive has warmed up. One would think that with as much water being released down the Trinity (over 2,000cfs) it would be much cooler. Today the Trinity River in Hoopa is reading 64 degrees at 8:00AM.
Fishing: The Trinity is still somewhat high but it is really looking great for fishing. For those who are willing to hike down to the river at Grays Falls of Burnt Ranch Falls you can come out with limits of spring run salmon during the early morning but trying to hike back out in the afternoon can be a task. One thing to remember is to have plenty of water and take short rests on the way back out to prevent heat stroke! Most of the fish coming out of the Falls area are in the mid range of 5 to 8lbs range but occasionally a nice 10 or 12 pounder will show up. Remember that on the Trinity below the mouth of the South Fork you can only keep hatchery steelhead or German Brown Trout, you must release ALL salmon. 
Mid-Klamath: Iron Gate Dam is releasing 1,021cfs so the upper part of the Klamath should be in great shape for Trout and steelhead fishing. When I went up to Fish Lake the Klamath really looked good. In fact I haven't seen the water quality look that good for many years. I just hope that with all of the snow pack that the water quality can stay in this kind of condition the rest of the year. It not only will be good for the fish but good for the river. If this kind of water quality could kept up for the rest of the year our salmon runs on the Klamath-Trinity could survive and possibly return to some historic returns of the past.  
Lake Conditions: Whiskeytown is 98% of capacity with inflows of 1,892cfs and releasing 2,368cfs into Clear Creek & on to Keswick. Shasta is 93 of capacity (a decrease of 2% & minus 3ft) with inflows of 5,717cfs and releasing 7,278cfs, Keswick is 89% of capacity with inflows of 9,080cfs and releasing 9,496fs; Oroville Lake is 66% of capacity (a decrease of 1% & minus 1ft), inflow is 4,484fs and releases are 4,661cfs; Folsom Lake is 97% of capacity (plus 2% & plus 2ft.) inflows are 7,168cfs and releases are 4,527cfs. 
Trinity Lake: The Lake is 17ft below the overflow (decrease of 4ft) and 90% of capacity (2% decrease) Inflow to Trinity Lake is 3,311cfs and Trinity Dam is releasing 1,248cfs to Lewiston Lake with 3,498cfs going to Whiskeytown Lake and on to the Keswick Power Plant with 9,496cfs being released to the Sacramento River. 
Trinity River Flows and Conditions: Lewiston Dam releases are 2,092cfs, water temps of 47.4 air is 62 degrees at 8:00am. today. Limekiln Gulch is 6.6ft at 2,179cfs, water temps are 90 degrees and air is 62.  Douglas City is 8.4ft at 2,265cfs, water temps of 48.1, air is 62. Junction City is 4.5ft at 2,370cfs.  Helena is 12.8ft at 2,639cfs with water temps of 52.7. Cedar Flat is 7.1ft at 3,068cfs. Willow Creek is estimated at 3,487cfs air is 68 and water at 58. Hoopa is 14.9ft at 3,613cfs with water temps of 64.  Flows at the mouth of the Trinity River at Klamath River are estimated to be 9,243 cfs.
Klamath: Iron Gate Dam releases are 1,020cfs.  Seiad Valley is 3.8ft at 2,670cfs. Happy Camp is estimated at 2,821cfs. Somes Bar is estimated at 3,670cfs. Orleans is 5.7ft. at 5,630cfs. Klamath River at Terwer Creek is 11.4ft at 10.5Kcfs, water temperatures of 67.4 degrees. Flows at Smith River, Dr. Fine Bridge are 5.9ft at 8,760cfs. 
Temperatures in the Valley last week were 106/54 degrees with 0.00 inches of rain with a season total of 84.45in of rain and 3.5in of snow. Temperatures in the valley next week are expected to be 84/49 degrees; with sun during mid week and a little clouds over the weekend, then sunshine for all of the week following. Be prepared for some warm to hot weather.