Courtesy of the
BILL RYAN
Winter Fly Fishing … in Brazil? No, targeting striped bass right here on the Napa River. Here's the short version (and working version) that Sweeney's Sports ace field scout Tom Dudenhoeffer told me:
Big white flies; may need to gun and run till you find a honey hole; fish slow and slower; when stripping don't move that bug more than four inches at a time; then wait till you can't stand it – then wait some more. Short strip set when you feel a bite; if he misses, drop your tip and stop till he turns around and lips it again.
What happens when you find the honey hole? Tom pulled 50 stripers out of one small spot last week. Any size? Yup, 8 to 10 pounds.
Lots of Stripers, Lots of Bass and Lots of Trout … have been biting locally recently. Sweeten that with solid sightings of sturgeon right up here in the river, as well has high up in San Pablo Bay. Just need some muddy water to ring their dinner bell. Both Berryessa and Hennessey are giving up good bass counts to jigs and drop shots. Berryessa trout have been cooperative ever since the lake turnover. The hot baits swivel in and out quickly, so you should ask Sweeney's for the plate du jour before heading out. The latest one I heard about was fast trolling Shad Raps at 3.5-4.0 mph on a down rigger 50 feet behind the boat.
Here's a fill-in for the San Pablo Bay sturgeon note above. Dave Hurley's Tuesday Hot Sheet led off with this piece: "There is an incredible sturgeon bite in San Pablo Bay – with Captain Trent Slate of Bite Me Charters limiting out with five keeper sturgeon on Sunday in addition to releasing two shakers and two oversized diamondbacks to 130 pounds …" Dave went on to say that Loch Lomond live mud shrimp was the bait of choice and the outgoing tide was the time. Call Loch Lomond in San Rafael at 415 456-0321. Book Captain Trent Slate at 415-307-8582.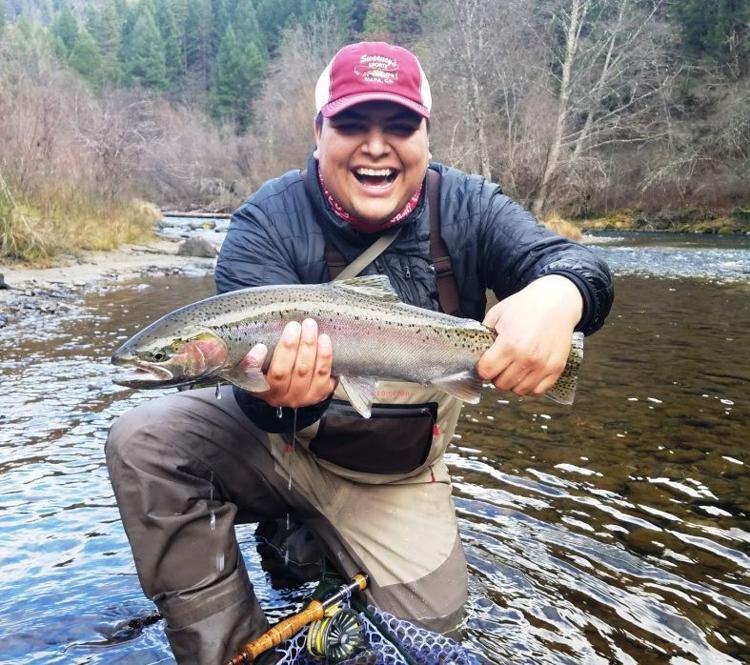 And, The Holy Trinity … This time, though, it's local fly guy, Jose Rubio, a #10 golden stone and a purple #12 psycho. This three-some worked for his four-day stay on the river. Jose caught plenty of big, strong steelhead up to 24 inches. I asked him if he learned the winning fly patterns "on the water." He said that he always plans his approach and selects flies before he leaves, but frequently learns on the water and has to augment his box with unique flies from local shops.
Stop in at Sweeney's to meet Jose – or call him there at 255-5544. While you have him, ask him about swinging flies to steelhead on the lower Russian River. That stretch from Steelhead Beach down to Guerneville is truly beautiful. Bring your camera.
Delta Diamondbacks … also on the chew. This is sturgeon time on the Delta, with key sturgeon tournaments on the horizon. One that I like because it really goes all out to engage kids in fishing – and because it is catch and release – is the 12th annual Diamond Classic Catch and Release Sturgeon Derby at the Martinez Marina on Saturday, Jan. 27. Go to diamondclassic.org for information and official registration location of Martinez Bait.
Details: Adult registration is just $25 with 100-percent payback from first through seventh place. No entry fee for children and they provide 35 kids rods and reels on the Martinez fish pier. Kid raffles are every hour, and any child who catches and releases a fish will be entered into a larger raffle for the big prizes.
Want More? How about a Friday night pre-derby seminar at La Tapatia Restaurant on Main Street in Martinez, starting at 6 p.m.? Participating captains are Bill Clapp of Bill's Sport Fishing, Mike Andrews of Predator Sport Fishing, Don Franklin of Soleman Sport Fishing, John Badger of Barbarian Sport Fishing and Steve Mitchell of Hook'd Up Sport Fishing.
Thanks to all of them and Captain Steve Talmadge of Flash Sport Fishing for being the Derby Director.
Wild American Canyon … is at 6:30 p.m. Wednesday, Jan. 31 at the American Canyon Library. Mycologist George Riner of the Sonoma County Mycological Association will involve us in the world of mushrooms. This is your chance to find all of the answers about mushrooms. In fact you are invited to bring your own mushrooms for ID and discussion. The library is at 300 Crawford Way, American Canyon 94503.
We have had the pleasure to attend several of the Napa County Resource Conservation District's "Wild Napa Valley" presentations; had to go early for good seats because they are so popular (by the way, the only wild things in my hometown library were the bookworms.
Source Link: