Five-Pound Trout … caught at Lake Berryessa? Sure made my ears perk up. St. Helena angler Brent Randol said that he and his Napa fishing partner, Kelly Sprott, caught their limits – up to a 5-pounder while trolling on Berryessa.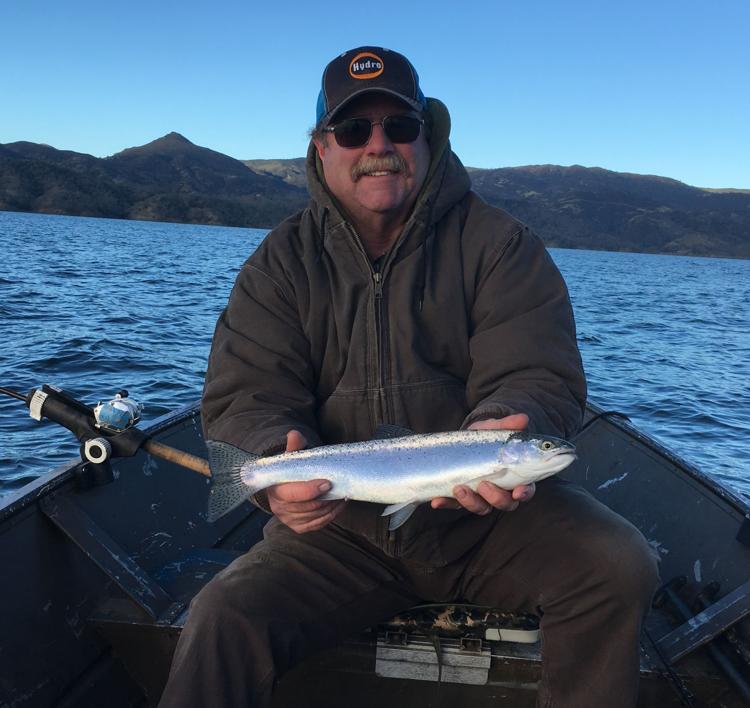 If you go, bring a bass rig, too. Reaction baits are working – but take along a drop shot rig with a wacky-rigged MM III straight worm to fish "low and slow." Then fish slower.
More Ear Perks? … A 40-pound ling cod will do that to you. My favorite teen angler, Liesl Wolf-Heinemann added one to her substantial 2017 fish collection while fishing at Bodega Bay with Miss Vic Fishing Charters (888-8092). Captain Mike Long was at the throttle. Just to be sure that nice catch wasn't a fluke, Liesl backed it up with a 26-pounder.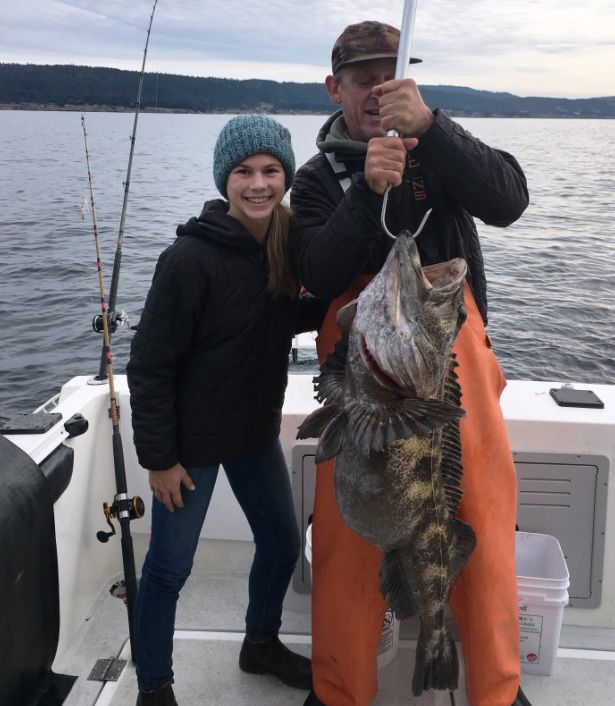 Sadly, We Lost A Great One … last week. Roger Thomas of the Salty Lady out of San Francisco died. He had a deep pool of Napa Valley anglers as his longtime regular clients – so he will be missed up here in the wine country.
Roger, a member of the California Outdoor Hall of Fame, led the way on so many issues involving our bays, our fisheries and our sense of community - most recently as the Chairman of the Golden Gate Salmon Association.. Often words fail us in solemn moments like this. But not now; listen to just some of these words of tribute. On June 29, 2017, Representative Jackie Speier (speaking also for our own Mike Thompson and Jared Huffman) honored Roger on the floor of the U.S. House of Representatives. Here are her concluding words.
"Mr. Speaker, I ask the members of the House of Representatives to join us in celebrating the life of Roger Thomas who loves to fish, loves the ocean, and above all loves people. He has touched many hearts, protected many livelihoods and has earned the admiration of coastal communities up and down the western seaboard."
It's with a heavy heart but a kind of optimism that roger would have demanded that I say to his longtime partner and famous salmon boat captain, Jacky Douglas, "Peace, Jacky , Roger will never truly leave you – and all of the rest of us."
Wither Winter Water? … This week I'll give you all a baseline situation on a couple of waters I watch for you every winter. We'll use them going forward as the foundation for changes in flows.
Smith River up near Crescent City is right at the top north edge of California. The numbers Tuesday at the Jed Smith recording station were flows of 1,600 cubic feet per second (cfs) and holding steady. The stage (depth) was steady at 7 feet. Optimum numbers for lights out steel heading are 10,000 cfs and 9 to 11 feet deep. Not enough rain in sight to get there, but some forecasters are predicting normal rainfalls for the winter – and that's good news. Stay tuned.
Clear Lake's Rumsey Gauge seemed to be pretty constant at about 2.32 feet over the past week. A zero Rumsey is called empty and a 7.5 is called full. There is kind of a bell curve here with the lake filling through the winter and spring and dropping in the summer and fall. In the 2016-17 water year, Clear Lake overflowed and caused serious flooding problems around the lake.
Best Bass Tournaments … just posted its 2018 Team tournament schedule for its Northern Region. Here's the perfect chance of tournament anglers to show their stuff right here in the wine country. Looking to get a start in tournament fishing without a boat? Ask about their "traveler" program, which lets a non-boater pair up with a pro and fish from the back seat. Practically every major pro angler started this way. These tournaments are also a great chance to bring your kids to see exciting bass tournament action and weigh-ins up close.
Dates are Feb. 24 and May 12 at Lake Berryessa, and April 14, July 21 and Aug. 18 at Clear Lake. Head man for the Northern Region is well known pro angler and Delta area bass fishing instructor Randy Pringle. More information at bestbasstournaments.com.
Looks Like An Interesting Start … to the New Year. Here's my special wish that you will catch your personal best in '18 – and send me a photo of it to acorn_3@comcast.net.
Source Link: