Courtesy of the
Napa Valley Register
BILL RYAN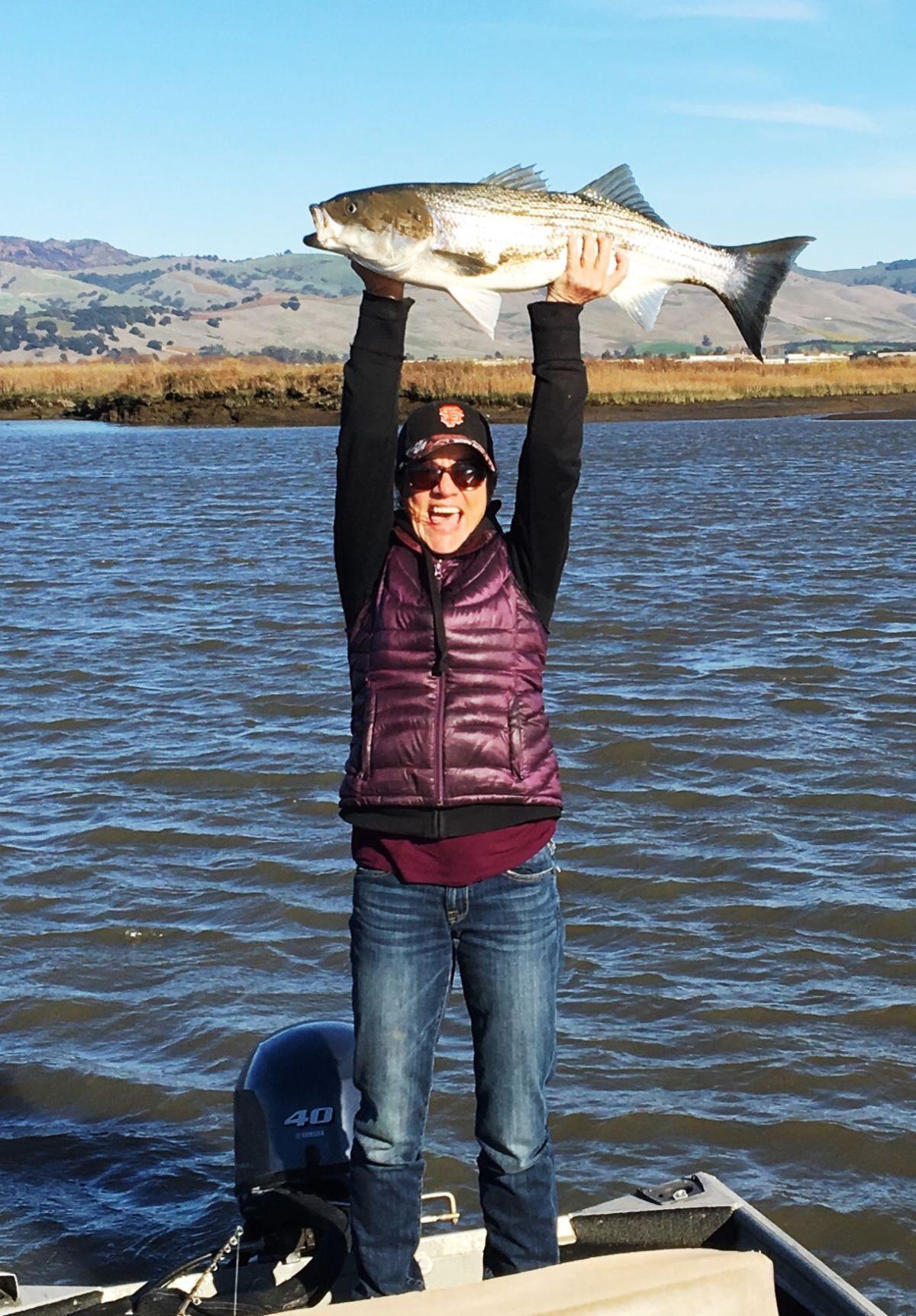 Show Me Some Enthusiasm, Teresa! … Just look at Teresa Fisher-Haberger showing her marvelous Napa River hen striper to the whole world. It's a special feeling of joy and accomplishment. I hope it encourages dozens more local residents to go fishin.'
Teresa told me that she caught that female bass on Dec. 12 while trolling the river in shallow water. This beauty was released to grow bigger and make a lot more bass babies for us to catch.
Thanks, Teresa, for releasing this big female; your action surely sets a good example for all striper fishing. We must put those big females back in the water unharmed – to be sure there will be plenty of stripers for our kids to catch, too. Need some good protein? Take your limit (two per angler) of smaller stripers back home for dinner. Legal size is 18 inches – and they are sweet and fresh tasting.
While the water stays clear, take your kids holiday fishing for stripers right here in town. I like the Cuttings Wharf area. Stop in at Sweeney's Sports on Imola (255-5544) for some cut bait and some suggestions for best locations. Legal size is 18 inches, which will give them a real tug – and a lot of fun.
One of my long-term readers made her grandchildren bait their own hooks, unhook their own fish and clean them. Perfect lessons and her grandkids got it quickly. As a primer, Google these topics for a long list of how to's.
Not Much More Local Fishing News … but I saw some exciting words in a Western Outdoor News report on Clear Lake this week. It appears that there have been five 10-pound largemouth bass caught in the past two weeks. Good news indeed! Typically, if you hear about eight or 10 10-pounders in a whole year, it's a lot. So stay tuned.
"Hey Cuz" Is The Way Wayne Ryan … starts his notes to me. And all of us have benefited from his keen eyes on the outdoors and insights over the years. This time he wants to be sure all of us visit the Sacramento and Colusa wildlife refuges. Right now, Wayne said, there are an estimated 500,000 snow geese and over 3,000,000 ducks. The dry weather has kept the birds in tight for gorgeous viewing – but there have been very few visitors.
So, it is a perfect little close-in family trip during the holidays. Ask the kids to plan it – good experience for them. Here's some information on the web – bit.ly/2oTnfBC – to help them.
Wayne's recommendations are to stock up on sandwiches at Granzella's in Williams, stay at Colusa's Riverside Motel, and eat at Rocco's Steak/Italian just down the street. Send me your photos of your own family trip to acorn_3@comcast.net.
Full Disclosure: we are not cousins officially, but are both from the East Coast – so who knows?
The Napa Open Space District … tells us to save the date for its 11th Anniversary Party. It will be Wednesday, Feb. 7, from 5 to 7 p.m. in the Napa River Inn's Upstairs Ballroom. You'll be interested to learn about this unsung organization. Check it out at napaoutdoors.org before you go. And be ready to get involved. You gotta love an organization with "Go Outside and Play" for a headline.
"Want To Re-Oak Your Property?" … This headline caught my eye in the Napa County Resource Conservation District's December email. It is another small indication of their attention to detail and taking affective action after our recent wildfires. They are giving away acorns for planting projects. While some varieties are limited, they said they have valley oak, coast live oak, black oak and blue oak acorns. Go on line to obtain an application form at bit.ly/2BCyFMM. Complete it and send it to Jemma@NapaRCD.org.
Sounds like the perfect family or service club project with additional benefits of getting everyone out in the fresh air.
Holiday Gift Idea … Last minute purchase? Fly Fishing Guide: Jack Trout offers wintertime Upper Sac Floats. It's more than just fishing; his team makes it a memorable tutorial and the history of the area, the water and the trout. Jack's lovely wife, Carola, creates the best streamside lunches that I have had in over 60 years of fishing. Take a look at one of her lunches spread out at streamside. Contact Jack at jacktrout.com for details and gift certificates. Tell him Ryan sent you.
Mea Culpa … In last week's Fishing Report, I registered my disgust at people who book fishing trips and don't show up – don't even call the guide. Well, apparently I went overboard in describing it, causing a reader to criticize my choice of words. I take his call seriously and feel that I have learned a good lesson.
This Weekly Fishing Report … wraps up 2017. With holiday greetings for all, thanks for letting me arrive on your reading table 52 Fridays this year. You have honored me with your photos and stories, which I was proud to print. Let's partner up for an even better 2018.
Just one last thing: Shop locally for those remaining holiday gifts you need to buy. Thanks.
Source Link: