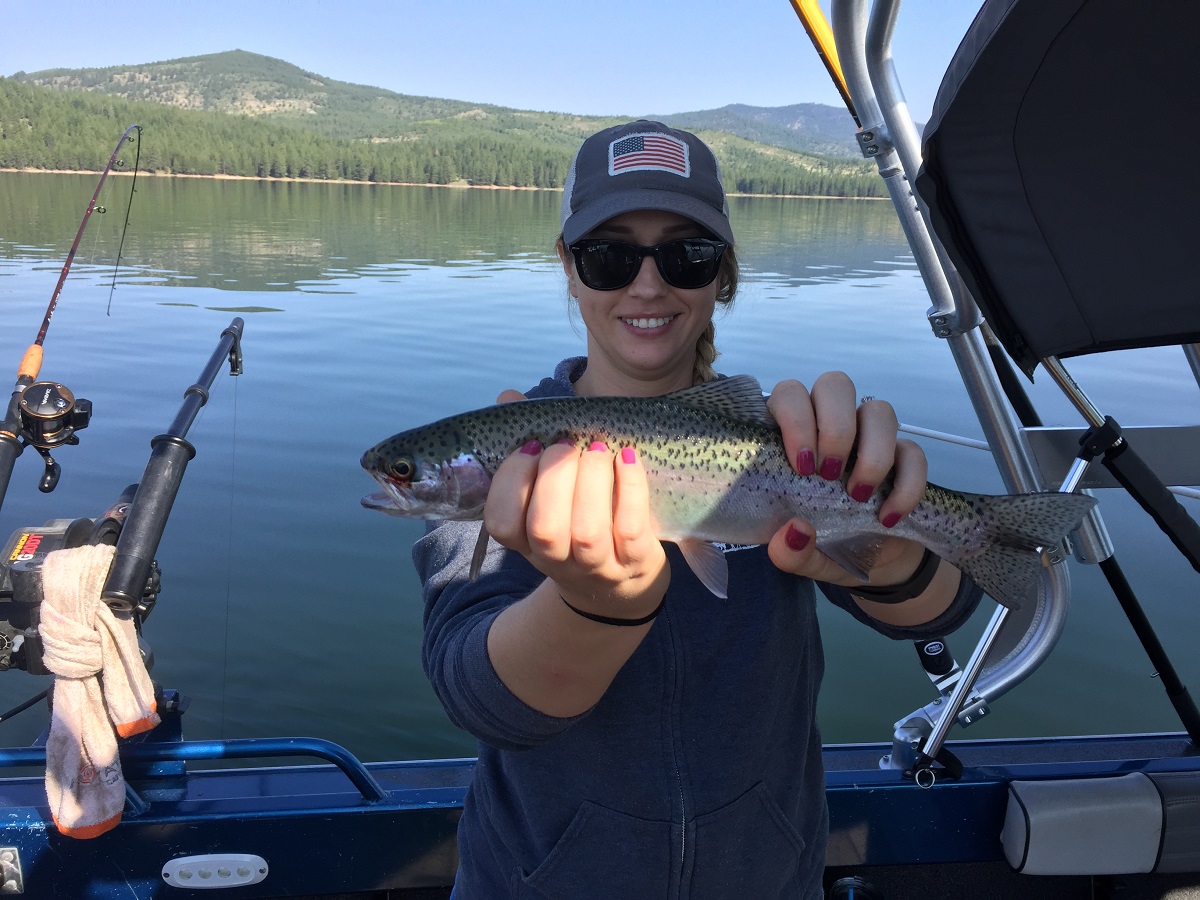 Nicole Ogg with a vivid Stampede rainbow caught while kokanee fishing.
Red Hot can be used to describe the action at Stampede Reservoir right now. If you wear an orange shirt, hot-tempered kokanee might actually jump into your boat. Seriously, orange is a hot color right now, especially when coupled with shoe-peg corn marinated in tuna juice.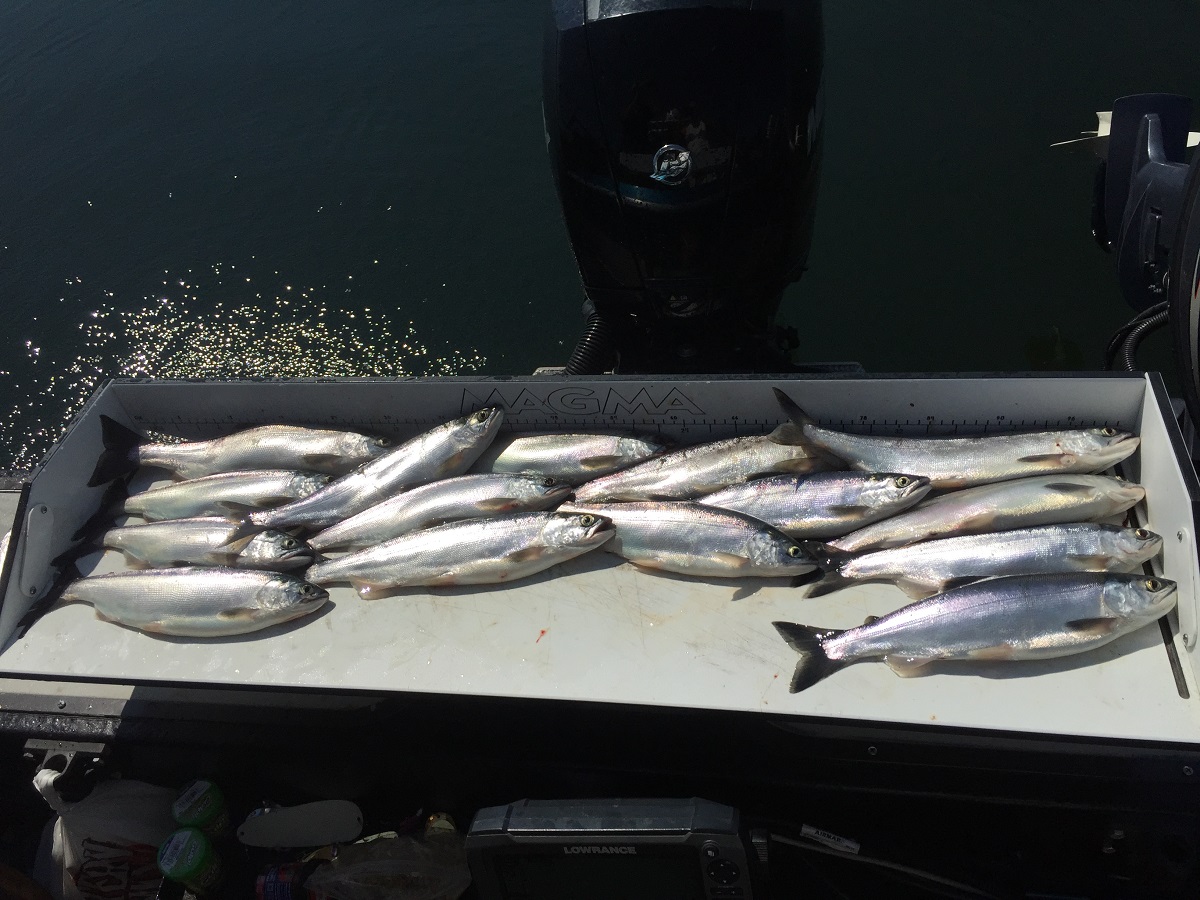 Easy limits of kokanee at Stampede.
This past weekend we had no problems pulling limits out of Stampede. You too can get quick limits fishing behind the island and along the dam area at 30-50' OTW. Also try the shallower north side of the lake where there's only 70-80' of water column, and where our biggest fish were found. Troll between 1.0 and 1.5 MPH.
Although specifically targeting kokanee, some rainbow and cutthroat also found their way to the net. Now is a terrific time to contact your fishing buddies, plan a camping trip to Stampede, and enjoy catching limits of kokanee. A good day: Get your limit of kokanee early, then tie an inter-tube to the boat and frolic the day away, and finally, prepare kokanee patties at camp for dinner.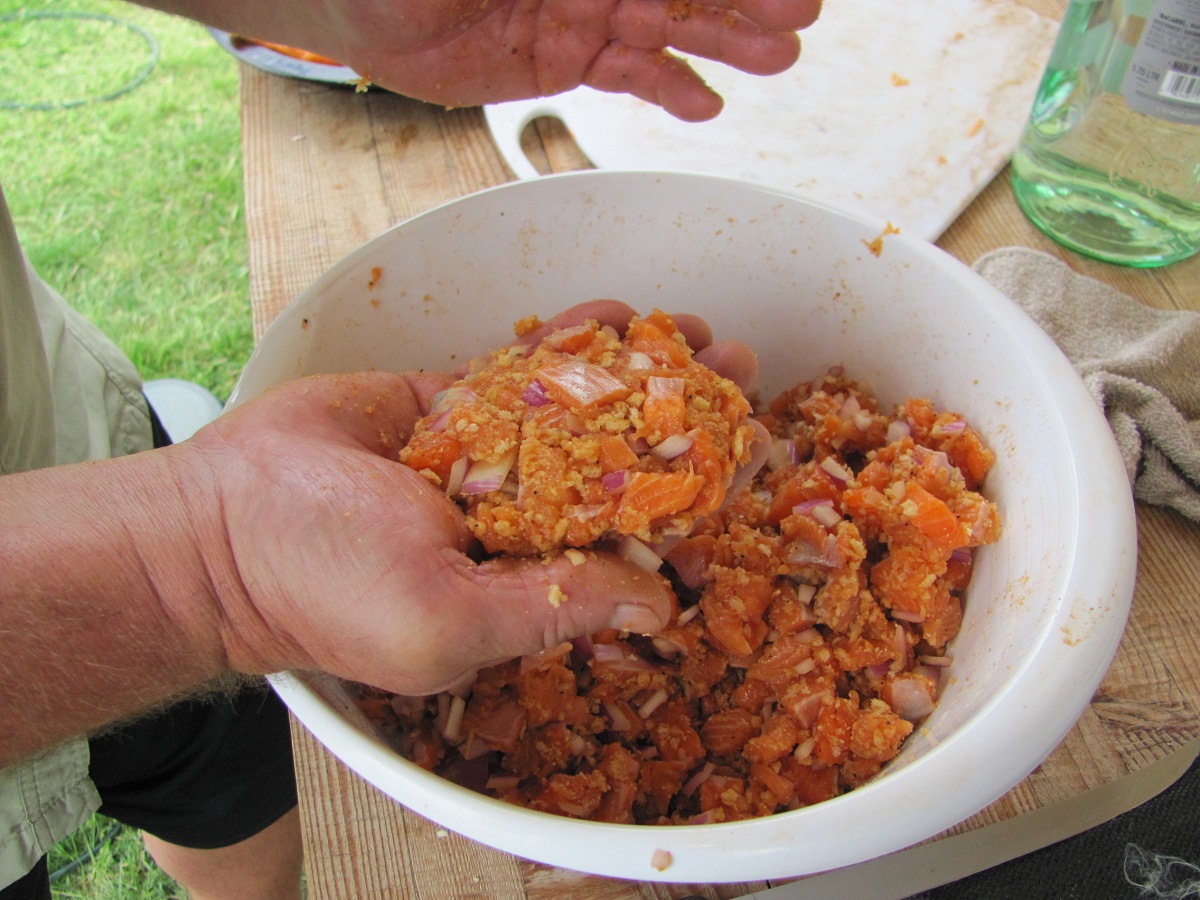 Tempting those with a compelling desire for sappy outdoor meals.
Kokanee patties are a bit labor intensive but well worth the effort. The recipe for kokanee patties consist of only a base. Beyond the base recipe, seasoning and other ingredients are up to the taste of the consumer. Please find below a base recipe for kokanee patties:
Put filleted (and skinned) kokanee through a meat grinder or, if you don't have a meat grinder, chop the kokanee into very small chunks and place in a bowl with one egg and one splash of Worcestershire for every five Stampede-sized kokanee (13-15"). Add chopped red onion, chopped green onion, crushed garlic, ground black pepper, lemon juice and zest, and bread crumbs. Add the bread crumbs last, slowly sprinkling in as you mix until the perfect dry texture is achieved and a good patty can be formed.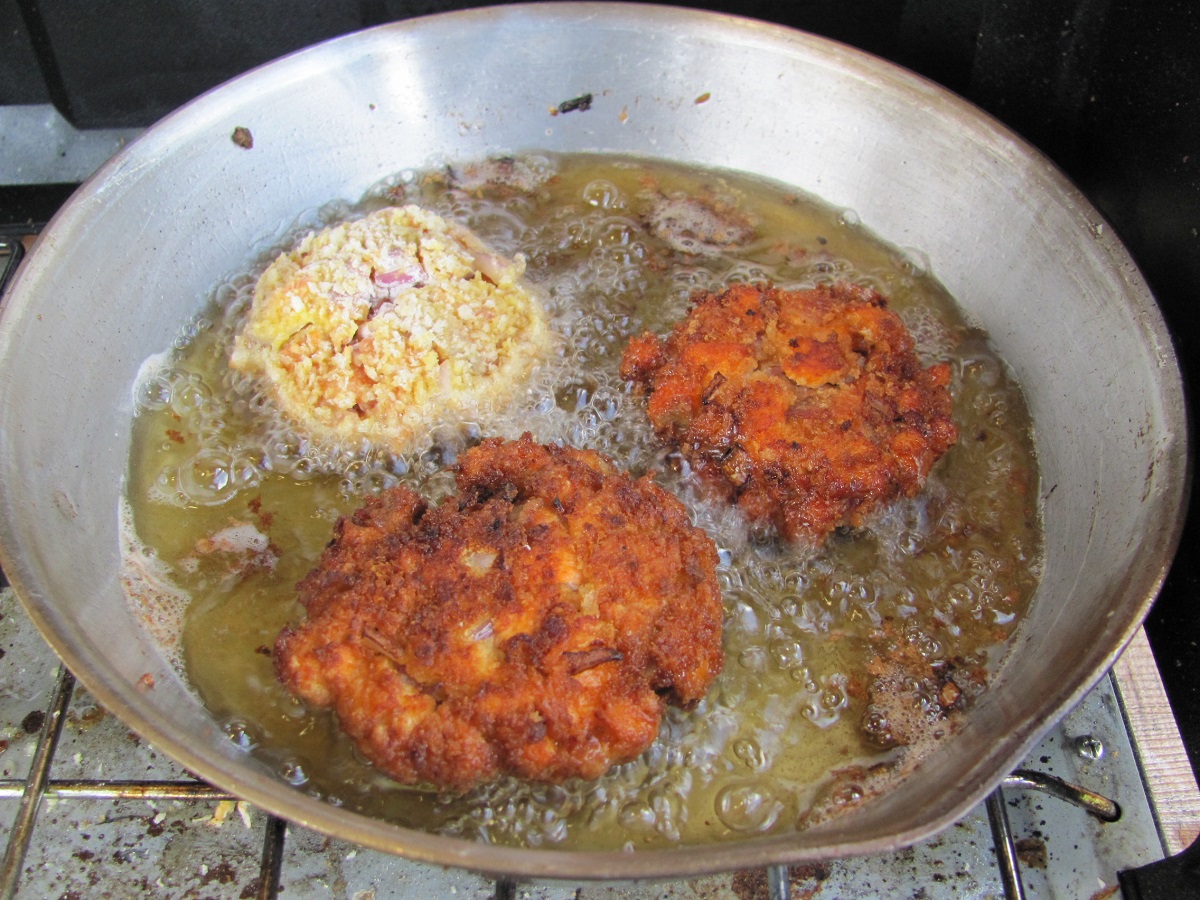 Kokanee patties frying in hot oil.
From here you can get adventurous, let your imagination run loose and unsupervised. You can add Serrano peppers and cilantro for a spicy patty, or add Cajun seasonings, or add celery and dill weed, or add a tad of Teriyaki and rosemary…kokanee is terrific table fare, you really can't screw things up. Do whatever suits your fancy. Finally, coat the patties in corn flour (not corn meal…corn flour) and fry in a large skillet with oil.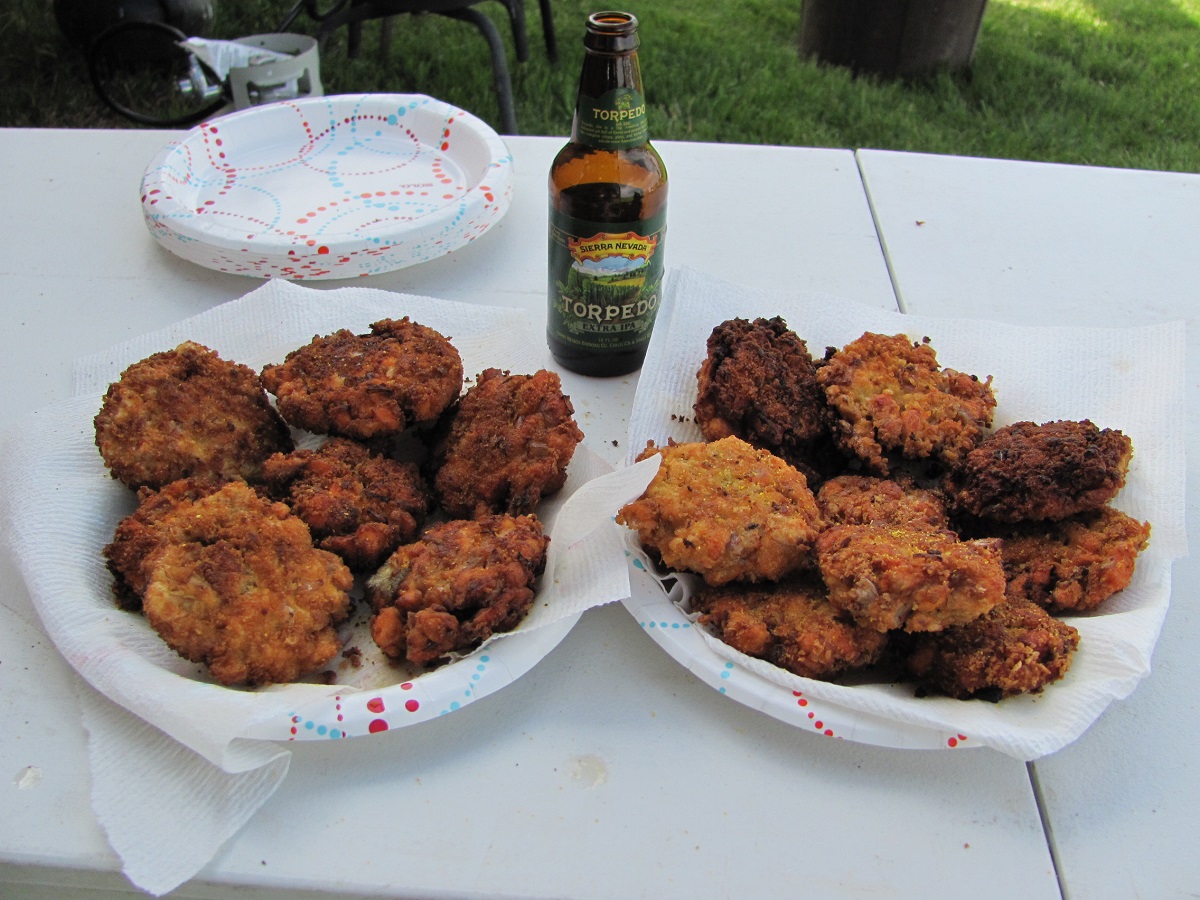 Go grab a plate!
Get out to Stampede! The lake is full and the hot-tempered kokanee are plentiful, clean, and become quite belligerent when hooked, providing excellent action and challenging to net. You won't be disappointed. 
Phil "Flip" Akers is a diverse angler and outdoor adventurer. For over 25 years he has backpacked, packed llamas and fly-fished the Sierra Nevada and Cascade mountain ranges, venturing into the farthest reaches of our wilderness areas pursuing quality trout and solitude. He enjoys sharing his experiences including tips, techniques, outdoor cooking recipes, and storytelling. He is certified in wilderness first response and rescue including swiftwater rescue, technical rope and technical animal rescue. Phi Akers can be reached at akers209@att.net.
http://www.myoutdoorbuddy.com/articles/67879760/stampede-kokanee.php