The fishing at Silver Lake is starting to pick up as the lake continues to warm after a very long run off of snow melt from the high Sierras.  Water temperatures are still sitting in the low 50 degree range but the fish are getting more active and are starting to feed in some regular patterns throughout the lake.  We have been saying all season to work from the top down because of this colder water, but start to think normal patterns on Silver Lake and start to take it from the bottom up but make sure to use a little longer (like 4 to 5 feet) leader to get the baits off the bottom and find that warmer waters where the trout will be feeding.  Anglers have been doing really well with Berkley products (I don't get paid to say this either) like Pinch Crawlers, Mice Tails and dough Baits with Garlic in it.  Again, start to take these products to the bottom and work up.  Natural Worms have been doing great up near the surface early and late in the day.  Thomas Buoyant Gold/Red and Kastmasters have seen some great action both from shore and out in a boat tossing it out and reeling it back at a slow pace.  In the bug action, and there is a lot of bugs out there, streamers like a Olive Matuka or Green Wooly Bugger have done great, as have Grey Hackle Peacocks, Sierra Bright dots and Mosquitos from the dry fly arena.  It was a great week of larger fish and stringers thanks to loads from Desert Springs and DFW.  We are on schedule for another load of DFW fish this next week as well so things should continue to stay strong on the catching side of fishing.  Remember though, the fish don't jump into your boat so you do have to put some time and effort into being successful.  Stay consistent and diligent and it will pay off!!
Just a heads up that this coming week Wednesday July 26 through Friday July 28 the Silver Lake Boat Launch will be closed by the Inyo National Forest so that they can finish the dock project at the boat ramp they started last season.  A project that has been long in coming and will be very nice when finished.  So plan accordingly as my understanding is that the entire parking and boat ramp will be closed for those three days.
Happy Fishing and We Will See you at The Lake!!!!
Fish of the Week: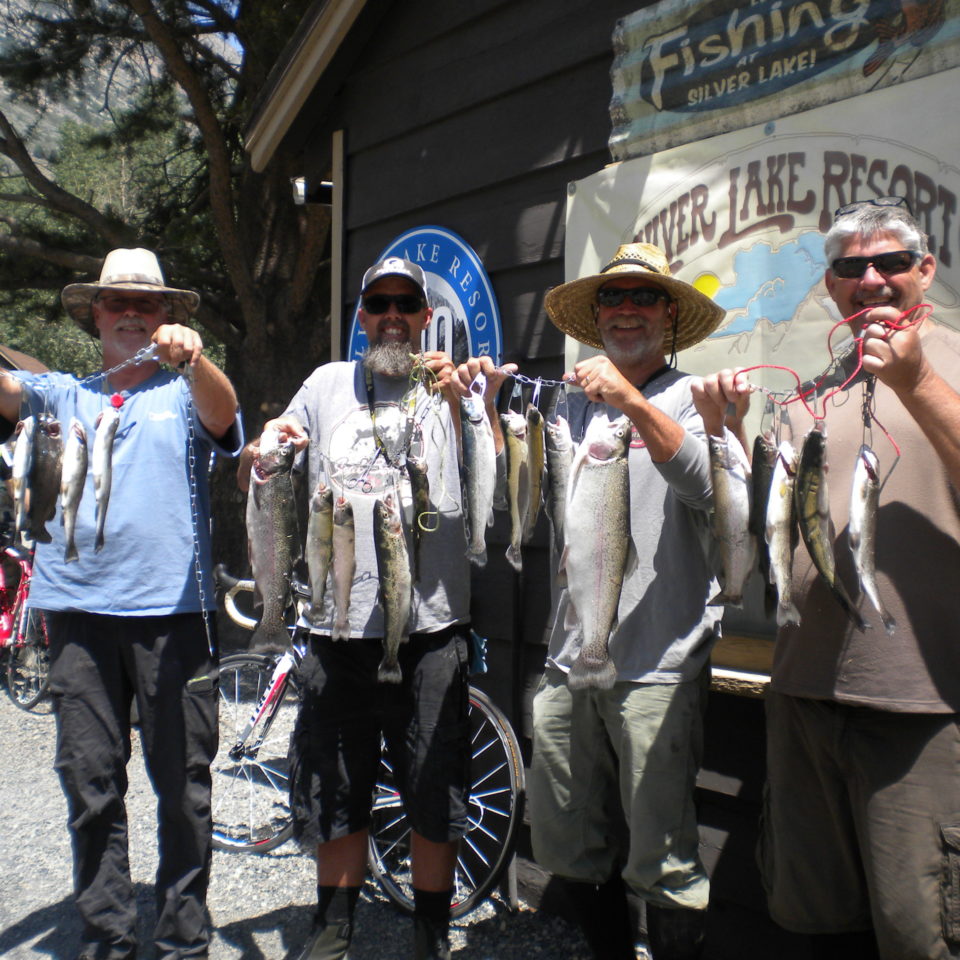 Danny Barrett and his crew – Daniel Bush, Jeff Martin and Mike Bush had a day fishing down on Grant Lake with Daniel Bush beating them all with his 4 pound 8 ounce Rainbow.  The Barrett Crew had a fishing contest going all week with the winner getting a nice bonus for a week spent with good family, good friends and the beautiful June Lake Loop!!!  Great Week Guys!!!  Thanks for Including Us and our Team in all Your Festivities!!!!
http://silverlakeresort.net/fishing-report/silver-lake-resort-fishing-report-716-72217/