Silver Lake - June Lake, CA (Mono County)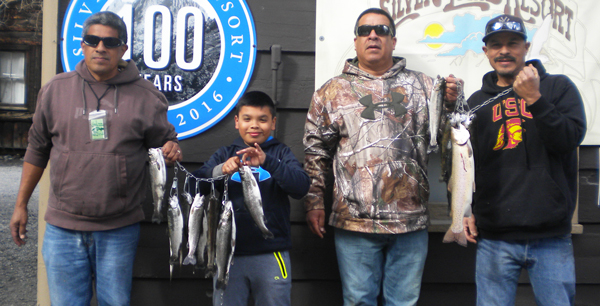 7-10-2017
Written by Andrew Jones
Website
(760) 648-7525
It has been a glorious week here at Silver Lake with the best Spring Weather we have seen this season and the fishing is starting to slowly pick up!!!  Temperatures this week were in the high 60's to low 70's which helped to slowly warm up that cold water, which in turn helped see some better action on the lake.  With that warmer temperatures we saw a huge increase in the volume of water pouring into Silver Lake this week due to all the snow melt.  The lake itself easily raised a good 5 to 6 feet and we are sitting at a level we haven't seen in fifteen to twenty years!!!!  While this amount of water rolling into the lake is a good thing, it does make fishing, or rather the catching side of fishing, a little more difficult as the lake is a little murky from sediment being stirred up and extremely cold water as the temperature of the lake is roughly 45 to 48 degrees. 
However, that didn't stop our die hard fishermen from getting out there and hauling in some great fish this week.  We started to see some consistent stringers come in when there was a slight breeze and ripple on the water and we saw a number of great 4 to 5 pounders come in towards the end of this week.  Rod Hanson had a great catch of 4 pounds 4 ounces caught using Worms, young Victor Lopez had a nice Brown weighing in at 2 pounds 3 ounces caught using worms and the catch of the season so far is Frank Rodriquez who landed a nice 5 pound 6 ounce Rainbow using a Mice Tail.  See the theme?  Worms, Worms, Worms, Plastic Worm and more Worms!!!  Keep it up towards the surface as the water temp below the surface is even colder.  Think like a fish and you will be rewarded.  The weather is suppose to change back to common spring conditions early this week with some snow in the forecast early this but better conditions in the middle to end of the week.  Come on up to enjoy the beauty of the June Lake Loop and the Eastern Sierra where the water levels and streams are at a spectacular level.  Come Enjoy!!!
See You At The Lake!!!
http://www.norcalfishingnews.com/fish_reports/67879408/silver-lake-resort-fishing-report-4/30--5/7/17.php

Silver Lake - June Lake, CA (Mono County)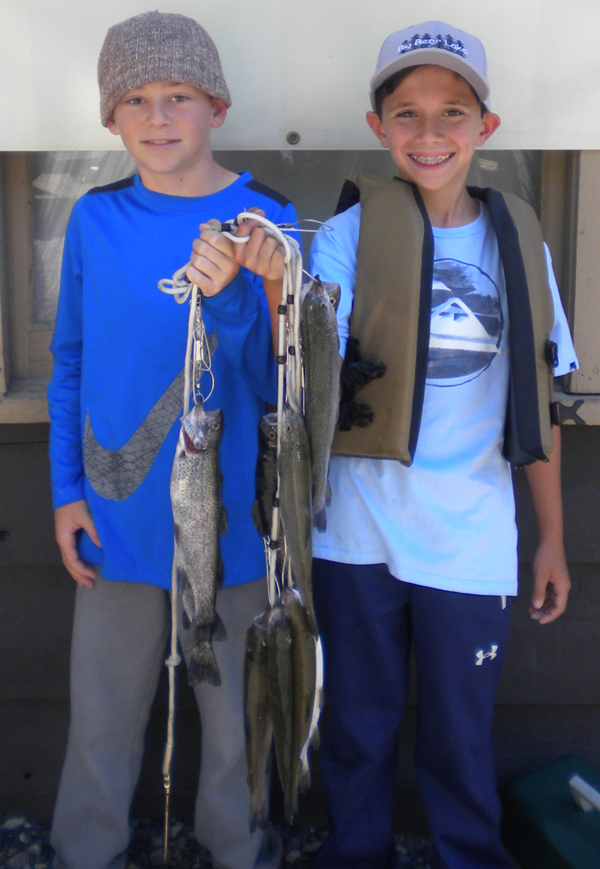 Written by Andrew Jones
7-10-2017
Website
What a crazy week here at Silver Lake Resort!!!  Mother Nature decided to enforce her strength on us early this week with a huge rain storm on top of peak runoff that sent everyone scrambling to make sand bags to keep Alger Creek in its banks.  Without all the help of friends, family, co-workers and all lovers of Silver Lake chipping in to make a few thousand sand bags, I don't know if we would have made it.  A huge thank you to every single person that helped, the true Silver Lake Family Spirit was shown by all who helped in our time of need!!!!  Thank you and we love you ALL!!!
With Alger Creek held in its banks people still had some time to get out there and fish this past week.  The water temperature is still cold at the surface, sitting around 48 – 50 degrees but it is slowly warming up and we are seeing some very nice fish and some good stringers come out of the lake.  Fishing isn't spectacular and you still need to put some time in but it is starting to get better.  I always like to say that the fish are not going to jump into your boat or your lap, you do have to work a little at it and there is no magic ticket.  The only magic ticket is patients and perseverance!!!  Anglers did see some good results this past week using Night Crawlers, Berkley products like Mice Tails and Pinch Crawlers and we are starting to see some good things trolling using Rapalas or Tasmanian Devils both with a little red or pink in them.  Look to find that warmer section of water that is usually about 8 to 10 feet below the top of the water surface and about 5 to 8 feet off the bottom of the lake.  Those fish seem to be a little more active in feeding in that part of the lake.  The lake level is still at record levels so some of the normal spots to fish aren't as easily accessible so look outside your normal box and see what happens.  We should be getting two loads of fish this week with DFW getting us a load of catchables early in the week and we should be getting a nice healthy load of Desert Springs 3 to 5 pounders this coming Thursday courtesy of Mono County.  My spies out there with the fish finders say that there is a lot of fish in the water and they are starting to get active so come on up and put your time in on the lake.  This weeks fish pictures are all about our young anglers, as schools are out and summer is here.  Put down those electronic devices, grab your fishing rigs and get out there and enjoy the beauty of fishing and all that Mono County and the June Lake Loop has to offer.
Fourth of July is just around the corner and we will be doing our annual Chris Jones Memorial Horseshoe Tournament and BBQ on Tuesday July 4th starting at 11am and we will have the ever famous "Good Livin" playing some great tunes Sunday evening July 2nd from 5 to 7 in our RV park picnic area with free s'mores for all, being handed out by Samantha Jones and her Mammoth High School Girls Basketball Team!!!
Come on out and enjoy family and friends!!
Happy Fishing and We Will See You at The Lake!!!
The Silver Lake Resort is a full service resort in June Lake, CA. We offer accommodations for fisherman throughout the trout season. We have cabins for all size groups, an RV park, a Cafe with fabulous food and a general store to meet your needs. If you would like to book a trip to Silver Lake call them at (760) 648-7525. For more information check out their WEBSITE.