Trinity River releases scheduled for Boat Dance Ceremony
8-17-2017
Kenny Priest
(707) 496-8671
The Bureau of Reclamation will increase releases from Lewiston Dam to the Trinity River in support of the Hoopa Valley Tribe's biennial Boat Dance Ceremony Aug. 22 in Hoopa according to a press release issued on Aug. 11. To account for travel time of water released from Lewiston Dam, releases will increase above the base summer flow of 450 cfs at 6 p.m. Aug. 20, and will reach a peak flow of 2,650 cfs between 10 a.m. and 8 p.m. Aug. 21. The releases will then gradually decrease back to the base summer flow about 4 p.m. Aug. 24.
The ceremonial flows are separate from the Trinity River restoration flows. The timing and flow rates from Lewiston Dam are preliminary and subject to subtle changes. People near or recreating on the river can expect river levels to increase and should take appropriate safety precautions. For more information, please contact Reclamation's Northern California Area Office at 530-275-1554 or visit usbr.gov/newsroom/newsrelease/detail.cfm?RecordID=60266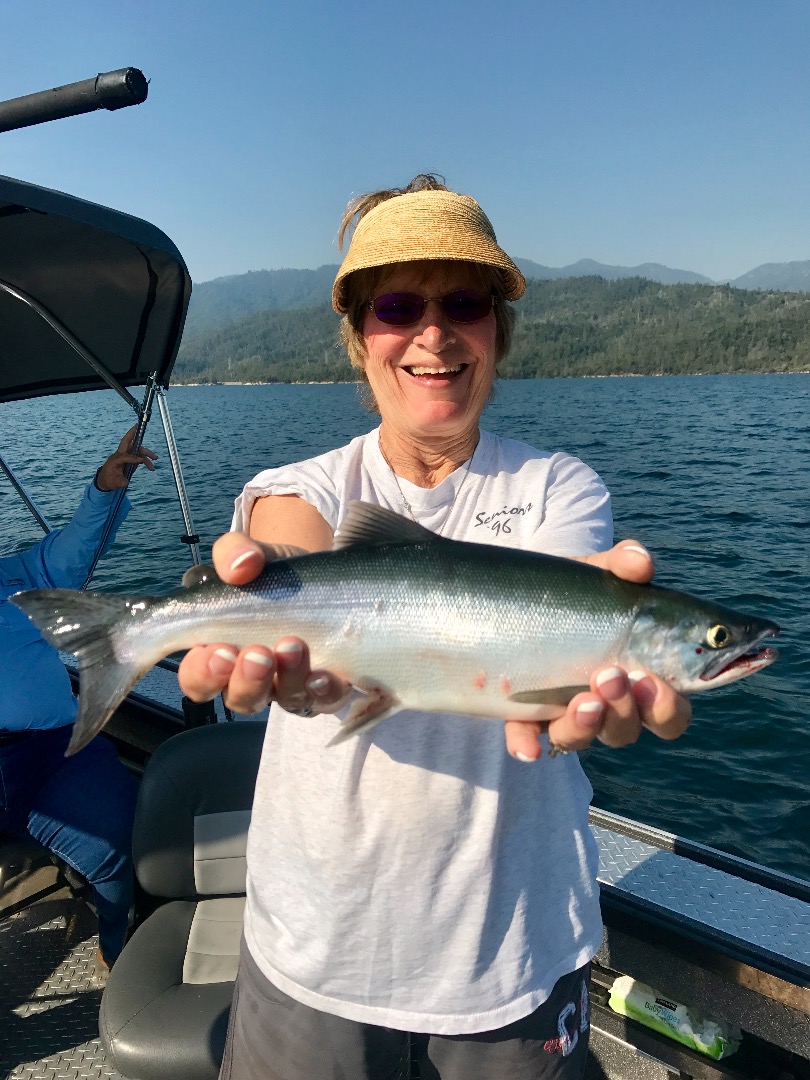 Whiskeytown Lake Kokanee on a steady bite!
8-16-2017
Jeff Goodwin
(707) 616-1905
It seems like I've been fishing in heaven all spring and summer up here in Northern California.  So many days on the water with so many great clients, both new and old.  Today on Whiskeytown Lake was just another reminder of just how lucky I am to be living and fishing in the north state.  The bite on Whiskeytown Lake is still very good and my three clients today had limits of keeper size Kokanee to 17" plus inches.  We tossed a bunch of short Kokanee as well for an over all awesome morning.  We cought Kokanee on a lot of different baits today and just about all of them came from 63'-65' feet down.  There are tons of Kokanee in the 50'-70' water column right now.  We caught Kokanee just outside of the Whiskey Creek MPH buoys and had three in the box before we made it to the 299 bridge.  Still not a red hot bite, but the size of these Kokanee make the wait inbetween fish very worthwhile.  We were off the water by 12:30 today with three gallon Zip Loc bags full of Kokanee salmon.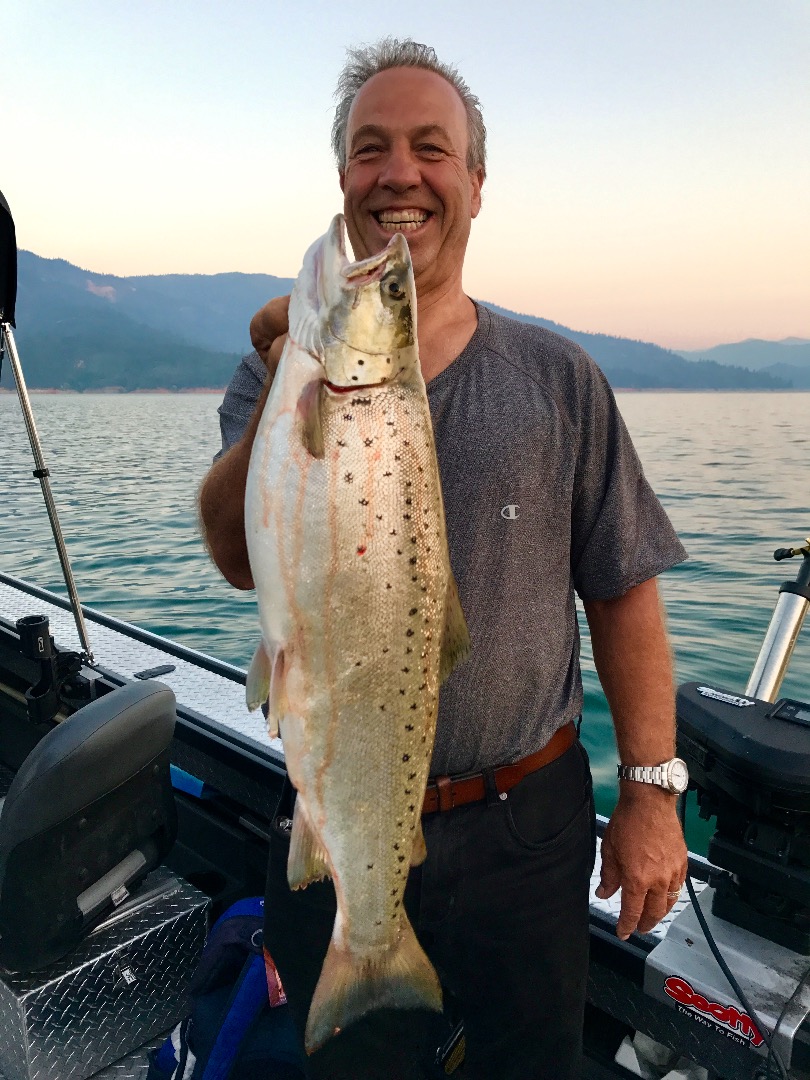 Deep bite on Shasta Lake today!
8-17-2017
Jeff Goodwin
(707) 616-1905
I've been fishing Shasta Lake several days a week of late and I've been having great success at the 65'-70' depth line.  Today started out like most days on Shasta and we had a fish on the first rod I sent down.  We landed the first fish within a few minutes of dropping our first line.  It wasn't but a few minutes later and we had a 5 pound brown trout in the net.  the bite slowed early and the fish came a bit slower, but it was still a great day on the water, and as you can see, my clients went home with some very nice fillets.