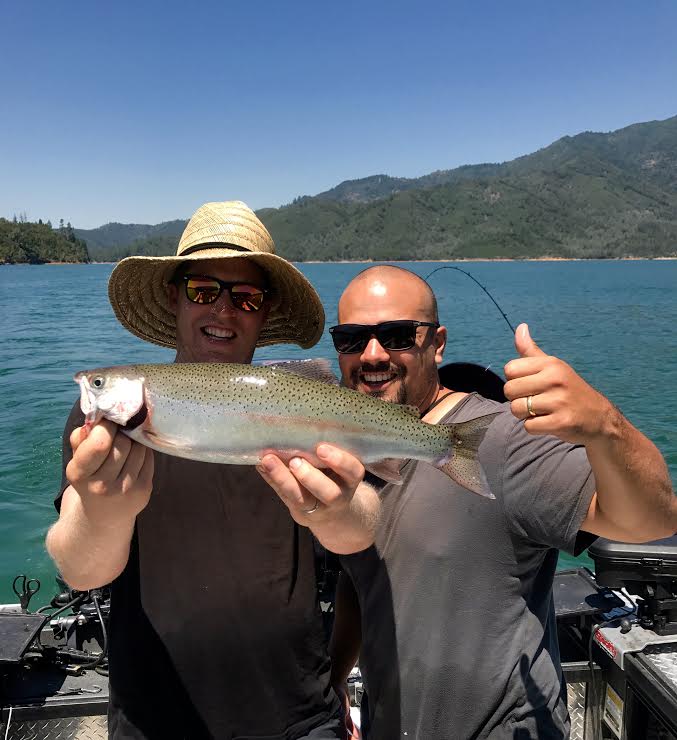 Shasta Lake rainbow trout are plentiful and when the bite turns on, the fishing should be really good!
Photo Credit: Jeff Goodwin
Written by Jeff Goodwin
7-3-2017
Website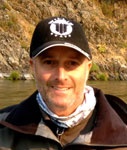 I've been fishing Shasta Lake for rainbows and Kings this past week and although finding fish is not very hard, getting them to bite is another story.  I've fished a lot of water on Shasta and haven't had much to show for my efforts at the end of the day.  Now when I say a day of fishing, what I really mean is actually 3-4 hours before the recreational fleet of houseboats and ski boats start moving around from one end of the lake to the other.  As much as I miss the solitude on Shasta Lake like I experience every month of the year except June-August, it's good to see the lake busting at the seams with so many locals and visitors alike.  I don't think the resorts on the lake will have trouble paying the bills this year, if you know what I mean.
Now except for a few people I've heard claiming to be doing well on Shasta, most everyone else I have been talking to has been telling the same story, "fishing is tough."  July and August are typically pretty good on Shasta Lake for anglers targeting rainbows, browns, and King salmon.  I had some really good days on the lake last season in September as well.  I hope it's just seeing a slow start and fishing will take off sooner than later this year.  The fish are there and anyone with a fish finder can see where they are hanging out.  There has been a distinct line of fish in the 100'-120' foot range and also in the 45'-55' foot level as well.  I've caught some trout down as far as 100', but the last few days I've seen the majority of my bites at 55'.  With surface temps on Shasta in the 81-83 degree range, I'm not even fishing above 25' feet.
The majority of my days on the water this month will be spent on Whiskeytown Lake, but I've got a beef going with the Shasta Lake trout and Kings right now and I'm going to keep fishing it until I crack the code.  All the fish I caught this past week have been  rainbow trout.  I've had the best results at 55' feet and trolling at 2.1-2.3 mph.  Small dodgers in front of hoochies or small spoons has taken most of the rainbows that are measuring between 15" and 21" inches.  It should be noted as we approach the 4th of July ,the best colors for me have been red, white, and blue lures and dodgers.  Nothing new really, those colors have always been good for fishing Shasta Lake.  Things may just settle down a bit after the lake sees a reduction in boat traffic this weekend, but that's just wishful thinking at this point.  In the meantime all any of us can do is keep fishing Shasta Lake and hope the bite turns on very soon!
Jeff Goodwin is a full time Northern California fishing guide.  He guides year round for salmon, trout, steelhead, Kokanee, and bass on Northern California rivers and lakes. He fishes many bodies of water in the Redding area, but also guides the Sacramento River and Feather River during certain times of the year. Jeff can also be found on the California coast chasing ocean fresh King salmon and steelhead each year. To learn more about the fishing trips Jeff has to offer, please visit Jeff Goodwin's Guide Service.  You can also find him on Facebook, Instagram, and Twitter, or please feel free to call him anytime at (707) 616-1905.
http://www.myoutdoorbuddy.com/articles/67879098/shasta-lake-trout-laying-low.php