Helena Fire/Trinity River
9-11-2017
E.B. Duggan
(530) 629-3554
The fires along the Upper Trinity have been devastating to many of the small communities along the Trinity. Several of the lodges and campgrounds that operated in that area are gone. What that will do to fishing on the Upper Trinity economy is unknown at this time, but will be noticed in years to come. Right now there is limited passage along Hwy 299 from Junction City down to Helena as there is still fire suppression and fire crews working in the area. The smoke has not been very bad for the last several days; yesterday and today it was very nice outside. How long this will last nobody knows. Has it affected the fishing? From what I have been able to find out it has not. The smoke and fires have affected the different gauging stations along the river and up at the lakes. Because of that, some of the readings that I normally post in this report are N/A (not available). 
Fishing: For the last week or so fishing has been fair to good, depending if it was real smoky or not. Of course, there was no fishing from Helena to Weaverville because of the fire, but from Del Loma down to the Klamath we have had some good days of fishing for steelhead. It is a little early for the fall run of steelhead, but we are seeing some early birds show up and it makes for some exciting fishing. The problem is that there is also fall run Chinook salmon making their way up the Trinity. Fishing with roe for steelhead you also will hook a salmon or two. Because there is NO fishing for salmon, you are not allowed to keep or take the salmon out of the water. YOU MUST release any salmon you hook without removing it from the water. It makes for interesting fishing because you are allowed to fish for steelhead and retain two hatchery steelhead or two hatchery trout per day with four in possession. 
Junction City weir: For the week ending Sep. 3; Adult Chinook salmon, 19, jack salmon 11, total 30, season total120; Coho salmon 0; Adult Steelhead 11, ½-lbs 0, total 11, season total 30; Brown Trout – 11, season total 9.
Willow Creek weir: For the week ending Sep. 2; Chinook salmon, jacks 4, adults 3, total 7, season total 7; Coho; 0; steelhead, ½-lbs 6, adults 38, season total 44. (Don't forget to return tags from tagged fish)  
Mid-Klamath: Iron Gate Dam is releasing 1,142cfs; this should start fish moving into the upper sections of the Klamath. The fire up in Happy Camp is still burning so there might be problems fishing that area for the time being, but above I-5 should be OK. The news out of E-Ne-Nuck (Akins Creek area) has been producing some nice adult steelhead with some ½-pounders to mix up the fishing. There is also some salmon being hooked when using roe so be sure not to take them out of the water. No word out of Orleans yet, but there should be fish in the area. Down around the Weitchpec area and the mouth of the Trinity fishing has started to pick up and has been fair to good. Down at the mouth I got the word that a fresh run of salmon and fishing has really picked up as the steelhead are following them right into the river. 
Lake Conditions: Whiskeytown is N/A of capacity with inflows of - - -cfs and releasing - - -cfs into Clear Creek & on to Keswick. Shasta is N/A79% of capacity (a decrease of 4% & minus 2ft) with inflows of  - - -cfs and releasing - - -cfs, Keswick is N/A% of capacity (a increase of 4%) with inflows of - - -cfs and releasing - - - cfs; Oroville Lake is N/A of capacity (a decrease of 3% & minus 10ft), inflow is - - - cfs and releases are - - - cfs; Folsom Lake is N/A79% of capacity (minus 4% & minus 3ft.) inflows are - - -cfs and releases are - - -cfs. 
Trinity Lake: The Lake is 38ft below the overflow (increase of 2ft) and 77% of capacity (1% decrease) Inflow to Trinity Lake is N/Acfs and Trinity Dam is releasing - - -cfs to Lewiston Lake with - - -cfs going to Whiskeytown Lake and on to the Keswick Power Plant and - - -cfs being released to the Sacramento River. 
Trinity River Flows and Conditions: Lewiston Dam releases are 458cfs with water temps of 53.2 and air is 96 degrees at 3:00pam today. Limekiln Gulch is 4.9ft at 490cfs, water temps of 50 degrees and air is N/A. Douglas City is 6.4ft at 516cfs, water temps of 56.3, air is 93. Junction City is 1.9ft at 473cfs.  Helena is N/Aft at N/Acfs with water temps of N/A. Cedar Flat is 2.9ft at 643cfs. Willow Creek is estimated at 706cfs air is 88 and water at 68. Hoopa is 11.6ft at 843cfs with water temps of 71.1.  Flows at the mouth of the Trinity River at Klamath River are estimated to be 2,735cfs.
Klamath: Iron Gate Dam releases are 1,142cfs.  Seiad Valley is 2.5ft at 1,417cfs. Happy Camp is estimated at 1,473cfs. Somes Bar is estimated at 1,894cfs. Orleans is 3.3ft. at 2,150cfs. Klamath River at Terwer Creek is 8.3ft at 2,150cfs, water temperatures of 69.8 degrees. Flows at Smith River, Dr. Fine Bridge are 4.8ft at 300cfs. 
Temperatures in the Valley last week were 92/58 degrees and 0.55in of rain with a season total of 85.3in of rain and 3.5in of snow. Temperatures in the valley next week are expected to be101/45 degrees with a few thunder showers at the first of the week and then some sunshine for a few days. The first of next week should be overcast then more sunshine.
Good Fish'en and Good Luck but remember; "Keep your tip up with a tight line lands fish."
http://www.norcalfishingnews.com/fish_reports/67881888/helena-fire/trinity-river.php
Shasta scores monster rainbows and browns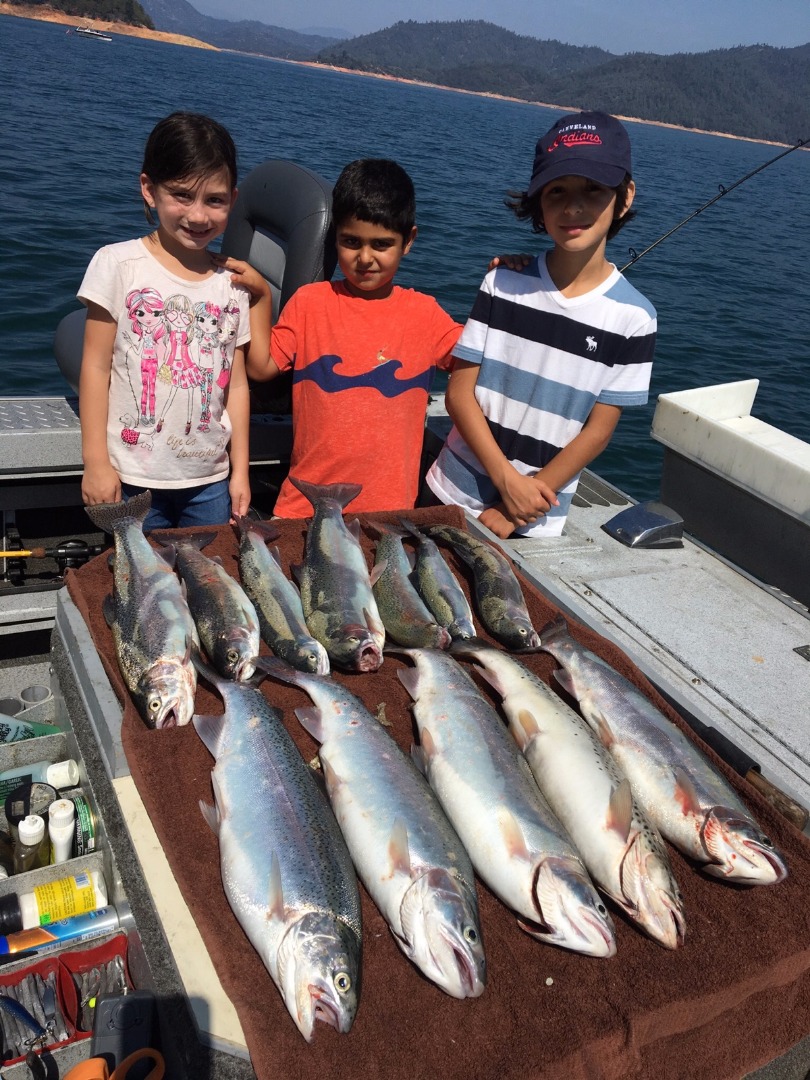 Photo Credit: Capt Kirk portocarrero
by Kirk Portocarrero
9-10-2017
Website
Sunday  morning  big daddy Gary caught  17 rainbows and 5 keeper bass for 5 fishermen fishing was redhot from 1030 to 1pm all fish were caught  around 100 feet with blue crip lures   this wiil only last till October  so give us a call at 1800 670 4448 remember  weve been the longest guide service on Shasta  lake since 1988 full time  daily !!!!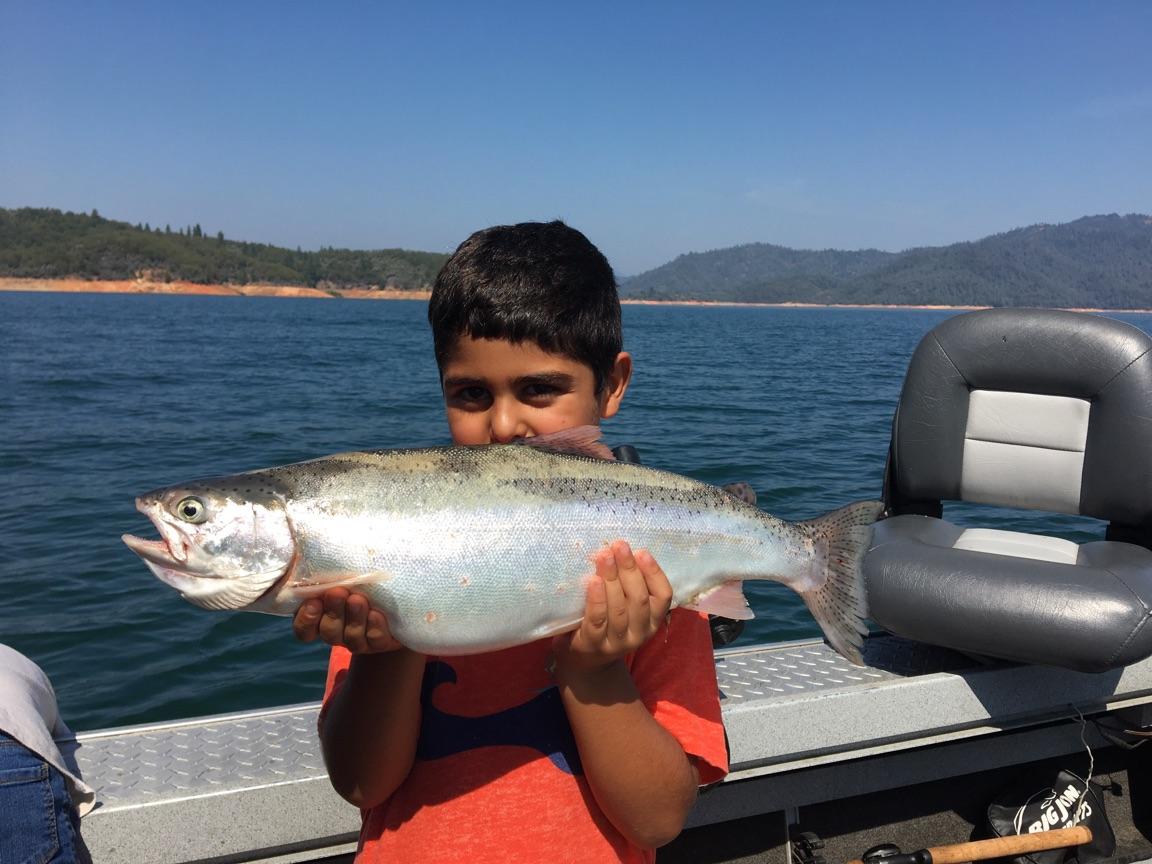 Photo Credit: Capt Kirk portocarrero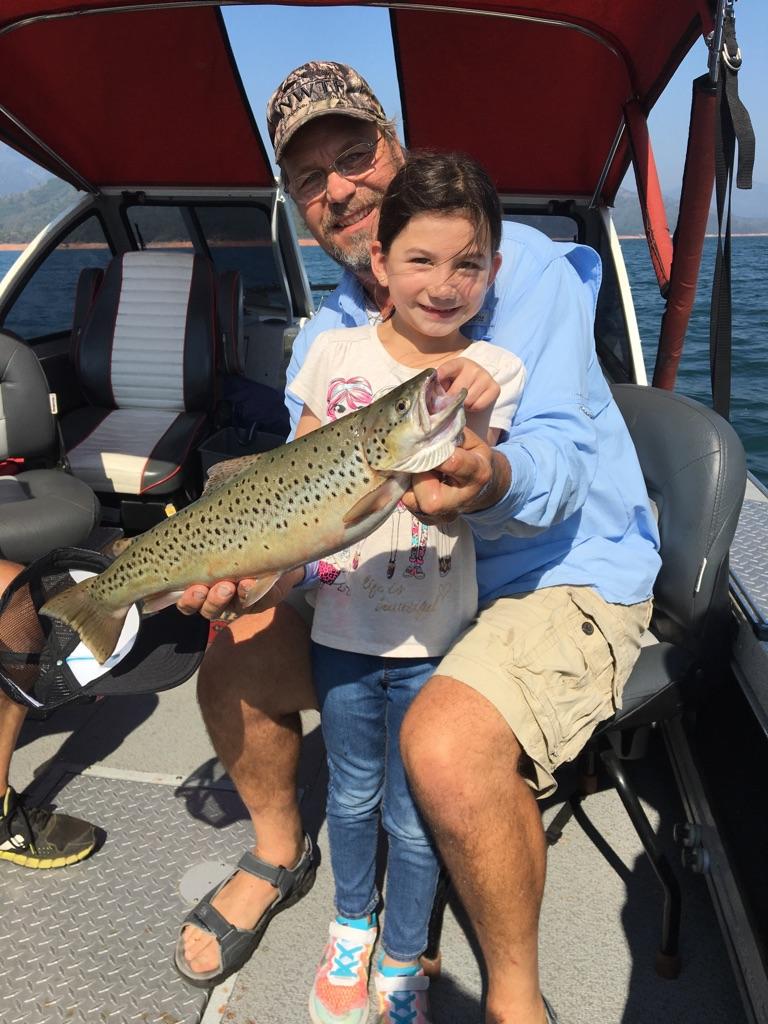 Photo Credit: Capt Kirk portocarrero
Captain Kirk Portocarrero is a full-time, professional fishing guide and outfitter, solely, for 29 years straight, owner & operator of Northern California's SacRiverGuide.com. Kirk started at age 15, in the salmon fishing industry in SF and then migrating to Northern California, with a team of 5 guides working for him. He is on the water at least 300 days a year, and his expertise is like none other, providing top of line guide services and equipment, ensuring a successful day of fishing. Specializing Northern California and Southern Oregon fishing for salmon, trout, and steelhead. Call (800) 670-4448 to get in on the action.
Shasta Lake trout bite is on at 100' feet!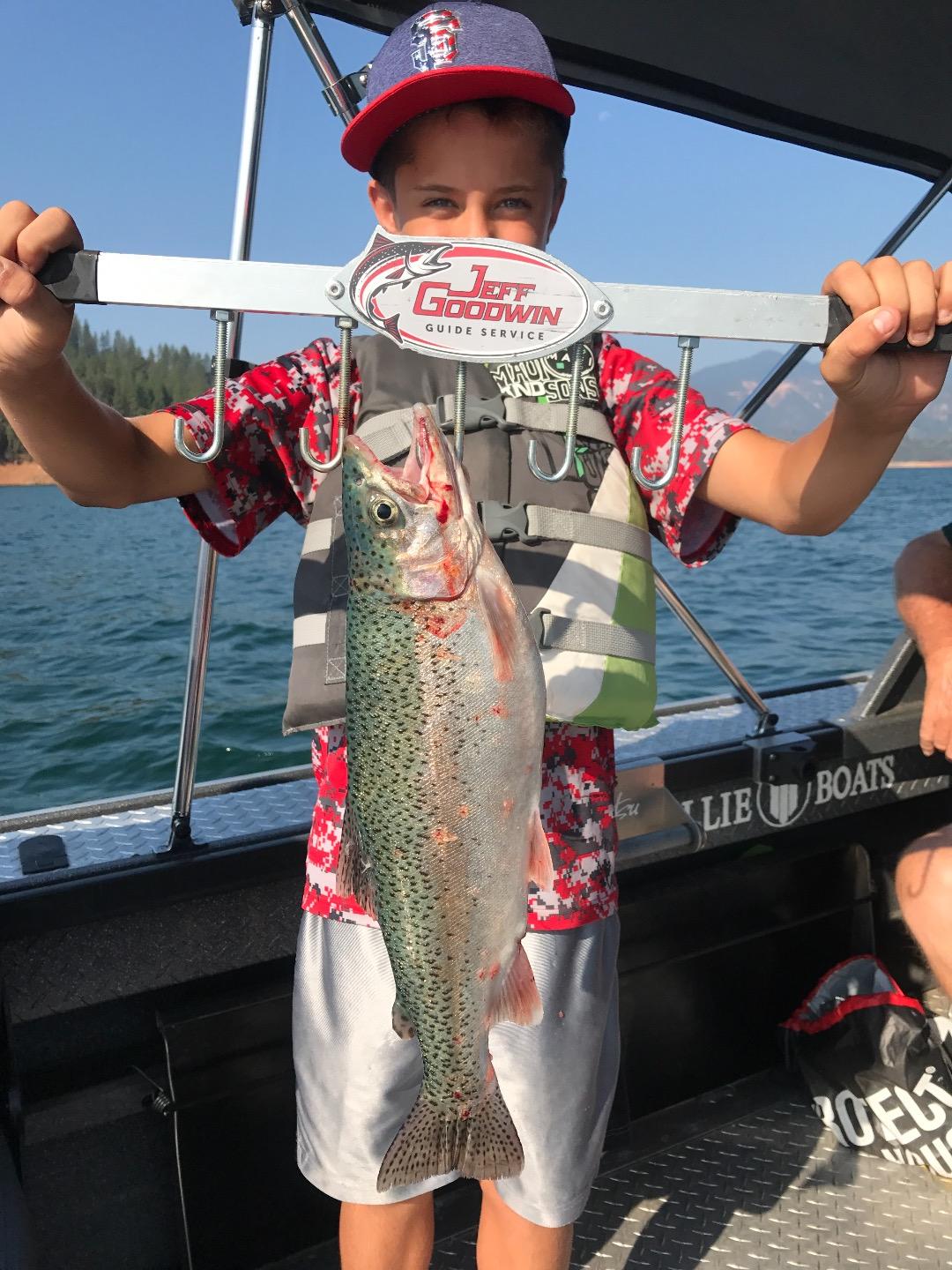 Owen with one of many great Shasta Lake trout he caught today!
Photo Credit: Capt. Jeff Goodwin..
Today I had a family trip on Shasta Lake.  I had the privilidge to fish with one of the most enthusiastic young fishermen I have ever had on my boat.  At 11 yrs old, Owen was asking every question he could think of about fishing.  He asked about the boat, the Lake, the fish, the gear, and even jumped in and helped with the downriggers.  The pacing in the boat inbetween fish was hilarious, and not once were the other family members in the boat able to get to a rod before Owen had it pulled out of the rod holder and fighting a fish.  Its days like today that reinforce why I enjoy taking people fishing.
Jeff Goodwin is a full time Northern California fishing guide.  He guides year round for salmon, trout, steelhead, Kokanee, and bass on Northern California rivers and lakes. He fishes many bodies of water in the Redding area, but also guides the Sacramento River and Feather River during certain times of the year. Jeff can also be found on the California coast chasing ocean fresh King salmon and steelhead each year. To learn more about the fishing trips Jeff has to offer, please visit Jeff Goodwin's Guide Service.  You can also find him on Facebook, Instagram, and Twitter, or please feel free to call him anytime at (707) 616-1905.
http://www.myoutdoorbuddy.com/articles/67881878/shasta-lake-trout-bite-is-on-at-100-feet!.php