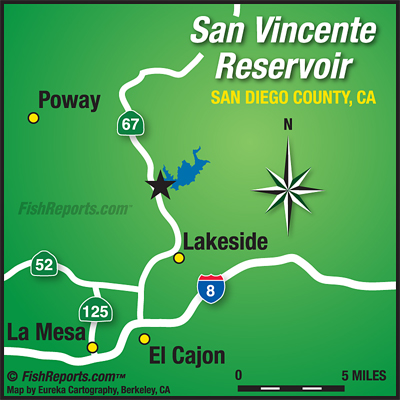 San Vicente Fish Report
7-16-2017
San Vicente Reservoir Staff
WEEK ENDING: 10/9/2016                              WATER TEMPERATURE: 734 
Bass fishing has been steady on bottom fishing techniques such as Texas rigs, jigs, and drop shotted plastics all over the lake. Panfishermen have been locating bluegill in the backs of coves in 20' to 30' of water. Wax worms, and red worms have been the most consistent offerings, although the larger fish have been taking mini jigs. Catfish reports have been hard to come by, as most anglers have been targeting largemouth as of late. There is a rumor floating around of 90lb blue that fell for a fly-lined mackerel sometime earlier in the week.
 The Bass fishing has been good with fish up to 2.5 pounds.
The Bluegill has been good with fish up to 5.25 pounds.
The Catfish has been fair with fish up to 4 pounds.
PLEASE CONTACT THE MARINA AT 619-390-1918 FOR MORE INFORMATION.
http://www.sandiegofishreports.com/fish_reports/67879698/san-vicente-fish-report.php