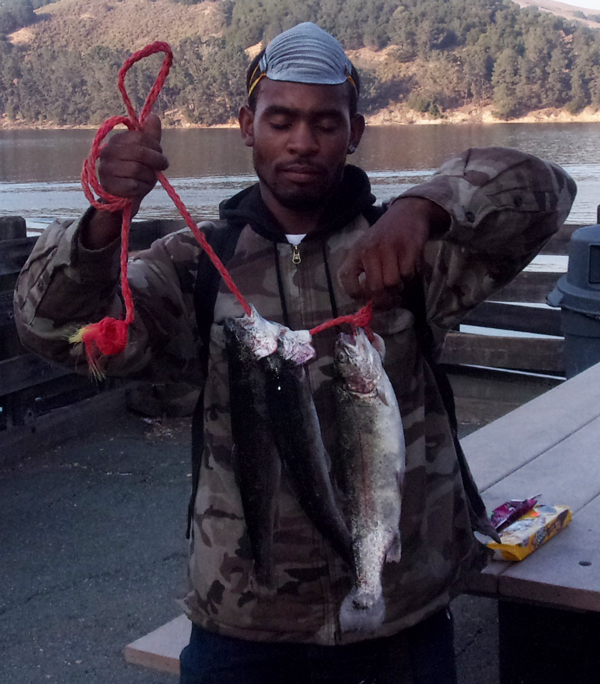 San Pablo Reservoir Fish Report 10-22-17
10-22-2017
San Pablo Reservoir Staff
(510) 223-1661
Catfish, Crappie and Bass and Trout are biting.  Chicken Liver, Anchovies or night-crawlers are your best bet for catfish.  Crappie will bite on a red-worm, crappie nibble or an atomic teaser.  Bass use a Berkeley plastic worm with a Gamakastu off-set shank hook best colors are watermelon candy and black oil.  Power- bait and night crawlers are best for trout.
Lake Conditions
Lake Level       307.2
Surface Temp 66.0
Fish Plant:  We planted 1,000 lbs of Mt Lassen Trout in a netted area at the Pines for Family Fishing Day on 10-20-17.
Park Information
Jaime Robacaba of Richmond caught a 6lb Catfish no location or bait given on 10-15-17.
Joseph Lobo of Pinole caught 2 Catfish one weighing 9.01 lbs and the other weighing 12.54 using Anchovies at the Pines on 10-15-17.
Jerell McKinney a Rmrc employee caught 3 trout fishing on 10-16-17 no location or bait given.
Bill Robinson of Berkeley caught 10 catfish weight of stringer 60lbs the largest was 14 lbs. using anchovies on 10-16-17.
San Pablo Recreation area is open daily for the month of October from 6:30 – 6:00 p.m.  Boats have to be off the water at 5:00 p.m. The café is open Saturday and Sunday from 10:00 am – 4:00 p.m. serving Hamburgers Hotdogs and French Fries.