San Pablo Reservoir Fish Report
6-25-2017
Courtesy of  San Pablo Reservoir Staff
(510) 223-1661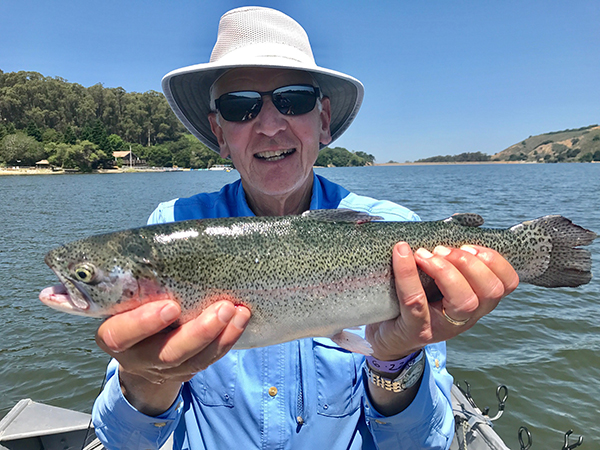 San Pablo Reservoir Fish Report
Hi Marcella:

Al Hurwitz of Saratoga and Abbey Lev of Sunnyvale trolled the reservoir on 6/22/17. It was a warm day with the surface water temperature around 80 degrees. We trolled mostly 15 feet below the surface in a 20-25 foot water column using Rapalas and Panther Martin Spinners. While we did have one strike on a Rapala (it didn't stay hooked),  the Panther Martins produced all the catches. We caught four Spotted Bass of different sizes and one nice Rainbow Trout, (see photo), the Trout weighing close to 3 lbs. The fish were all caught trolling along the western shore close to the marina. Applying scent to the lures seemed to help. The Trout was a real surprise when I hooked it, as we thought most of them would be much deeper with such warm water temperatures. I think Bass, Catfish, and Panfish will likely be the ticket now as the summer progresses. The staff, as usual, was very helpful.
   
All the best, Dr. Al Hurwitz
Lake Conditions
Lake Level       309.4
Surface Temp  80.0
Fish Plant:
We did not plant any fish this week.  Next plant will be catfish the week of the 26th.
Fish Tales
See Above.
Park Information
San Pablo Recreation area is open daily for the month of June from 6:00 – 8:00 p.m.  Boats have to be off the water at 7:00 p.m. The café is open Friday, Saturday and Sunday from 10:00 am – 4:00 p.m. serving Hamburgers Hotdogs and French Fries.
 http://www.norcalfishingnews.com/fish_reports/67878852/san-pablo-reservoir-fish-report.php