Quarry Lake Fish Report
Quarry Lakes - Fremont, CA (Alameda County)
by Quarry Lakes Kiosk
1-29-2018
(510) 544-3133
Website
GENERAL CONDITIONS
Our last trout plant was on January 9th, when we received 1,000 pounds of rainbow trout from the Department of Fish and Wildlife.  Our next plant will be sometime the week of January 22nd, when we will receive another 1,000 pounds of trout, this time from Mt. Lassen.
On January 11th, our very own Tony Webb of Fremont had no sooner put his line in the water when he caught a 4+ pound catfish using shrimp!  He also caught four trout.  Tony was fishing on the back side of Horseshoe Lake.
On January 13th, Wes Anderson of Fremont caught his limit of trout using night crawlers and Powerbait!  Wes was fishing along Fishermen's Row.
On January 20th, Glenn Poole of San Leandro, instead of attending the Sportsmen's Expo in Sacramento, caught two four-pound rainbow trout and one two-pound rainbow trout!  He was fishing at the end of Fishermen's Row and was using mice tails.
For the months of January and February, the kiosk will have extremely limited staffing.  The kiosk will be closed on Tuesdays and Wednesdays.  When the kiosk is closed, please have exact change and use the yellow ticket machine behind the kiosk.  You will need separate tickets for the $5 parking fee (to place on your dashboard) and for the $5 fishing permit (to take with you).  If you bring in watercraft, it will still need to be inspected or, in the case of trailered, banded boats, it will need to be un-banded and then re-banded when you leave.  
If you would like to launch watercraft when the kiosk is closed, please contact the ranger office at (510) 544-3132 in order to be un-banded, inspected, or re-banded.
HOURS OF OPERATION
OPEN Seven Days a Week
Park Hours:
7:00 am - 5:00 pm; boaters can go through inspection and launch up until 3:00 pm and get banded until 4:00 pm.
If the kiosk is closed, please use the yellow Ventek machine to pay for parking (exact change only, please).  For fishing permits, you may either use the Ventek machine or the blue iron ranger posts across from the kiosk, from the entrance from the Isherwood Staging Area, and from the walk-through gates by the Sequoia Bridge and from the Niles gate.
PLEASE REMEMBER THAT YOU MUST BE 100 FEET AWAY FROM THE FISH TUBE, THE BOAT DOCK, AND THE BEACH AREA while fishing from the shore and from a boat. Also, note that the use of lead fishing tackle is prohibited at Quarry Lakes. You can exchange lead tackle at the kiosk in a "1 for 1" trade for stainless steel weights.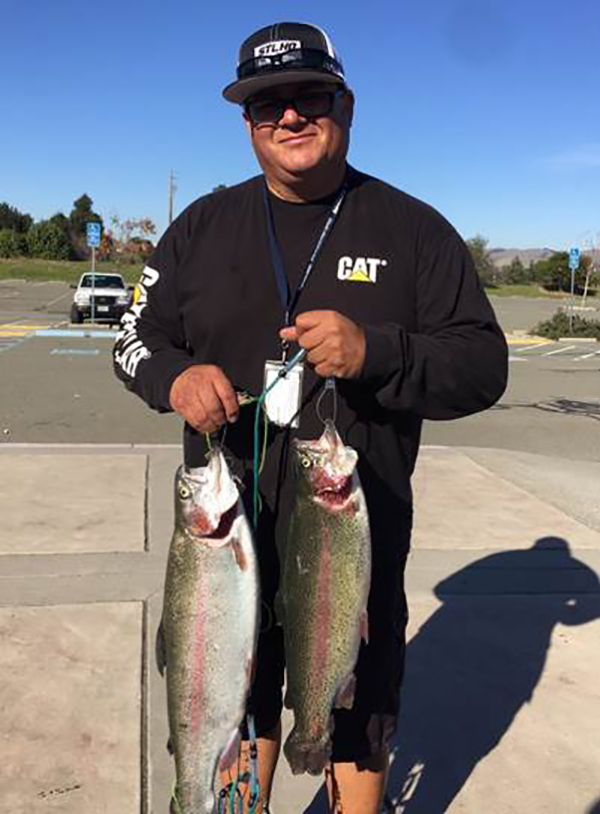 EBRPD regular Joaquin Gutierrez caught a 7.76-pound and 6.4-pound rainbow trout on a fire-tiger spoon on Fishermen's Row.
Photo Credit: Lake Chabot Staff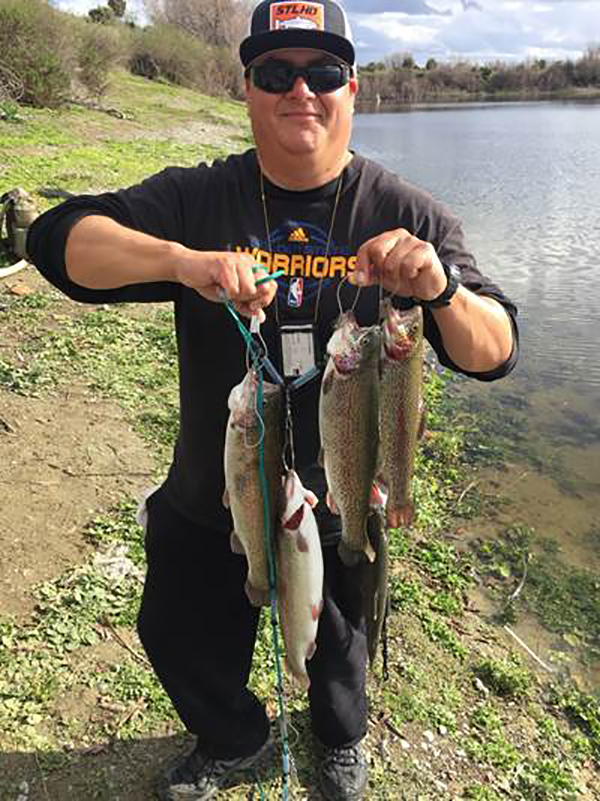 After the fish plant on January 25th, Joaquin limited out quickly. He caught two trout using rainbow Powerbait, and three others on green and chrome spoons.
Photo Credit: Lake Chabot Staff
Source Link: