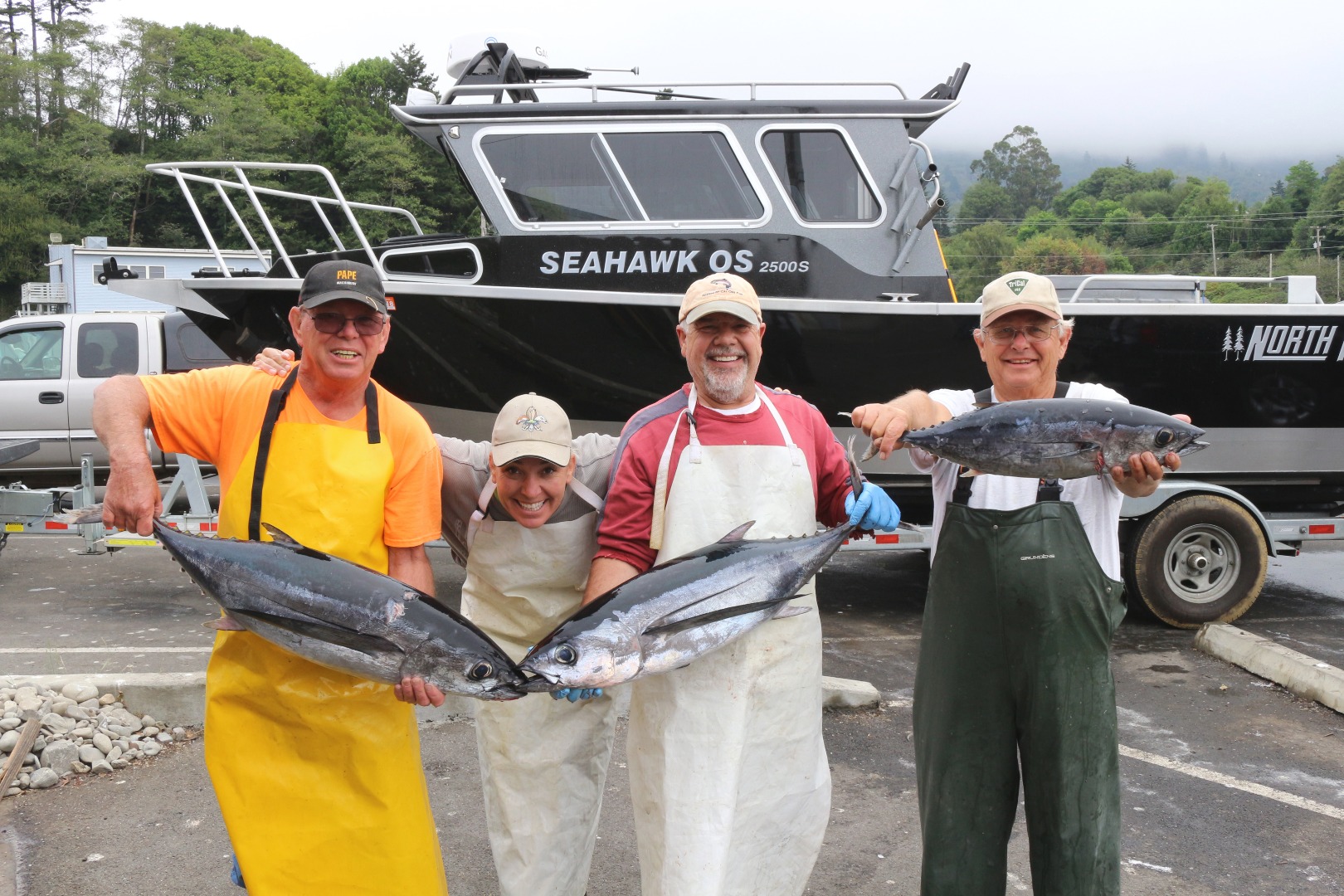 Tiffany and Robert Berg from Brookings, Oregon (center) took two friends out tuna fishing last week and ended up catching over 25 albacore.
Photo Credit: Larry Ellis
Name a fish species and the likelihood is that it was being caught in the ocean or in the Rogue Bay.
Albacore
Anglers who trolled feathers and clones between 38 and 50 miles out of the Port of Brookings Harbor had a mixed bag of success with boats averaging between 20 and 50 tuna per vessel. The red-hot action occurred on a streak of flat-calm days from Sunday through Wednesday.
Crabbing
Last week, crabbers were hauling in limits of Dungeness crab like it was going out of style.  People were laying their pots in depths averaging 40 feet, however folks who were dropping their gear in 60 feet weren't doing all that shabby either.
Right now the dungies are molting, which means they are outgrowing their former shells and are putting on new clothes.  So don't keep the soft-shelled molters.  However, there are so many crab being lured into the pots that anglers haven't had much trouble in culling out the soft ones and keeping the harder-shelled crustaceans.
Anytime you are crabbing, look for areas that have lots of sand before it's 'bombs away'.  The second-best bait is rockfish or lingcod carcasses which can be found in the fish dumpsters for free in the Port of Brookings Harbor's fish-cleaning station.
The first-best bait if you can get them, are tuna carcasses which of late have been seen in the cleaning station almost all week long.
Rockfish and Lingcod
When the ocean has laid down like a sheet of liquid mercury, like it did last week for almost 4 consecutive days, anglers have had no problem limiting out on a plethora of rockfish species including black rockfish, blue r., quillback r., vermilion r., and canary r.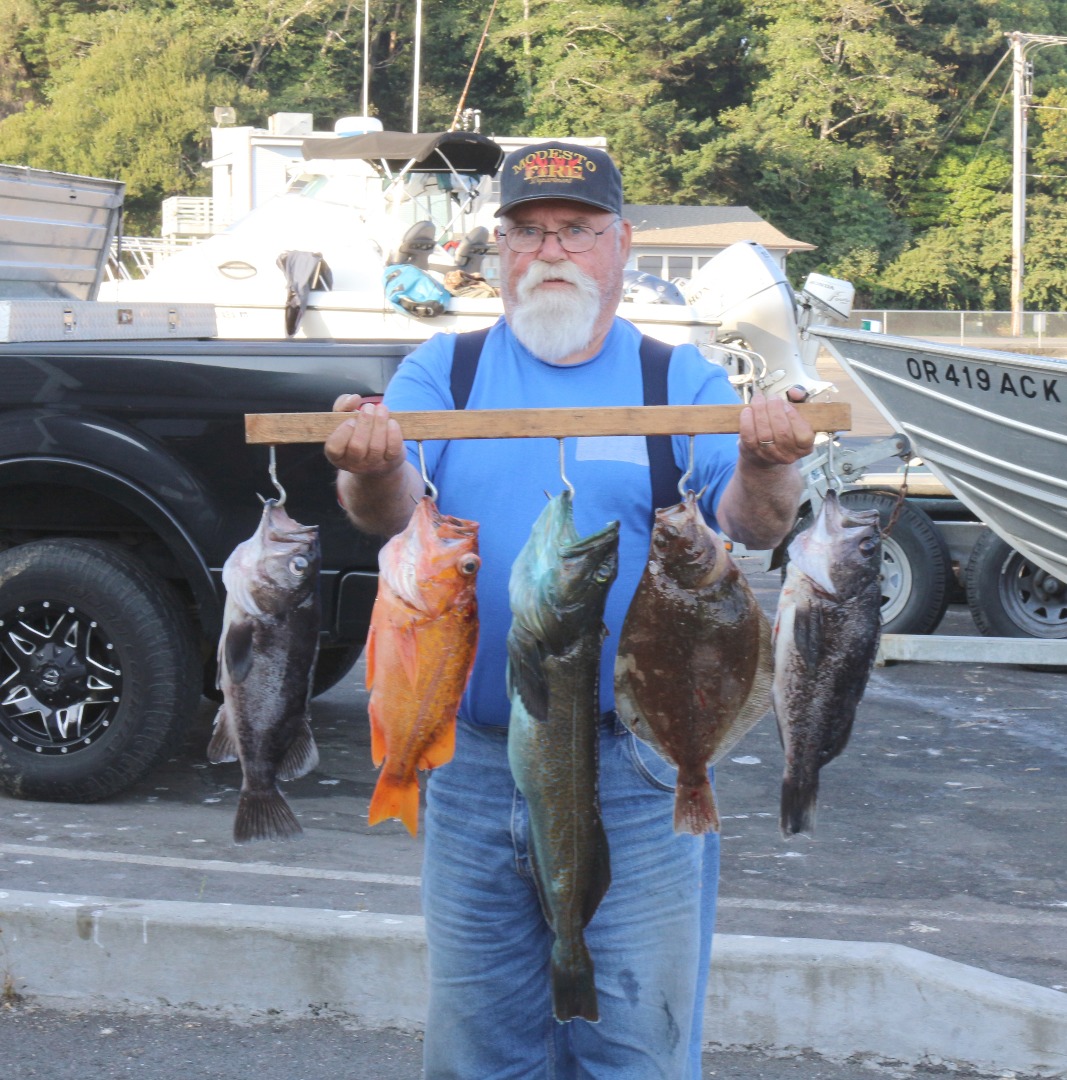 Anglers fishing out of the Port of Brookings Harbor last week were rewarded with lingcod, a variety of rockfish and the occasional Petrale sole
Photo Credit: Larris Ellis
Anglers are half limiting out on lingcod with the occasional showoffs coming to the cleaning station with limits of some very large lingasaurs.
Just about everything is working including leadfish, twin-tail plastics, single-tail Mogambos, 5.5-inch plastic jerkbaits, shrimp flies and whole herring or anchovies.
Be very careful to release all yelloweye rockfish as there have been reports of the occasional yelloweye being caught by unknowing anglers.  One of the numerous fish checkers in the area will be happy to show you how to properly ID a yelloweye and many of the port samplers will have identification cards to give to you.
There have also been numerous petrale sole and Pacific sanddabs being brought to the tables.  One of the characteristics of the highly esteemed petrale is its sharp teeth.
Although not red hot by any means, several Pacific halibut have also been making their way onto the decks of many a sportfishing vessel.
Rogue Bay Chinook
Anglers trolling spinnerbait/anchovy rigs or straight bait rigs are still hooking up with some hefty fall Chinook in the Rogue Bay.
"The fishing has been outrageous," says Larry Cody from the Rogue Outdoor Store in Gold Beach. "We're having great fishing in the bay on the Chinook. It's not slowing down at all."
Due to extremely-high water temperatures, most of the boats are concentrating near the sand spit or alongside the cat houses in the lower end of the bay where the Chinook are starting to stack up again like cordwood.
"The salmon just won't move upriver so they're hanging out in the bay," notes Cody.  "We've had bay temperatures approaching 80 degrees, so that's keeping the salmon down low."
Half-Pounders
ODFW has also been seining half-pound steelhead up at Huntley Park, and anglers who are fishing the tail-outs and borderline whitewater/smooth water of the Rogue are seeing plenty of action.  The number one bait?
"We figure that half of the half-pounders every year are caught on night crawlers," emphasizes Cody.  "The rest of them bite on a mix of flies and standard spinners such as Mepps, Panther Martins and Rooster Tails."
Whatever you decide to use, make sure that you are using light line and with a light trout outfit or possibly even an 8- to an 8-1/2 foot lightweight steelhead rod.
"You want to go with light line because they are leader shy," stresses Cody. "For my leaders, I'd be running 4 to 5 pounds at the most.  You could go lighter but then again, that goes into the skill level of the angler."
Half-pounders have been known to break 4-pound test on-the-strike, so keep your drags fairly loose but not loose enough that will cause a bird's nest on the initial hit.
There are still reports of Coho salmon being caught in the bay, so remember that only hatchery (adipose fin-clipped) Coho may be kept.  All the wild buoys and gulls must be released.
Tight lines!
Larry Ellis, author, writer, columnist and photographer has had a 50-year passion for fishing in California and Oregon's saltwater and freshwater venues. He is a well-known writer for Oregon, Washington and California Fishing and Hunting News, Northwest Sportsman, California Sportsman and Pacific Coast Sportfishing. He currently writes monthly for Salmon Trout Steelheader Magazine, and is the weekly fishing columnist for "On the Water" for the Curry Coastal Pilot Newspaper. He particularly loves living in his hometown of Brookings, Oregon - The heart of salmon country and gateway to fishing paradise. Posted with permission of the Curry Coastal Pilot of Brookings, Oregon.
http://www.myoutdoorbuddy.com/articles/67881626/plethora-of-fish-being-caught.php