Pilot Peak Guide Service
Pyramid Lake fly fishing 
over 30 years experience
with Guide Glenn Lemon
(775) 622-5678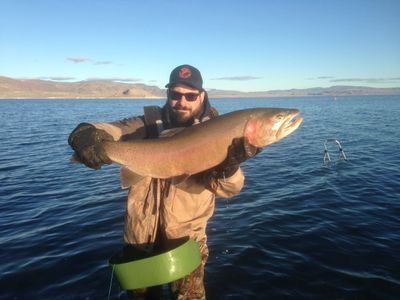 Pyramid Lake Fishing
Pyramid Lake's season runs from October 1st until June 30th
March, 1 2018
Winter has returned but it has brought the fish in. Fishing has been good either stripping beetles or buggers. Indicators with midges have been best with some very productive days as of late. I still have a few open days left in March and April contact me if you are intrested. 
Source Link:
Other articles you may enjoy
 

Popular fishing tackle would be banned under new California bill

BY BILLY KOBIN wkobin@sacbee.com March 02, 2018 12:01 AM A California lawmaker wants to ban most lead fishing weights, arguing they are harmful to wildlife. Assemblyman Bill Quirk, D-Hayward, introduced Assembly Bill 2787 on Feb. 16. The bill would outlaw the manufacture, sale and purchase of lead fishing weights that...

 

Stop the Fishing Tackle Ban! No on AB 2787

On February 16, 2018, Assembly Member Bill Quirk introduced Assembly Bill 2787, legislation that will ban lead fishing weights that can be found in most every California angler's tackle box. Making fishing too costly and less accessible will have a devastating impact on the state's tourism industry and communities...