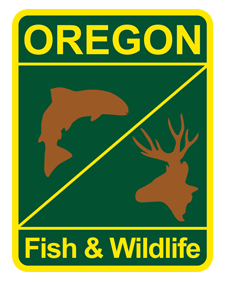 by ODFW
2-17-2018
 Website
More than 20,000 extra trout were released at two Willamette Valley locations this week in preparation for the upcoming Free Fishing Weekend in Oregon. Fishing, crabbing, and clamming are free on Saturday and Sunday of President's Day Weekend, Feb. 17-18.
The extra fish were released at Henry Hagg Lake near Forest Grove and Junction City Pond near Eugene. They include 8-inch "legals," 13-inch "pounders," and two-pound-plus "trophies."
"We have an overabundance of trout at Junction City Pond and hope people will get out this weekend and get after them," said Elise Kelley, ODFW district fish biologist.
Other scheduled trout releases can be found throughout the year can be found at ODFW's on-line Stocking Schedule.
During Free Fishing Weekend, no fishing licenses or tags (including a Combined Angling Tag and a Columbia River Basin Endorsement) are required to fish, crab or clam anywhere in Oregon for both residents and non-residents. Although no licenses or tags are required, all other regulations apply including closures, bag limits and size restrictions.
Under statute set by the Oregon State Legislature, ODFW can offer eight days of free fishing each year. The six other days of free fishing in Oregon this year are listed on page 16 of the 2018 Oregon Sport Fishing Regulations and are June 2-3, Sept. 1-2 (Sat.-Sun. of Labor Day Weekend) and Nov. 23-24 (the two days after Thanksgiving).
Source Link:
Other articles you may enjoy
 

Is a Photo of My Fishing License Good Enough?

A CDFW wildlife officer talks with an angler. Photo Credit: CDFW by Carrie Wilson2-15-2018 Website Question: I have a picture of my current fishing license and hunting license on my phone (as well as my driver's license). That shows all of the legal stamps, stars and stripes that might be required for what I am doing l...

 

Fly Fishing Specialties Northern California Fly Fishing Report

Courtesy of Fly Fishing Specialties 6360 Tupelo DriveCitrus Heights, CA 95621Phone: (916) 722-1055Shop email: info@flyfishingspecialties.com Report Feb 15, 2018 Best Bets: Yuba, Lower Sac, - Trout, Trinity and Klamath - Steelhead Great weather and winter fishing are going on now! American River Steelhead - Fair. Flows...