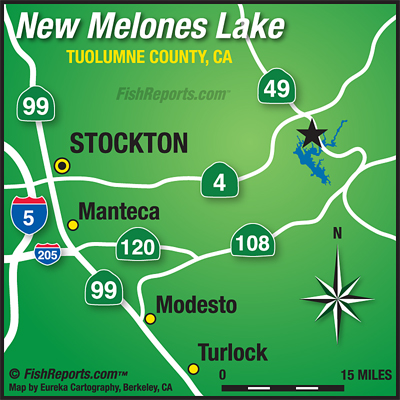 Glory Hole Fishing Report
2-13-2018
Nor Cal Fish Reports
New Melones Lake level is currently at 1050. and 38 ft. from full and 82% of capacity. Melones water level is at 132% of historical average which carried over from last years storms. Water level had dropped to the year low of 1050.00 before rising to current level. Water temperature is 57 d. clarity is good.
We like to promote catch and release on New Melones. If you do so, provide us a picture and bring it in for a copy or email it to us at gloryholesports@yahoo.com so we can put it on the board or in the newsletter.
Anglers FYI: For anyone with a potential lake record please call us at the store and hopefully we can send someone to weigh, photograph and measure the catch at the lake. GHS is the unofficial recorder of lake records for New Melones, and we understand there is sometimes conflicting interest in the welfare of the catch, whether or not to release the potential record, sacrificing your place as a record holder for the lake.
We do promote catch and release and highly commend Chris Peterson for releasing the new record for Rainbow trout. Chris in our opinion had done everything he could to record the statistics of the trout, length, girth, weight and photographed at the lake before releasing her. If indeed we can verify the information that is provided, such as a witness, comparing the scale used with ours, a photograph with the fish hanging from the scale and can see the scale weight, etc...then we can accept this as proof. If your catch has expired than indeed bring it in to GHS so we can record it here, and you can have it mounted!
Trout
This February has started out with beautiful weather and has brought out the trout anglers. Some anglers have complained about the slow bite on the lake which could be considered the norm this time of year, but it depends on who you ask. If you asked Mike Prather and Rick Smith of Sonora/Jamestown then they would probably not be too shy in telling you that a 3 lb. 3 oz, 5 lb. 2 oz. and 5 lb. trout is not a bad day. I don't think I'd stop fishing if I only had these to angle!
Another angler, Jason May of San Andreas wasn't complaining too much with his awesome 7 lb. 2 oz. lunker of a bow. Caught at 30 ft. of water on power bait in Angels Cove.
Bass
Anglers report bass fishing has been good using Texas rig/crawdad and Carolina rig from 3 ft. sloping down to 10 ft. River2Sea Swaver have been bringing in some of the larger bass caught in the tournaments going on at Melones, along with Huddleston Swimbaits.
A lot of bass anglers just don't want to admit that they really don't know how to choose the right presentation most of the time, so we would like to help you choose the right soft bait for your day on the lake. So we've enlisted the help of a well-respected veteran, Ziggy, our in-house bait adviser can select color and size of bait to use so you'll be more successful on the lake. ;)
Crappie
John Leichty of Angels Camp reported catching and tying the current lake record for Crappie, landing a nice 2 lb. 6 oz. and releasing her for future anglers.
Source Link:
Other articles you may enjoy
 

Southern Nevada Fishing Report

Courtesy of NDOW Updated: 2/14/2018 UPCOMING EVENTS The Southern NevadaFamily Fishing Club will meet Sunday, Feb. 25 from 2 – 4 p.m. at the NDOW Las Vegas office, 4747 Vegas Drive. The program this month is fly tying for all ages. NDOW will provide all equipment and materials free of charge. Register online at https://...

 

Winter-Run Critical Habitat Conundrum

FISHBIO WebSite2-12-2018 Just when you think you've got a species figured out, sometimes they show up where they're "not supposed to be" and make you reconsider. This recently happened in the fish world, when adult winter-run Chinook salmon, an endangered fish previously thought to only inhabit the mainstem Sacramento...