Glory Hole Fishing Report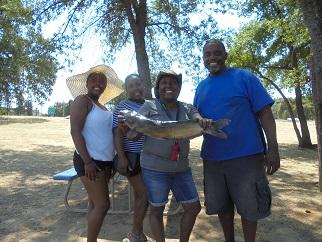 Glory Hole Fishing Report
7-10-2017
Glory Hole Sports
New Melones

The lake is just about topped off, even with the release of water the lake is still rising, currently at 1069.00 just 19 ft. from full. Water temperature is 78 d. There has been some quality Kokanee being caught in the main lake from the dam to the spillway trolling between 45 and 70 ft. deep with pink hoochies trailing behind a pink/pearl white Vance's Tackle dodger.

Rob Schlick boated a beautiful 24 inch 5 lb rainbow trout in the house boat area.

Local Guide Gary Burns has been boating some nice trout while trying for Kokanee. Over all it seems the trout are more active and on the bite the last couple of weeks. People fishing with the standard hoochie setups with some kokanee corn or a piece of night crawler on the tip of the hook should do it. If you're not sure how to rig it up, stop by the Glory Hole Sports on the way to the lake and there top notch staff would be happy to show you rigging your gear.

Bass

The bass bite is continually getting better it's only a matter of time before someone breaks the current lake record. Conditions are prime working shad colored spinner baits along shoreline structure will prove to be successful or drop shoting rocky drop offs.

Crappie

The crappie bite is picking up again with small to medium minnows and crappie jigs near vertical structure and submerged tree cover.Catfish are hanging around the banks,use stink bait and you'll be ok, or try a nighcrawler ball or chicken liver.Live minnows work great at night close to the bank.

Lake Pardee

Recent plant of 4,500 pounds of Rainbows were released into Pardee this past weekend,and there is one more scheduled to arrive from DFW. There is a plant scheduled to happen once a month for the remainder of the summer months. The Kokanee bite was outstanding a week ago but has currently slowed down. Kokanee are being caught at the south end of the lake at depths from 45 feet to the surface using pink or orange micro hoochies.

Lake Amador

The last trout plant was stocked into the lake before Memorial Day weekend with 600 lbs. of Lightning Trout. They say the fish are holding at 15 feet in the morning then going deeper in the afternoon. Power bait, Kastmasters, and nightcrawlers are working.

Lake Comanche

Trout plants are over for the season. Between the dam, Little Hat, and Big Hat Island trout are still being caught. Bass fishing has been consistent with several large bass in the 6-8 lb. range being weighed in and released. Crappie are still found near vertical structure using small minnows or small jigs.

New Hogan

Bass fishing has been picking up. Throwing crawdad crank baits and topwater in the morning has been successful. Striped bass anglers trolling are still hooking up pulling shad on a harness rig in the main lake in front of the launch ramp area and the dam. Stripers have a 10 fish limit.

Jimmie Velazquez of Waterford hooked up this nice 2 lb.11 oz.rainbow trout fishing New Melones Lake. He was trolling north of Rose Island, at 60 ft. using double bladed spinner below a Seps pink and teal blade with garlic scent.

Michelle Mayfield and family came out July 7th and 8th for some catfishing, and stopped by Glory Hole Sports for some gear and food. What a great family, thanks for sharing the 5.89 lb cat!