June 28, 2017 - 3:54 pm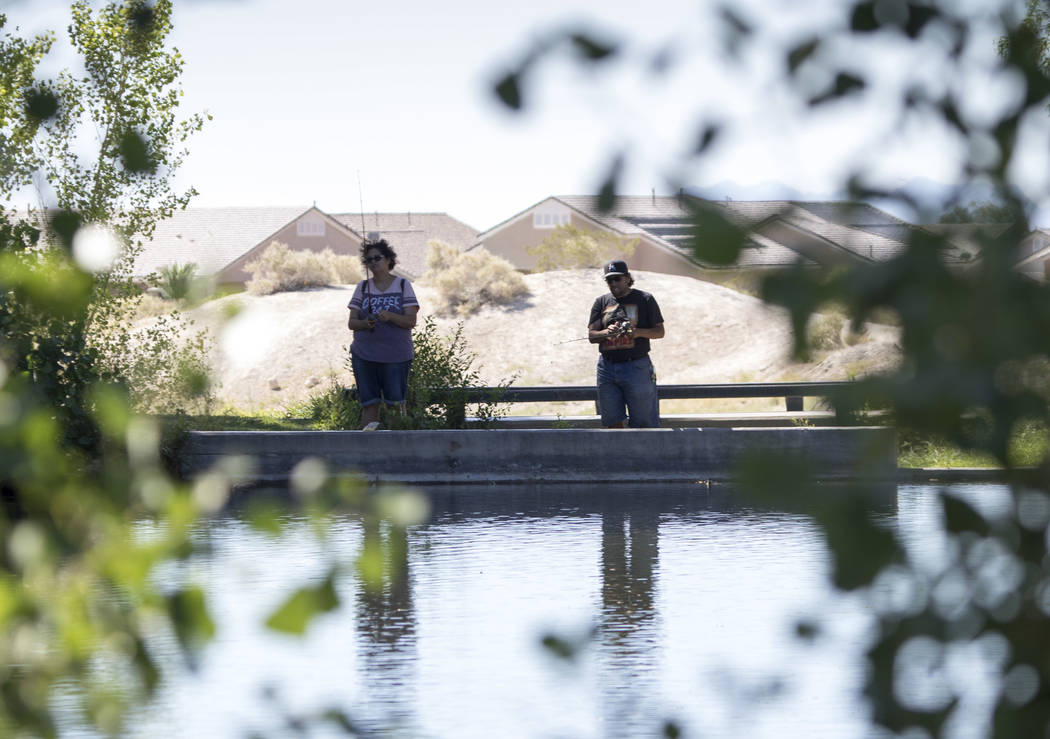 LAKE MEAD — Anglers fishing at night are finding fast action for striped bass and catfish. Try anchovies, live shad or jigging spoons beneath a submersible light. Fishing is sluggish during the day, but quality fish are coming in at sunrise and just before dark. Black bass are biting on poppers and swimbaits. Work baits in areas with vegetation for black bass and catfish.
LAKE MOHAVE — The south end of the lake has been productive, with anglers catching stripers from the dam. Anchovies and swimbaits are fooling striped bass outside Katherine Landing. Anglers fishing out of Cottonwood Cove are finding success for catfish and black bass in coves. Vegetation is getting thick along shorelines and providing cover for game fish. Work submerged brush in the coves for sunfish. Early mornings and evenings have been the most productive.
LAUGHLIN — Great fishing opportunities can be had along the Colorado River from Davis Dam through Casino Row and down to Big Bend. Anglers are finding good fishing from the shoreline in the early mornings and late evenings. Anchovies are taking striped bass and catfish. Try night crawlers and spinners in deep, shaded pools for rainbow trout hiding from the heat.
LAS VEGAS URBAN PONDS — Sunfish action has picked up in the past week. Green sunfish are taking mealworms, night crawlers and small lures at Lorenzi Park. One angler caught a 4-pound catfish using mini-marshmallows scented with catfish dip. The marshmallows float above the weeds growing on the pond bottom. The next catfish plant will be in August. Seasonal vegetation growth has become a problem in most of the urban ponds. Be patient and use rigs that keep bait just above the weed line.
KIRCH WILDLIFE MANAGEMENT AREA — Fishing has been hit or miss on area reservoirs. The best action has been in the early mornings and after sunset. Aquatic weeds are abundant in each of the reservoirs and making the going tough for anglers using float tubes. Information on bait selection is limited, but gold spoons generally work well, as do fly patterns such as damselfly nymphs, Woolly Buggers and Montana Nymphs.
EAGLE VALLEY RESERVOIR — Action has been good this past week but only in the early mornings and evenings. The bite has been shutting down at midday. Trout have been biting on PowerBait in orange, green and rainbow colors, but gold spinning lures have been especially effective. Crappie and bass are taking an assortment of spinning lures and jigs. Bass are averaging 1 to 2 pounds. Fly-fishermen have been doing well using dragonfly nymphs and olive Woolly Buggers. Aquatic vegetation is becoming a problem along the shoreline.
ECHO CANYON RESERVOIR — Anglers are finding the best fishing in the early mornings and evenings. Fish are taking a variety of baits and lures. Trout are hitting PowerBait, night crawlers and mealworms. Bass and crappie are taking night crawlers. The dropping water level and aquatic vegetation has made boating difficult.
UPCOMING FISHING CLASSES — The Nevada Department of Wildlife will hold a free beginners fly-tying class on July 21 from 6 to 7:30 p.m. at 4747 Vegas Drive. Students will learn the basics of creating fishing flies. All equipment and materials will be provided. Registration is required. Call 702-486-5127, extension 3503, Monday through Friday for more information.
https://www.reviewjournal.com/sports/nevada-fishing-report-june-28-2017/