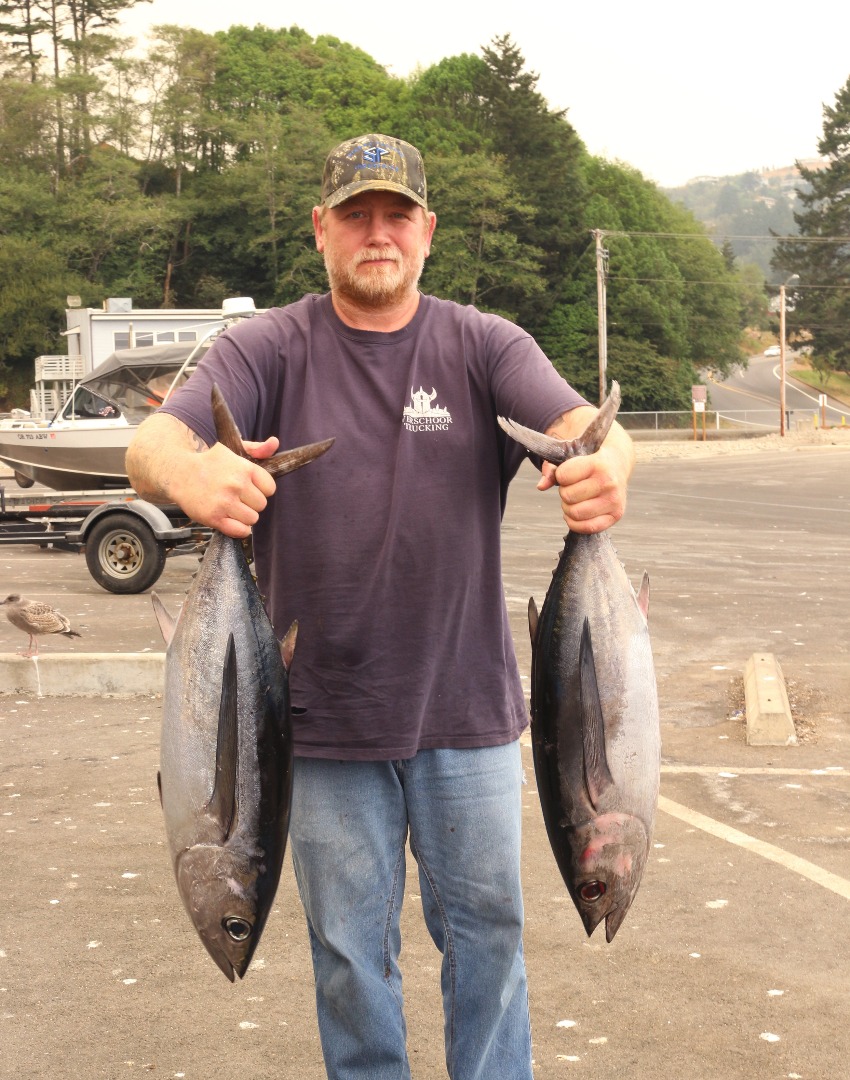 Oren Hawksford from Brookings, Oregon holds two of the numerous tuna that he and a friend caught last week while fishing 50 miles out of the Port of Brookings Harbor.
Photo Credit: Larry Ellis
This is the time of the year when multiple fisheries can be expected on the southern Oregon coast.  The crabbing has been very good, fishing for lingasaurs has been stellar, rockfishing has been ridiculous, the tuna fishing has been excellent and then there are the hawg Chinook of the Rogue Bay.
Why don't I have 10 arms?
But let's start with the Port of Brookings Harbor.  Rockfishing for black rockfish, blue r., vermilion r., quillback r. and canaries has been quite good when the ocean has laid down as flat as a piece of glass, which has been quite frequent as of late.
Limits or near limits of lingcod in the 8- to 15-pound bracket have also been coming to the fillet tables as well.
Anglers have been catching their bottomfish using their favorite technique. My preference is single fishing your favorite lure, because there is nothing like going one on one with the lowly bottomfish.
Leadfish have been popular in water between 60 and 90 feet deep.  Twin-tail or single-tail plastics have also been working quite well, as are 5-1/2 to 7-inch plastic rip baits worked on a 2-ounce or heavier lead head.
Action for Chinook in the Rogue Bay has been good even though the action has slowed down just a tad. But fresh kings are entering the system every day, so I look at the Rogue Bay still kicking out its fair share of kings in September.
"Yesterday we had a little bit of a turndown with the barometer going down," says Jim Carey from the Rogue Outdoor Store in Gold Beach on Thursday.  "And with the temperature cooling, some of the fish are on the move, but we still had a good day yesterday."
And so thought Michael Gilinsky from Central Point, Oregon who landed a healthy king salmon over 44 pounds on Wednesday while fishing with guide Bruce Craviotto.
"There were 90 boats in the runoff and I don't know how we got that fish in," recalled Craviotto. "I lost track of the amount of boats it took out, but Gene Garner said it took out five boats."
That was on its way out to sea.  If it wasn't for the experience of the final boat's owner, Michael's fish would have only been a distant memory.
"Thank God it was Jeff Lottis," remembered Craviotto.  "He knew exactly what to do and he got those lines cut."
Then the leviathan did a 180 and made tracks from whence it came.
"Then it cut right through all those boats again and heads for the north wall of the jetty," Craviotto recollected. "Then the guy told me, 'Bruce, I'm down to 7 feet on the line counter.' So I moved over to take a look at this fish and said, oh my God, this is a big fish.  Mike, we need to take our time with this one."
After a long, tough fight, and of course worrying whether the hook was going to pull out of its mouth, the fish finally went belly up.  It was time for the monster 'nook to come to the net.
"The fish was so big that its head and tail couldn't fit in the rim, so it slid off the net," said Craviotto. "Then it dove underneath the boat."
However, with a little finessing, the fish finally made it inside the net with the second attempt.
"I looked around and everybody was clapping and yelling, and everyone on the boat were high-fiving each other.
As far as the official weight?
"It weighed 44-1/4 pounds," said Sadie Allen of Jot's Resort who personally weighed in the giant Chinookzilla on the resort's scale.
Gilinsky was awarded a silver pin from Jot's for catching a salmon over 40 pounds.
The monster Chinook fell for a spinnerbait/anchovy rig with a green-on-green THI blade.
"I think the fish are going to keep coming every day," predicts Craviotto. "So I expect pretty good fishing.  I don't see a whole lot of conditions changing."
Tight lines!
Larry Ellis, author, writer, columnist and photographer has had a 50-year passion for fishing in California and Oregon's saltwater and freshwater venues. He is a well-known writer for Oregon, Washington and California Fishing and Hunting News, Northwest Sportsman, California Sportsman and Pacific Coast Sportfishing. He currently writes monthly for Salmon Trout Steelheader Magazine, and is the weekly fishing columnist for "On the Water" for the Curry Coastal Pilot Newspaper. He particularly loves living in his hometown of Brookings, Oregon - The heart of salmon country and gateway to fishing paradise. Posted with permission of the Curry Coastal Pilot of Brookings, Oregon.
http://www.myoutdoorbuddy.com/articles/67881843/monster-salmon-caught-in-rogue-bay.php