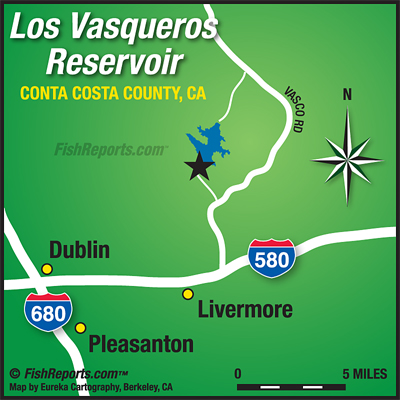 Los Vaqueros Reservoir Fishing Report
8-28-2017
Los Vaqueros Staff
(925) 371-2628
GENERAL CONDITIONS

Trout fishing continues to be "good" at Los Vaqueros Reservoir this week, even with the warm water temperature. Striper fishing is mixed, though they continue to be caught with boils seen at times on the laket. Catfish are starting to show up in greater numbers.

Our water clarity remains good. Water temperature remains at 71 degrees this week.

Take a look at our Facebook page to see two videos of "striper boils" at the reservoir.

If you are looking to rent a boat, it is a good idea to call ahead to check current wind conditions at (925) 371-2628 or check online here for weather conditions updated hourly. We now have both pontoon boats available.

The reservoir is storing 152,000 acre-feet of water, 95 percent of its 160,000 acre-foot capacity. Pumping has stopped and the reservoir will continue to drop through the summer.

TROUT

Fishing for trout continues to be good even with the warming temperatures with a lot of activity at the fish cleaning station. They are being caught in South Cove and Oak Point as well as past the Rock Wall. The baits of choice for shore anglers are garlic-scented PowerBaits, nightcrawlers or Kastmaster lures. Trout average a pound and a half but range to over 5 lbs. Water temperatures are currently too high to safely plant trout. Light tackle is important for catching trout with 4-6 pound test being plenty. Trout fishing continues to be fair, mostly in the morning or evening hours with fish being caught from around the reservoir. There are lots of fish being caught from Oak Point to past the Rock Wall. South Cove also continues to produce a good number of fish.

LARGEMOUTH BASS

Most anglers were focused on stripers or trout. Keep in mind that largemouth need to be 12 inches to be kept. Please release any big largemouth bass you might catch, they are the future of largemouth bass fishing in the reservoir. 1000 8"-10" bass were planted on July 13th along with 2000 3"-5" fish. If you catch any of undersized fish, please release them gently and allow them to grow up.

STRIPERS

Striper fishing is mixed with fewer shakers showing up but more medium to large fish being caught. The pier by the Marina and from Oak Point south towards South Cove are doing decently. From shore, cut anchovies or shad is the bait of choice. Just a reminder, stripers need to be 18 inches or more to be legal. Please release the small fish as quickly and carefully as possible. They are the future of our striped bass fishery.

CATFISH

Catfish are starting to show up in greater numbers. With the warmer weather and fish plants they are beginning to be caught from South Cove to Cowboy Cove. For those wishing to target catfish, chicken liver and anchovies are the best choices of bait. There was a 1000 pound catfish plant on August 10th from Lassen. There will be another plant next week. Anglers have been shy to come in and weigh their fish but we have been seeing a number of decent-sized fish going to the the cleaning station.