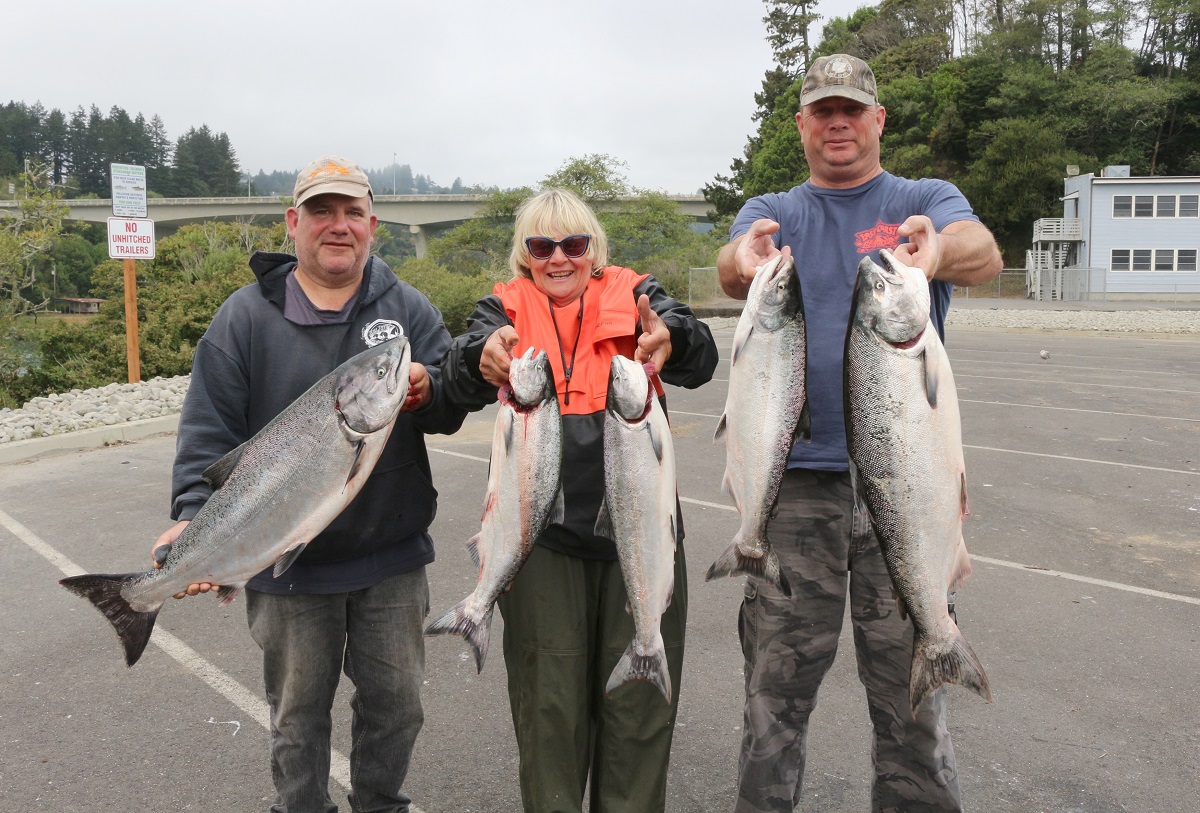 Bryce Packman and Sue Ebanow from Crescent City, California trolled the Rogue Bay last week with Steve Weber of Brookings, Oregon and netted these fall Chinook while using straight bait and spinnerbait/anchovy rigs.
Photo Credit: Larry Ellis
Anybody who has fished for salmon in the Rogue Bay knows the ins and outs of the spinnerbait/anchovy rig, the stalwart trolling setup for Rogue Bay fall Chinook. What they might not know is that one of the employees of Jot's resort has been hand-painting spinner blades for the aforementioned rig for years.
"I paint spinner blades, I tie spinners and I tie leaders," says Amy Gaddis, the owner of THI Blades. "I've been painting spinner blades since '98."
Gaddis purchases her blades, whether they are gold, silver or copper, and then paints them.  Some spinner blades also have a hole drilled near the end.  That's Amy's job as well.
"I hole my blades all the time," notes Gaddis. "There's a lot of people who feel that the hole in the blade gives a lot more vibration in the water. But lots of the old timers who never had a hole in their blades before don't want the hole in them, so they prefer a solid blade."
When you look at the spinner blade board hanging up at Jot's Resort, most of the spinners are painted on the outside of the blade, and the inside of the blade retains its natural gold, silver or copper color, and can have a hammered or solid finish.
And they work just fine the way they are.  But if you want Gaddis to paint the inside of the blade as well, you'll have to take a number.
"I'll custom paint the blades, but right now with custom painting you're almost three weeks out," says Gaddis.
The ever popular Oregon Duck is one the most popular colors, and the Double Duck which has an Oregon Duck finish on both sides is almost two weeks out.
Gaddis ties both straight bait and spinnerbait rigs which are all 6-feet long.  It's up to you whether to leave the leader at 6 feet or shorten it up.  The beginning of the leader doesn't come with a snap or bead chain swivel, giving anglers the freedom to use whatever jewelry they so desire.
When it comes to a spinnerbait/anchovy rig, the smaller the top hook is, the better the rig works.  Gaddis uses very small hooks for the top hook, which allows the hook to become buried inside the fish's skull without being seen.
"Generally I always use a number 1 hook for the top hook," says Gaddis.
Gaddis charges $5.50 for a spinnerbait rig without the spinner.  Add a nominal fee of $3.00 for the spinner of your choice and you're good to go.
Straight bait rigs run $4.75.
Gaddis is also a valuable source of fishing information.  I asked her how the fishing was last week.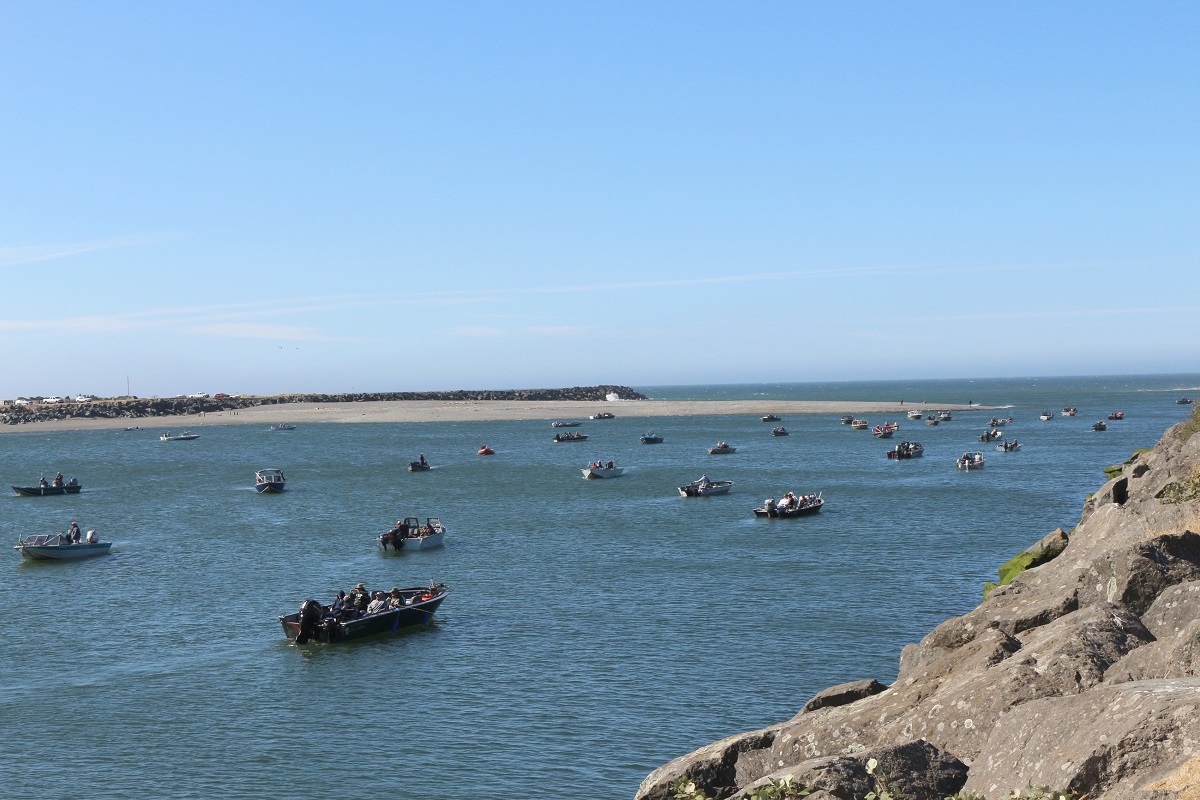 Last week boats crowded the lower Rogue Bay, the mouth and the sand spit trying to hook up with a Rogue River fall king.
Photo Credit: Larry Ellis
"It's been really good - amazing good," noted Gaddis.  "It's been a little slower this week than it has been in the last couple weeks but it's still really good."
Jot's also awards special pins to folks with fish over 30 pounds, 40 pounds and so forth.
"The biggest one of the week was caught by Merit Draven from here in Gold Beach, and he caught a 35 (pound Chinook)," said Gaddis.
Other rivers are starting to fall into shape as well, and a local Rogue River guide will also be fishing these rivers.  The Coquille, which normally gets fish starting around Labor Day, already has kicked out a few Chinook.
"I got reports that the Umpqua is starting to come around, and I just had a report that Rick Howard had 5 fish on Wednesday on the Coquille River," said guide John Anderson.
So it won't be long until Anderson will be hitting the Rogue, Coquille, Coos and Umpqua rivers.
"I fish all four rivers, whichever is fishing the best," says Anderson.
The Coquille trolls best on the incoming tide starting at the beginning of the tide, basically launching at Bullards and working your way upriver toward the flats.  Cut-plug herring is the bait of choice. If you hook up in a particular area, head back downriver and troll the same area again.
When winds and swells have died down, anglers fishing out of the Port of Brookings Harbor have been nailing limits of rockfish and lingcod.  My all-time favorite bottomfishing baits are plastic jerkbaits used on a 2-ounce leadhead jig, with leadfish running a close second.
Tight lines!
Larry Ellis, author, writer, columnist and photographer has had a 50-year passion for fishing in California and Oregon's saltwater and freshwater venues. He is a well-known writer for Oregon, Washington and California Fishing and Hunting News, Northwest Sportsman, California Sportsman and Pacific Coast Sportfishing. He currently writes monthly for Salmon Trout Steelheader Magazine, and is the weekly fishing columnist for "On the Water" for the Curry Coastal Pilot Newspaper. He particularly loves living in his hometown of Brookings, Oregon - The heart of salmon country and gateway to fishing paradise. Posted with permission of the Curry Coastal Pilot of Brookings, Oregon.
http://www.myoutdoorbuddy.com/articles/67881359/local-creates-unique-salmonspinners.php