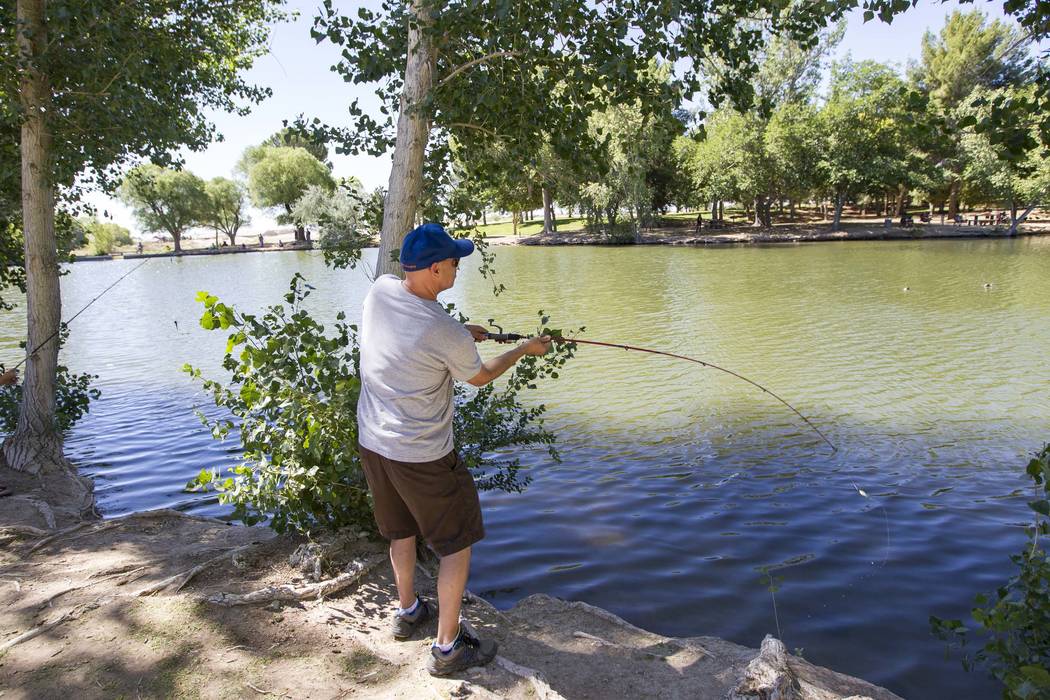 (Richard Brian Las Vegas Review-Journal @vegasphotograph)
Nevada Fishing Report
Jan 24, 2018
LAKE MEAD — Recent reports of fishing activity have been few and far between. Live shad and anchovies have been catching striped bass out of Echo Bay and near Boulder Harbor. On warm days, anglers have found good fishing for black bass in the Overton Arm. Soft plastics and silver-colored crankbaits have been fooling the fish.
LAKE MOHAVE — Striped bass are biting on cut anchovies, but they are on the small side. The fish will steal your anchovy right off the hook if you aren't paying attention. Keep your anchovies on ice until you need them. That will extend their effective bait life in the water. For larger fish try swimbaits, including trout variations. Smallmouth bass are biting on soft plastics in pumpkin and deep blue colors. They are hiding along the shelves in the coves on the south end of the lake.
LAUGHLIN — Water levels are low, so fishing from shore is recommended for stocked rainbow trout. Night crawlers and PowerBait are catching the fish. Hardware options include Mepp's and Panther Martin spinners. Li'l Jake's lures can also be a good choice. Go with silver in murkier water, and try gold with red spots on bright days.
LAS VEGAS URBAN PONDS — The Nevada Depart of Wildlife has plans to stock rainbow trout at Floyd Lamb, Sunset, and Veterans Memorial Park. Hafen Park, in Mesquite, and the Beatty pond will also receive fish. Despite regular plants, anglers have found the action to be hit-and-miss. The fish seem to rotate their bait preference from lures one day to natural and manufactured baits the next.
KIRCH WILDLIFE MANAGEMENT AREA — Fluctuating temperatures have the reservoirs stuck in a freeze-then-thaw pattern. Ice conditions have never really solidified, making any ice unsafe for fishing. The area received several inches of snow over the weekend. Caution is advised when driving on the management area.
EAGLE VALLEY RESERVOIR — Despite weekend storms that dropped several inches of snow in the park and thickened up the ice, warm winds and increasing temperatures already are making the ice unpredictable. Anglers are encouraged to use extreme caution when accessing the ice. When it doubt, don't. For current conditions, call Spring Valley State Park at 775-962-5102.
ECHO CANYON RESERVOIR — Weekend storms dropped several inches of snow and left the reservoir covered with thin ice that is unsafe to walk on. For up-to-date ice conditions call 775-962-5103.
UPCOMING FISHING EVENTS — NDOW will host Free Fly Tying Tuesday from 6 — 7:30 p.m. the third Tuesday of each month at the agency's Las Vegas office, 4747 Vegas Dr. All fly-tying materials and tools will be provided free of charge. Sign up online at register-ed.com/programs/nevada/angler-education. For more information call 702-486-5127 x 3503 or 3850.
Source Link: