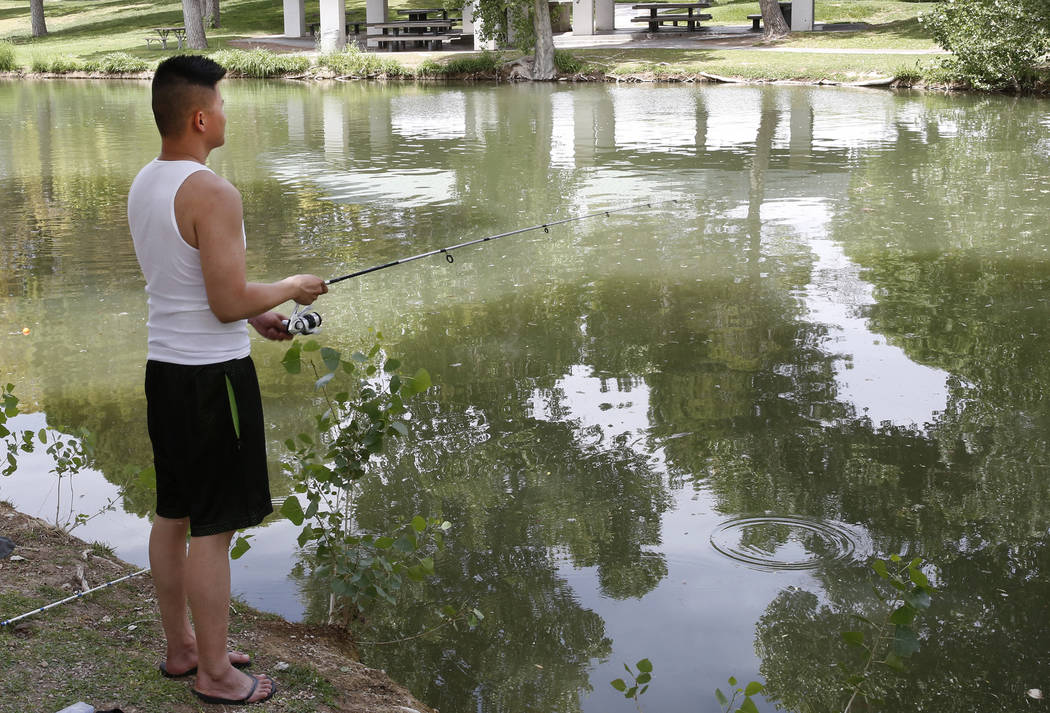 (Bizuayehu Tesfaye/Las Vegas Review-Journal @bizutesfaye)                           
Courtesy of Las Vegas Review-Journal
Nevada Fishing Report
Sept 20, 2017
LAKE MEAD — Black bass are biting out of Callville Bay and Echo Bay. Many anglers are having good success for both largemouth and smallmouth bass through the narrows and up the lake toward Temple Bar. The fish are hitting light-colored soft plastics and crankbaits. Striped bass are taking anchovies, soft plastics, and jerkbaits. Catfish are biting too. Commercial stink baits, night crawlers, shrimp and cut anchovies will catch the catfish.
LAKE MOHAVE — Willow Beach has been serving up a triple combination of fishing opportunity with anglers catching striped bass, rainbow trout and catfish. Stripers seem to be hitting anything that swims and looks like a rainbow trout. The fish also are taking anchovies fished off the bottom. Anchovies also are fooling a few catfish. PowerBait, flies and a variety of hardware will catch the fish. Further south, boaters are catching largemouth and smallmouth bass with white and chartreuse spinnerbaits.
LAUGHLIN — Stocked rainbows are back on the menu with a recent fish plant. Silver-colored spinners and various colors of PowerBait are catching the fish. Don't overlook night crawlers and flies. Stripers are hitting, but they are mostly on the small side. Anything with size to it is taking swimbaits.
LAS VEGAS URBAN PONDS — Channel catfish are on the stocking schedule for this week at Floyd Lamb, Lorenzi, Sunset, and Veterans Memorial Park ponds. Bluegill and largemouth bass action has been good. Mealworms and night crawlers are fooling the fish.
KIRCH WILDLIFE MANAGEMENT AREA — Water levels are still lower than usual, but are starting to improve along with the cooling temperatures. According to the area supervisor, this has been a bad year for aquatic vegetation in the reservoirs, but that should begin to improve as temperatures drop in the coming weeks. Persistent anglers have been catching both bass and trout.
EAGLE VALLEY RESERVOIR — Rainbow trout have been hitting well this past week on a variety of flies and lures. Bait fishers have found good action with night crawlers or PowerBait in green or orange. Crappies continue to take small jigs fished below bobbers near the boat dock.
ECHO CANYON RESERVOIR — Only a few anglers were seen around the reservoir this past week, but those who ventured out found much improved fishing for rainbow trout. Cooling water temperatures also have begun to kill off the aquatic vegetation and open up the shoreline to fishing.
UPCOMING FISHING EVENTS — Saturday, Sept. 30 is "National Public Lands Day" across the country. The Nevada Department of Wildlife will take part in an event at the Colorado River Heritage Greenway Park in Laughlin from 10 a.m. – 1 p.m. Agency staff will provide fishing information, activities, and loaner rods and reels. For more information on this free event, contact 702-293-8970.
https://www.reviewjournal.com/sports/nevada-fishing-report-sept-20-2017/