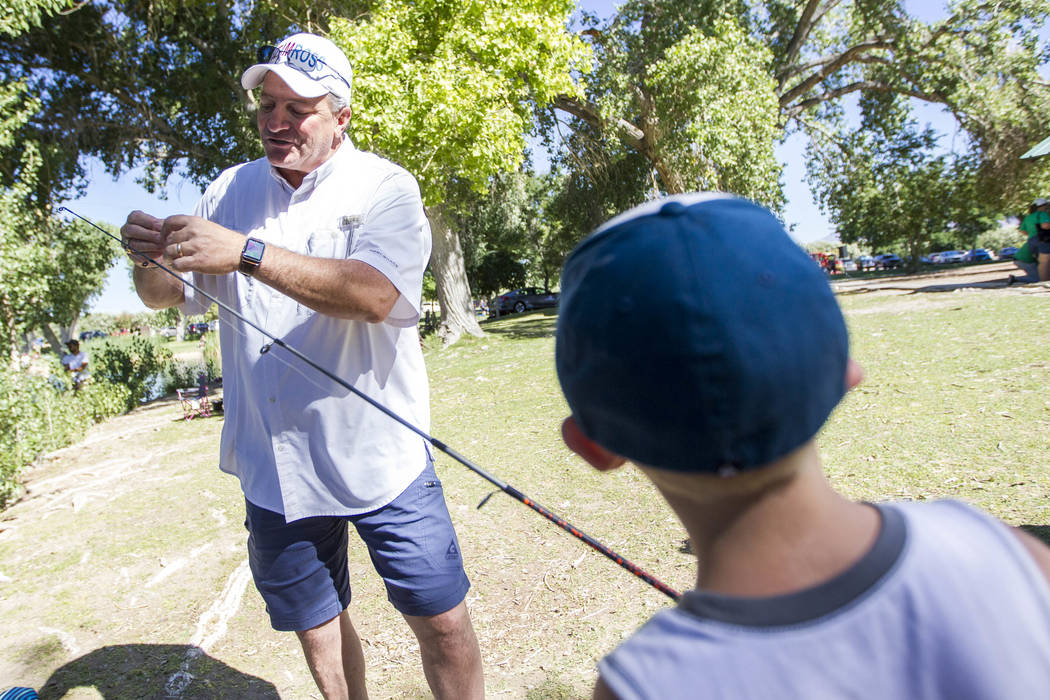 (Richard Brian Las Vegas Review-Journal @vegasphotograph
LAKE MEAD — With high temperatures hanging on, early mornings have been the most productive time for anglers. Largemouth and smallmouth bass in the 1- to 3-pound range have been hitting crankbaits in 5 to 10 feet of water. Some of the best action has been found out of Callville Bay and Echo Bay. Striped bass are boiling outside of Boulder Harbor in the mornings. The line sides are taking 4-inch Easy Shiner swimbaits in silver, as they resemble threadfin shad.
LAKE MOHAVE — Coves north of the Cottonwood Cove marina are providing good action for smallmouth and largemouth bass. The fish are taking spinner baits fished off of shelves. Striped bass are hitting anchovies fished off the bottom. Early mornings and evenings are providing the best fishing.
LAUGHLIN — Striper fishing below Davis Dam has been good, though the fish are on the small side. While the fishing has slowed along Casino Row, anglers still are catching fish as they come through in schools. The fish are taking anchovies. Silver crankbaits and Rat-l Traps are fooling black bass in the river above Big Bend of the Colorado State Recreation Area.
LAS VEGAS URBAN PONDS — The Nevada Department of Wildlife planted catfish last week. Night crawlers fished off the bottom are catching green sunfish, bluegill and catfish.
KIRCH WILDLIFE MANAGEMENT AREA — Fishing has been good for largemouth bass, but they are on the small side. The fish are biting on crawdad imitations. Trout fishing is slow. Aquatic vegetation is making launching and navigating difficult at Hay Meadow and Cold Springs reservoirs.
EAGLE VALLEY RESERVOIR — Seasonal weed growth is starting to break up. Anglers have been catching 10- to 12-inch rainbow trout in the early mornings and evenings. Crappies are taking white jigs fished near the dock. Largemouth bass are biting flies and lures along the tule beds.
ECHO CANYON RESERVOIR — Some areas are becoming more fishable as the summer weed growth begins to disperse. Fishing has been sluggish for trout and bass. Crappies are biting worms and jigs fished 4 feet below a bobber. The water level slowly is rising now that summer is ending. All the campgrounds are open for a fun and full Labor Day weekend.
UPCOMING EVENTS — Spring Valley State Park (Eagle Valley Reservoir) will hold its annual one-fly fly-fishing tournament from 8 to 11 a.m. on Sept. 9. The entry fee is $30, and all entrants will need to have two identical flies, one for the judges and one with which to fish. Contact Ranger Johnson at 775-962-5102 for more information.
https://www.reviewjournal.com/sports/nevada-fishing-report-aug-30-2017/