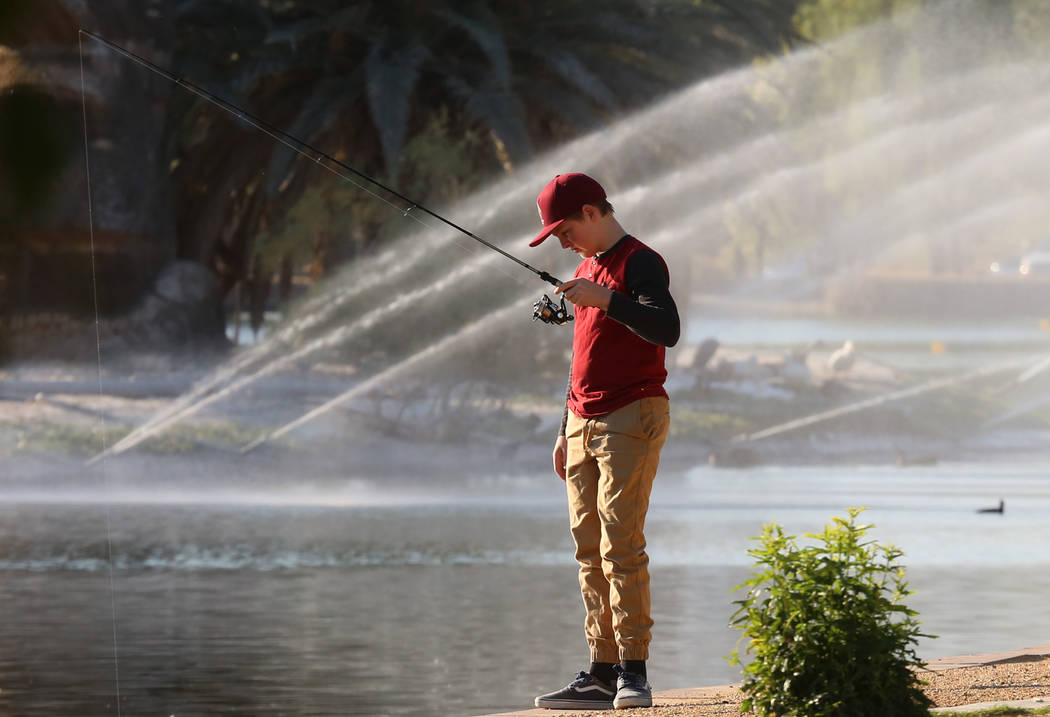 (Bizuayehu Tesfaye/Las Vegas Review-Journal @bizutesfaye)
LAKE MEAD — Unseasonably warm temperatures could make the holiday weekend a good one for anglers. Stripers are hitting on soft swimbaits and anchovies. Live shad have been hit or miss in Las Vegas Bay, but remain the best bait option when accessible. Black bass have been taking crankbaits and plastic worms during the late morning hours.
LAKE MOHAVE — Anchovies and swimbaits are both catching striped bass. The larger fish are taking swimbaits off the top. Everything else is taking anchovies fished at or near the bottom. Both shoreline and boat anglers are catching fish. Look for black bass in coves north and south of Cottonwood Cove, especially those with submerged weed beds and other cover.
LAUGHLIN — Anglers are finding good action for stocked rainbow trout. The fish are taking a variety of baits, including night crawlers, PowerBait and spinners. Look for trout in slack water behind rocks and other objects, in eddies and along the seams where slow water and fast water meet. Striped bass will take anchovies, pencil poppers, and swimbaits. Check the weather report before you go and let someone know where you are going.
LAS VEGAS URBAN PONDS — Seasonal trout plants began the week of Nov. 13. Cold Creek and ponds at Floyd Lamb, Sunset, Lorenzi and Veterans Memorial Park all received a load of rainbow trout. The fish have been hitting on PowerBait in a variety of colorations, as well as small lures such as Super Dupers, Kastmasters, and Rooster Tails.
KIRCH WILDLIFE MANAGEMENT AREA — Thin ice has been forming over night, but so far has been thawing out by mid-morning. Trout action has been very good at Dacey, Haymeadow, Cold Springs and Adams-McGill. One angler, who was fishing with PowerBait at Haymeadow, claimed the action was really hot. The cooler temperatures are knocking back the weeds making shore fishing more accessible.
EAGLE VALLEY RESERVOIR — Anglers have found good action in recent days. With temperatures dropping to freezing overnight, thin ice is forming along the shoreline but has been melting off by mid-morning. Trout continue to take small spoons and spinners such as the Mepp's in gold with reds dots. PowerBait and Power Eggs in rainbow, orange or green colorations also have been catching fish.
ECHO CANYON RESERVOIR — The trout have been hitting well along the dam, taking small lures or flies. Brown Woolly Buggers have been productive, and so has chartreuse PowerBait. Skim ice is forming along the shoreline during overnight hours but has been melting off by noon.
UPCOMING FISHING EVENTS — The Las Vegas Fly Fishing Club, Southern Nevada Chapter of Trout Unlimited, and the Southern Nevada Las Vegas Family Fishing Club will hold their December meeting at noon Saturday, Dec. 3 in the Old Ranch House at Floyd Lamb Park. There will be fishing activities and fly-fishing information for anglers of all ages at the event. For more information contact Ivy Santee at 702-486-5127 x 3503.