Lake Sabrina - Bishop, CA (Inyo County)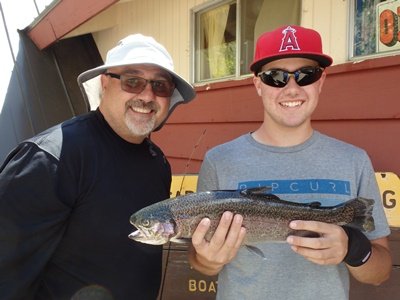 by FishReports.com
7-17-2017
Website
Lake Sabrina Boat Landing
760-873-7425
July 17, 2017
Another beautiful week and weekend up in God's Country otherwise known as Lake Sabrina. Still not spilling, but South Lake is – first time since 2011. The Powers-to-Be are still concerned about flooding in the Valley and have opened two of our pipes and Lake Sabrina has dropped about 2 feet in the last week. All is good, just means a bit more shore fishing room for y'all.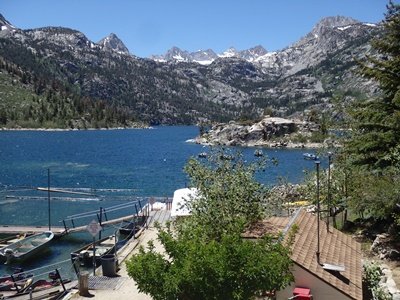 Catching is good from the Dam, the Shore, Trolling, Drifting and the Inlets. Why you may ask? Got some BIG fish from Desert Spring Trout Farm out of Oregon and a DFW stock on Thursday. The Inlets are still the place to be especially if using MiceTail, NightCrawlers, Jigs, PowerBait or Salmon Eggs as the Owens Valley Suckers are spawning. Trolling picked up a tad this week – might try diving Rapalas, KastMasters, Flashers and a NightCrawler, Red/Gold Thomas Buoyants, Kastmasters, or just a worm (don't forget the swivel). If you enjoy drifting – you might go with NightCrawlers or PowerBait – just throw it out, sit back, relax and watch for the Eagles and a tug on your line. Dam fishing picked up especially on the far side of the dam in deeper water – Sierra Slammers, NightCrawlers and PowerBait is what's working there. Once again, don't be suckered in by the Suckers!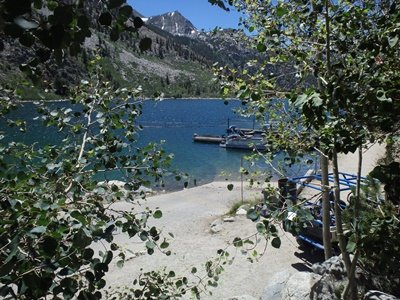 The backcountry trails are getting a bit easier to hike although there is still a gob of snow at the higher elevations (cramp-ons still needed over Bishop Pass) and the water is flowing quite high in the creeks. Heard the Little George creek crossing is calf height in the am and knee height in the pm. DingleBerry Creek is at waist level. Be careful out there!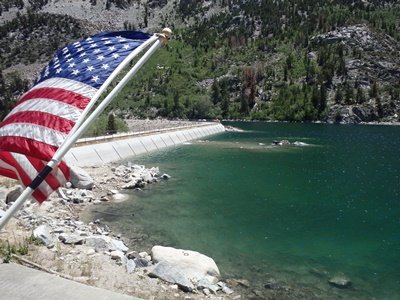 The skeeters are here in abundance and we mean abundance. Make to protect yourselves, but watch out if you're fishing – Don't want to get that bug juice on your tackle or bait!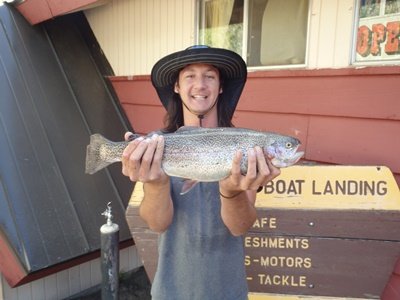 No ThunderBoomers in the forecast for the week. Looks to be a rather nice week and weekend with temps forecast to be in the low-70s for our highs and in the high-40s for our lows. Check www.weather.gov – enter Aspendell, CA, in the search field and scroll down a bit – I used this website for the first forecast – we'll see which one is closer.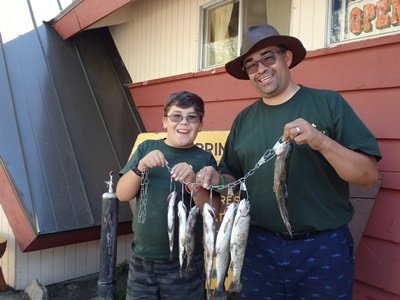 Important stuff that just stays in the report for a bit:
ALWAYS BRING A JACKET TO THE LAKE!
Watch out for Deer – especially during dawn and dusk.
If you catch a big fish or a limit just to have your picture taken for the webpage and then try and give your fish away – we won't post your picture, but then again we may post it as 'WASTER OF A PERFECTLY GOOD FISH TO EAT'! Crimp down your barbs, take a picture on the boat and release it for another day.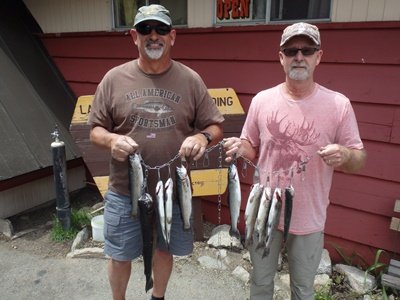 If you're hiking stay safe out there. Remember to leave a note about your destination and approximate return time and a clothing description. And you might want to hike with a buddy!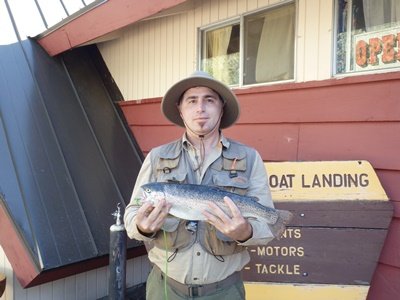 When using the bug juice, try not to get it on your hands – you'll transfer it to your bait and the fish just don't like bug juice or sunscreen or lotion or cologne or perfume. Wash your hands in the stream or Lake to get it off, and then use some fish attractant on your hands.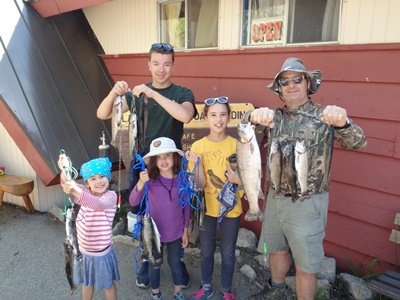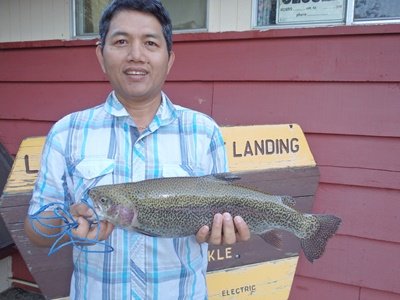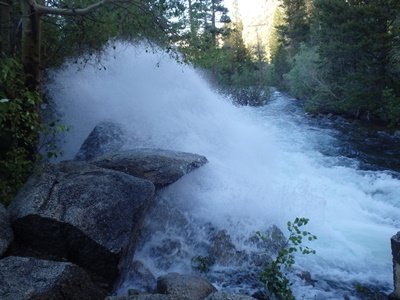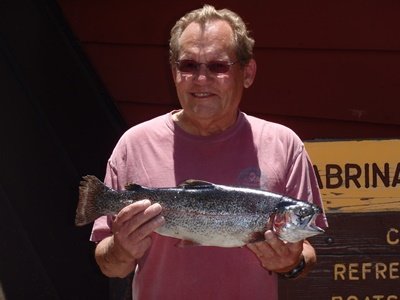 Make sure you wear some kind of sun protection – the sun and reflection off the water will do a number on your skin and eyeballs!
Safe travels.
Juanita, Rick, Patti, Len, Ginny, Dwayne, Jamin & Wade
http://www.easternsierrafishreports.com/fish_reports/67879720/lake-sabrina-fishing-report.php