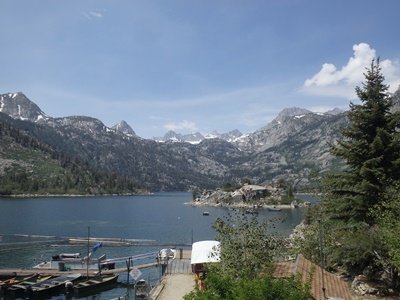 Written by Lake Sabrina Boat Landing Staff
7-10-2017
Website
Lake Sabrina Boat Landing
760-873-7425
July 10, 2017
Less than two feet till spill – what a sight the Lake is – almost full – the trees leafed out – snow covered mountains in the backgrounds – beautiful blue sky and fluffy white clouds – yup, we're in God's country! And lots of people up at the Lake enjoying God's country!
Fishing did slow a tad this past week (the reason we're using is the full moon and the chance of ThunderBoomers). The Inlets are still the place to be especially if using NightCrawlers, Jigs, or Garlic PowerBait. Trolling is what has slowed – might try Flashers and a NightCrawler, Red/Gold Thomas Buoyants, Kastmasters, or just a worm (don't forget the swivel). If you enjoy drifting – you might go with NightCrawlers or PowerBait – just throw it out, sit back, relax and watch for the Eagles and a tug on your line. If you can find an area along the shoreline (getting tough with the Lake so full - J) it's PowerBait, NightCrawlers or tossing some Lures (something with a bit of red).
And the Baby Wrens have taken flight – on Thursday, July 6th a Baby Wren flew out of the weather box right into the red recycling can in front of the front door – Jamin (the Bird Whisperer) to the rescue. Plucked him out of the trash can and off it went. A couple days later another took its maiden voyage – right into the building and landed on the Big Fish Donation Can – once again Jamin to the rescue. Rick cleaned out their nest, but they're back at it again building another nest – not sure if it's the same once, but something putting sticks back in – stay tuned.
The first (and hopefully last) bear encounter with the trash can has happened. Got into the trash can Thursday morning – yup, trash everywhere. It came back that night, but the puppers scared it off.
Had an awesome sight, right out in front of the Café windows, two Eagles fishing. Such a sight to behold.
The wildflowers are going off like you wouldn't believe. Purple Penstemons, FireCracker or Wild Red Penstemons, and Yellow Flowers (not sure of the name) – not too bad of a hardship to do dishes.
We're getting a bit of smoke in both the valley and here at the Lake – more than likely due to the Schaeffer Fire over in Sequoia National Forest – all depends on which way the breezes are blowing.
ThunderBoomers are still in the forecast thru Thursday, then a few days of clear days, then Sunday they pop up again – so donHigh temps are predicted to be in the upper 60s to lower 70s and the lows are to be in the mid to upper 40s. Check www.weather.gov – enter Aspendell, CA, in the search field and scroll down a bit – I used this website for the first forecast – we'll see which one is closer.
Important stuff that just stays in the report for a bit:
ALWAYS BRING A JACKET TO THE LAKE!
Watch out for Deer – especially during dawn and dusk.
If you catch a big fish or a limit just to have your picture taken for the webpage and then try and give your fish away – we won't post your picture, but then again we may post it as 'WASTER OF A PERFECTLY GOOD FISH TO EAT'! Crimp down your barbs, take a picture on the boat and release it for another day.
If you're hiking stay safe out there. Remember to leave a note about your destination and approximate return time and a clothing description. And you might want to hike with a buddy!
When using the bug juice, try not to get it on your hands – you'll transfer it to your bait and the fish just don't like bug juice or sunscreen or lotion or cologne or perfume. Wash your hands in the stream or Lake to get it off, and then use some fish attractant on your hands.
Make sure you wear some kind of sun protection – the sun and reflection off the water will do a number on your skin and eyeballs!
Some new faces with us this year.
Safe travels.
Juanita, Rick, Patti, Len, Ginny, Dwayne, Jamin & Wade
http://www.myoutdoorbuddy.com/articles/67879464/lake-sabrina-fishing-report.php