Lake Sabrina Fish Report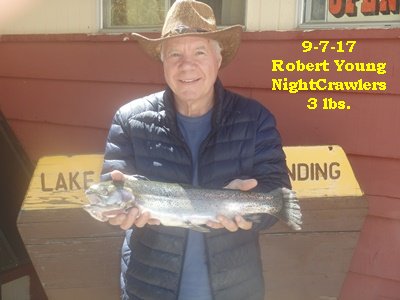 by Lake Sabrina Boat Landing Staff
9-11-2017
Website
Lake Sabrina Boat Landing
760-873-7425
September 11, 2017
WATCH OUT FOR DEER!
Don't forget that jacket!
It's THAT time:
WATCH OUT FOR PHOTOGRAPHERS IN THE MIDDLE OF THE ROAD
Sure is a lot darker in the morning than it used to be and with that being the case Lake Sabrina Boat Landing is going to Fall hours starting Sunday, September 17th.
                                                                                       Open   Close
Sunday    7:00 am    7:00 pm
  Cafe       7:00 am    4:00 pm
Monday   8:00 am    6:00 pm
  Cafe       8:00 am    4:00 pm
Sunday    8:00 am    6:00 pm
  Cafe       8:00 am    4:00 pm
Sunday    8:00 am    6:00 pm
  Cafe       8:00 am    4:00 pm
Sunday    7:00 am    7:00 pm
  Cafe       7:00 am    4:00 pm
Sunday    7:00 am    7:00 pm
  Cafe       7:00 am    4:00 pm
Don't forget: THE CAFÉ (AND ONLY THE CAFÉ) WILL BE CLOSED SEPTEMBER 22 TO 24, 2017. The Store will be open AND Boat Rentals will be available. The Café will close for the season on Sunday, October 8. Not sure about boat rentals and the store – depends on the weather.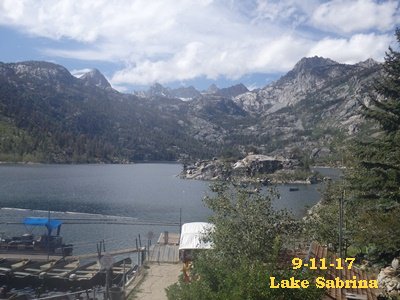 More afternoon and evening ThunderBoomers kept the Lake a bit on the cooler side – almost like Fall might be approaching and there is a bit of a lighter color green and yellow showing in places around the Lake. The Reds down across of Camp Sabrina have started changing and the narrow road leading up to Lake Sabrina is showing a bit of yellow. Oh, and there was a trace of new snow on the back mountains Friday morning – yup, Fall is just around the corner.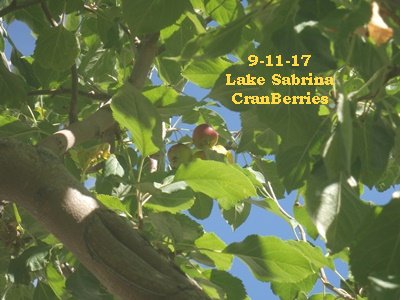 Lots of wildlife around the Lake – had a bear go for the gut can a few times this last week, a few deer on the road down below the dam – keep those speeds down as those deer were spotted in the middle of the day.  The Eagle has done a couple fly-bys and the Osprey flew over with dinner in his talons.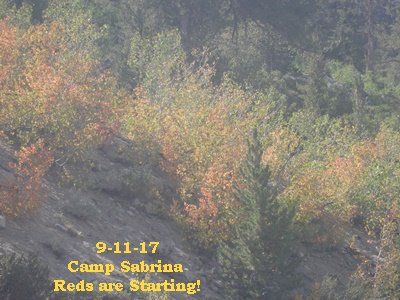 Fishing is on the upswing. Might be due to a stocking from Desert Spring Trout Farm out of Oregon – that's the BIG fish going in. Fish the Inlets with NightCrawlers, PowerBait or Jigs. Troll leadcore with NeedleFish, Thomas Buoyants at 4 – 5 colors or troll top water with NightCrawlers or Lure with a bit of red on them. Drift the rockpiles with NightCrawlers or PowerBait. Fish over on the far side of the Dam by the outflow with PowerBait, NightCrawlers and MiceTails. Lots of dam fisherman as the Lake is still up as that's one of the easiest accessible fishing locations. Got a good stocking of DFW fish on Friday.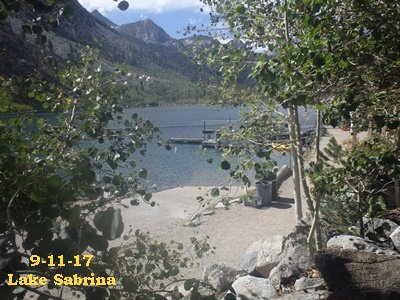 Robert Young had some luck with NightCrawlers over at the DingleBerry Inlet to bring in a nice 3-pounder. Cameron Tummel, also at the Inlet landed a 2-1/2-pounder using a gold-blade, rainbow body Panther Martin. Lance Benson was on it double time, catching two – 2-pounders using a jig also at the Inlet.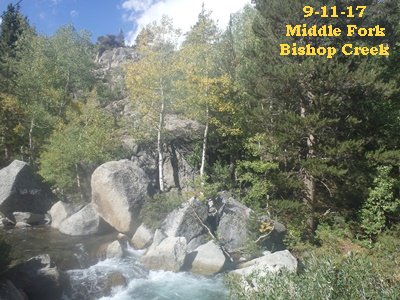 Still have those ThunderBoomers in the forecast thru the Thursday – so pack that raingear and a jacket. Temps start in the upper-60s and drop to the lower 60's towards the weekend. Lows look to be in the mid-40s and lower to the low-40s by the weekend. You can check out the weather forecast according to Howard our local weather 'guesser' at www.MammothWeather.com. You can also check out www.weather.gov – enter Aspendell, CA (which is the little community right below Lake Sabrina) in the search field and you'll get the forecast for at the higher elevation. You may need to scroll down on the webpage to see the temps.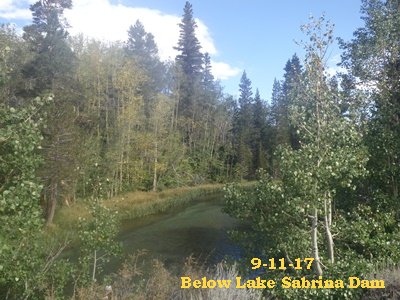 9/15-9/17:  Millpond Music Festival.  Live entertainment in an amazing setting!  Eclectic selection of traditional & contemporary music. Children's arts & crafts activities, workshops by performers.  Organized by Inyo Council for the Arts.  760-873-8014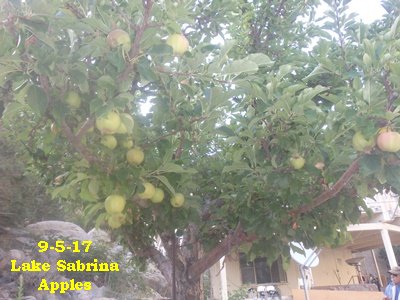 9/22-9/24:  Pabanamanina Pow Wow.  Parade, traditional dancing, hand games, art & crafts, music, food & more. For more information, call (760)920-2332 or email bishoppowwow@yahoo.com.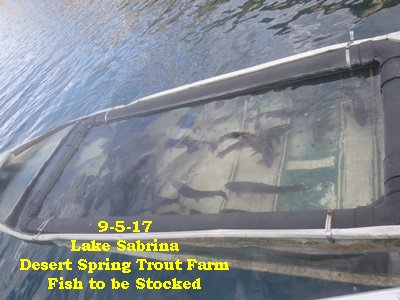 9/23-9/24 – Slim Princess Reunion at Laws Museum!  The recently restored SP #18 locomotive will be visiting Law Museum and running under steam power on the remaining SP Narrow Gauge tracks in the Owens Valley for the first time since 1954.  In cooperation with the Carson and Colorado Railway of Independence, CA, the #18 will be running and offering rides in the 1881 caboose #401 all day for two days.  Grounds admission will be $10 for adults, children under 13 free.  Tickets for caboose rides are $20 each in limited quantities and are now on sale at www.carsoncolorado.com and at the Laws Museum.  Specify the date you want your ride.  Food and refreshments will be available or bring your own picnic.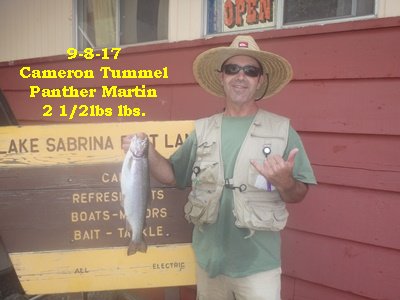 10/2:  OVRO Tour.  See the "Big Ears" up close and learn all about the Owens Valley Radio Observatory.  Held the first Monday of every month from 1 PM to 2 PM. Contact Dr. Mark Hodges for info at 760-938-2075 (Ext 109).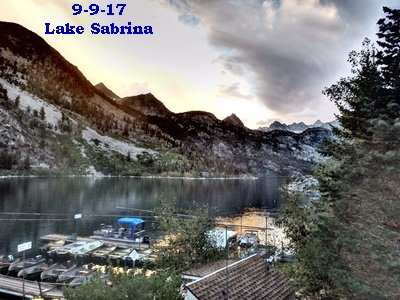 10/4: Duetto In Concert.  Outstanding live concert presented by Bishop Community Concerts Association.  7pm at Bishop Union High School Dorothy Joseph Auditorium.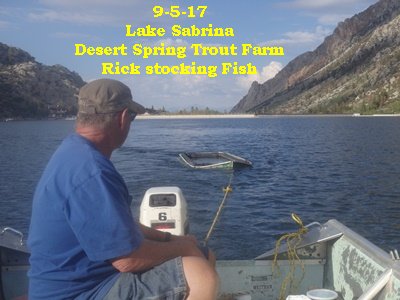 10/6-10/8:  Fall Colors Car Show.  Tri-County Fairgrounds in Bishop.  Hosted by Owens Valley Cruisers.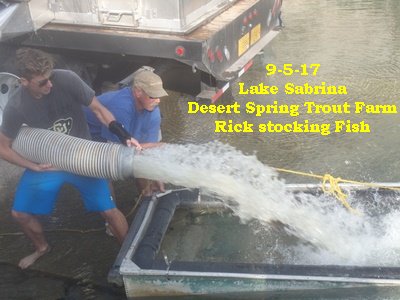 10/6-10/8:  Lone Pine Film Festival.  Movie screenings, star panel discussions, tours and more.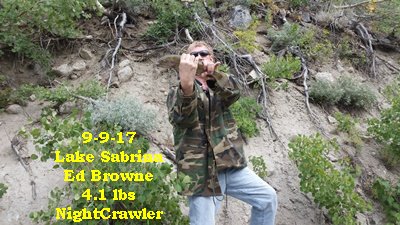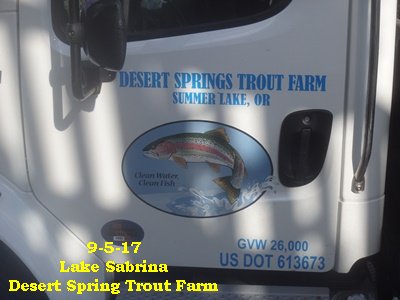 10/7:  Choo Choo Swap Meet.  Like a hundred yard sales in one location.  Tri-County Fairgrounds in Bishop, organized by Laws Railroad Museum.
Keeping this info on the report:
It's a pet peeve of mine that if you catch a big fish or a limit just to have your picture taken for the webpage and then try and give your fish away – we won't post your picture, but then again we may post it as 'WASTER OF A PERFECTLY GOOD FISH TO EAT'! Crimp down your barbs, take a picture on the boat and release it for another day.
Still big issues with skeeters, when using the bug juice, try not to get it on your hands – you'll transfer it to your bait and the fish just don't like bug juice or sunscreen or lotion or cologne or perfume. Wash your hands in the stream or Lake to get it off, and then use some fish attractant on your hands. If you're coming to the Lake, don't forget sunscreen and dark glasses –the snow and sun makes it pretty bright against the blue sky. DON'T FORGET THAT JACKET.
 People, sure would be nice if y'all would pick up your trash when you leave. It's really not that hard. Just sayin! If you need something to put it in, come into the store and we'll give you a bag.
 If you're hiking stay safe out there. Remember to leave a note about your destination and approximate return time and a clothing description. And you might want to hike with a buddy. Too many search and rescues this year.
Fishing etiquette is becoming a bit of a problem at the Lake and we don't like problems. If you come upon someone fishing, please don't fish right next to them – take a bit of hike farther down and don't cast over into their spot. Same at the Inlet, there are so many areas to fish on this Lake go find another 'soon to be' favorite spot.
Safe travels.
Juanita, Rick, Patti, Len, Ginny, Dwayne, Jamin & Wade
http://www.myoutdoorbuddy.com/articles/67881938/lake-sabrina-fish-report.php