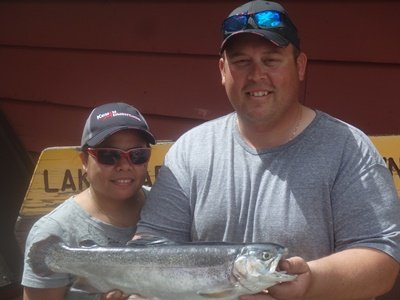 by Lake Sabrina Boat Landing Staff
9-4-2017
Website
Lake Sabrina Boat Landing
760-873-7425
September 4, 2017
WATCH OUT FOR DEER!
Don't forget that jacket!
It's almost that time:
WATCH OUT FOR PHOTOGRAPHERS IN THE MIDDLE OF THE ROAD
A few ThunderBoomers up at the Lake this week – got about a half inch of rain on Wednesday – a great thing for the trees to give them a bit of summer water. It looks like the ThunderBoomers are with us for the week, so make sure you've got your raingear packed. There was also a bit of smoke in from all the fires – and that smoke in the area all depends on which way the wind blows.    
A bit sporadic on fishing this week – some people catching others not. Those doing the catching were using NightCrawlers, PowerBait and Salmon Eggs at the Inlets. Still going with any bright colored Lure if you're trolling along with the tried and true NightCrawler. Fishing over on the far side of the Dam by the outflow is producing a few full stringers – PowerBait, NightCrawlers and Salmon Eggs are bringing in the fish. Lots of dam fisherman as the Lake is still up as that's one of the easiest accessible fishing locations.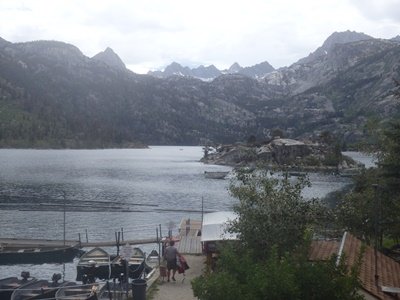 Sean and Cres Stanley used a Trout Teaser over by the spillway (far side of the dam) to bring in a nice 3-1/4 pounder. Len Taylor used a Gold Thomas Buoyant to catch a 21" 4-1/2 pound Natural Rainbow (a perfect tail) and then released – this is a confirmed catch as I actually saw it, but couldn't get it together to get a picture before he released it.
We had the honor to meet the 2017-2018 California High School State Rodeo Queen Cailee Roper and her Mom, Kari. They were escorted by Chuck Kilpatrick. She will preside over the State Rodeo Finals in June here in Bishop.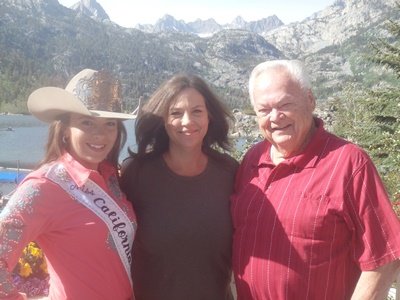 Had our first Fall Color tour bus in the parking lot Monday morning. A bit early for color this year. We have a few areas starting to lighten up and turn a very light yellow. Stay tuned the best is yet to come.
And the bear is back – came thru Saturday night – only knocked over the gut can – dodge a bullet on that one. It was spotted on Saturday morning back by DingleBerry Inlet getting a drink.
Still have those ThunderBoomers in the forecast thru the week and weekend – so pack that raingear and a jacket. Temps start in the upper-60s thru the weekend. Lows look to be in the mid-40s thru the weekend. You can check out the weather forecast according to Howard our local weather 'guesser' at www.MammothWeather.com
You can also check out www.weather.gov – enter Aspendell, CA (which is the little community right below Lake Sabrina) in the search field and you'll get the forecast for at the higher elevation. You may need to scroll down on the webpage to see the temps. 
9/15-9/17:  Millpond Music Festival.  Live entertainment in an amazing setting!  Eclectic selection of traditional & contemporary music. Children's arts & crafts activities, workshops by performers.  Organized by Inyo Council for the Arts.  760-873-8014
THE CAFÉ (AND ONLY THE CAFÉ) WILL BE CLOSED SEPTEMBER 22 TO 24, 2017. The Store will be open AND Boat Rentals will be available.
Keeping this info on the report:
It's a pet peeve of mine that if you catch a big fish or a limit just to have your picture taken for the webpage and then try and give your fish away – we won't post your picture, but then again we may post it as 'WASTER OF A PERFECTLY GOOD FISH TO EAT'! Crimp down your barbs, take a picture on the boat and release it for another day.
Still big issues with skeeters, when using the bug juice, try not to get it on your hands – you'll transfer it to your bait and the fish just don't like bug juice or sunscreen or lotion or cologne or perfume. Wash your hands in the stream or Lake to get it off, and then use some fish attractant on your hands. If you're coming to the Lake, don't forget sunscreen and dark glasses –the snow and sun makes it pretty bright against the blue sky. DON'T FORGET THAT JACKET.
People, sure would be nice if y'all would pick up your trash when you leave. It's really not that hard. Just sayin! If you need something to put it in, come into the store and we'll give you a bag.
If you're hiking stay safe out there. Remember to leave a note about your destination and approximate return time and a clothing description. And you might want to hike with a buddy. Too many search and rescues this year.
Fishing etiquette is becoming a bit of a problem at the Lake and we don't like problems. If you come upon someone fishing, please don't fish right next to them – take a bit of hike farther down and don't cast over into their spot. Same at the Inlet, there are so many areas to fish on this Lake go find another 'soon to be' favorite spot.
Safe travels.
Juanita, Rick, Patti, Len, Ginny, Dwayne, Jamin & Wade
http://www.myoutdoorbuddy.com/articles/67881716/lake-sabrina-fish-report.php