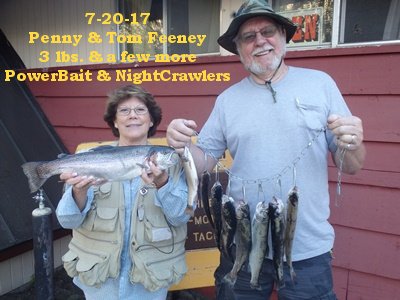 by Lake Sabrina Boat Landing Staff
7-24-2017
Website
Lake Sabrina Boat Landing
760-873-7425
July 24, 2017
Twas another outstanding week and weekend in the high country. Thought we might get some ThunderBoomers over the weekend, but they held off till Monday. The Lake is back on the rise and is getting close to spilling.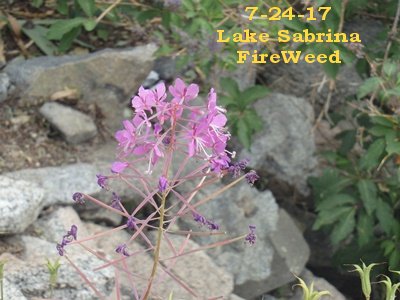 Fishing is fairly good – lots of bigger fish came out thru the week. The afternoon has been the best time for fishing. Fishing the Inlets with NightCrawlers, Salmon Eggs, Jigs, MiceTails basically just about anything and everything seems to be working. KastMasters, Thomas Buoyants and NightCrawlers are working for those of you who enjoy trolling. Just like drifting the Lake, try PowerBait or NightCrawlers by the rock piles. Shore fishing (a bit tough with the Lake so full) or dam fishing might use Salmon Eggs, NightCrawlers, PowerBait or tossing Lures. Quite a few big fish are showing up lately. Got a load of DFW fish on Friday.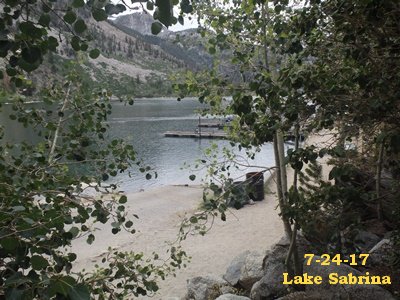 Mason Douglas (3 years old) caught his first fish ever using Salmon Eggs at Lake Sabrina and what a fish almost bigger than him – a 2-1/4 pounder – great job Mason. Penny Feeney pulled in a 3 pounder while husband Tom caught a limit using PowerBait and NightCrawlers. Albert Bujanda landed a 2-1/2 pounder, Dave Barber caught a 2-1/2 and 2 pounder, and Jacob Barber pulled in a 3 pounder – all fish were caught on Salmon Eggs. Mark Rodriguez who has been fishing the Lake for eons finally got a big one – a 5-1/2 pounder using a Thomas Buoyant, his friend Eric Dupre caught a 3-3/4 pounder on a Trout Teaser. Mark also caught a 3-1/2 pounder later in the day. Mike Jr bested Dad Mike Sr Kouchyar (or Kouchyan) with Jr catching a 5-1/2 pounder while Dad's only weighed in at only 3-1/2 pounders – both were caught on NightCrawlers.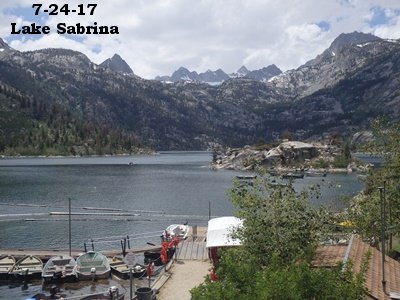 Now we had 3 kids catch 8 fish weighing in at 1-3/4 pounds up to 4-1/2 pounds. Most were caught on MiceTails or NightCrawlers. After their pictures were taken, off they went to the parking lot to try and give their fish away. It's a pet peeve of mine that if you catch a big fish or a limit just to have your picture taken for the webpage and then try and give your fish away – we won't post your picture, but then again we may post it as 'WASTER OF A PERFECTLY GOOD FISH TO EAT'! Crimp down your barbs, take a picture on the boat and release it for another day.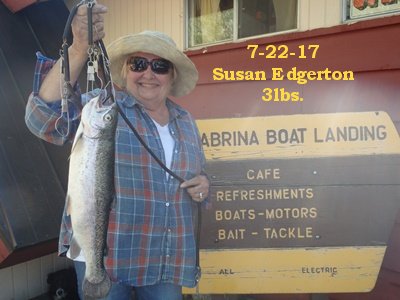 Still big issues with skeeters, when using the bug juice, try not to get it on your hands – you'll transfer it to your bait and the fish just don't like bug juice or sunscreen or lotion or cologne or perfume. Wash your hands in the stream or Lake to get it off, and then use some fish attractant on your hands. If you're coming to the Lake, don't forget sunscreen and dark glasses –the snow and sun makes it pretty bright against the blue sky. DON'T FORGET THAT JACKET.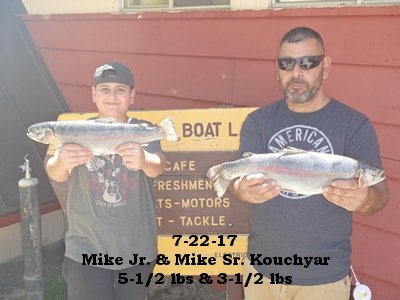 People, sure would be nice if y'all would pick up your trash when you leave. It's really not that hard. Just sayin! If you need something to put it in, come into the store and we'll give you a bag.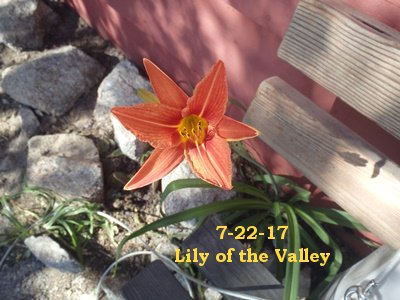 If you're hiking stay safe out there. Remember to leave a note about your destination and approximate return time and a clothing description. And you might want to hike with a buddy. Too many search and rescues this year. The lady in the picture was hiking with her husband (thankfully) and slipped on the Inlet Trail. He ran back to get help – Symons Ambulance was called, CDF showed up for transport down to the Lake and Rick picked her up in the Whaler and back to the Landing they came. A big thank you to an off duty LA Deputy Sheriff for keeping the patient calm and cool until help arrived.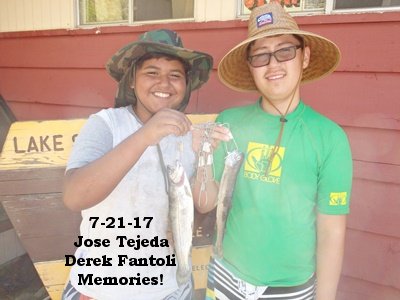 Fishing etiquette is becoming a bit of a problem at the Lake and we don't like problems. If you come upon someone fishing, please don't fish right next to them – take a bit of hike farther down and don't cast over into their spot. Same at the Inlet, there are so many areas to fish on this Lake go find another 'soon to be' favorite spot.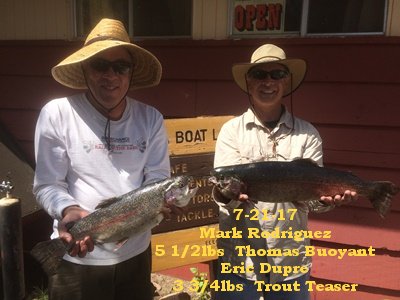 ThunderBoomers have popped up in the forecast thru Thursday, then a couple of clear days, then back to ThunderBoomers on Sunday. Temps are expected to be in the low-70s for highs and in the high 40s for lows.  Check www.weather.gov – enter Aspendell, CA, in the search field and scroll down a bit – I used this website for the first forecast – we'll see which one is closer.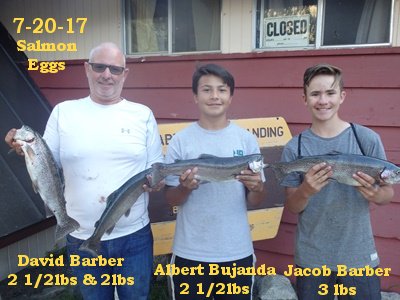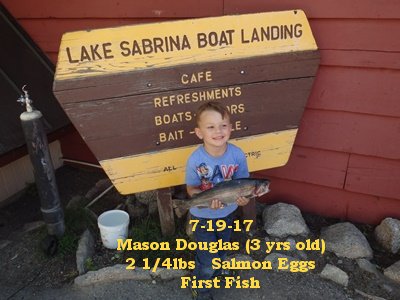 Safe travels.
 Juanita, Rick, Patti, Len, Ginny, Dwayne, Jamin & Wade