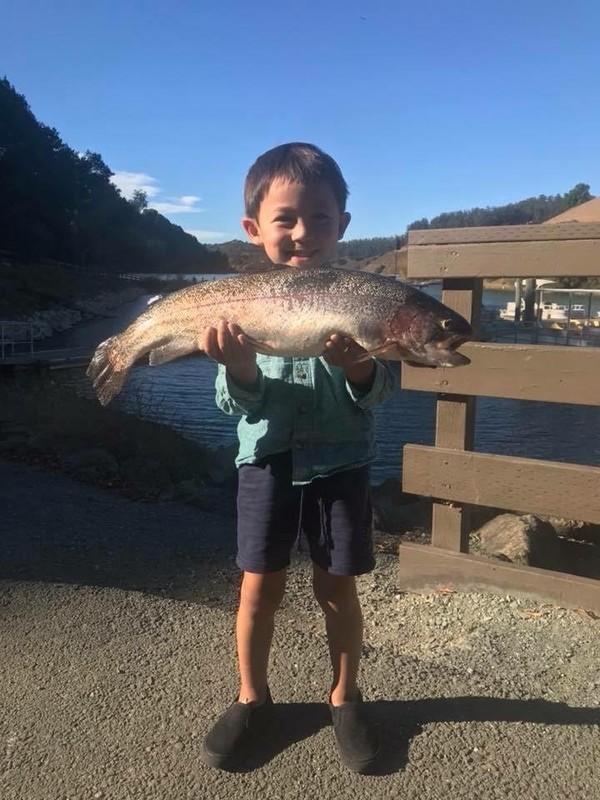 Lake Chabot Fishing Report
11-3-2017
East Bay Regional Park District
(888) EB-PARKS
GENERAL CONDITIONS

Lake Chabot is 92% FULL! We are expecting a few rainy days this upcoming week. On the bright side, this should help cool the water temperature down. Catfishing has remained fairly steady, while bass fishing is slowly getting better and better. Trout fishing has also picked up quite a bit. Water temperature remains in the low-60s and water clarity is about 6 feet. EBRPD is done with catfish plants for the year and are planting rainbow trout again. The last plant was on October 20th and we are expecting another plant later on this week! Please follow our Facebook page, www.facebook.com/lakechabot, for weekly updates on fishing conditions.

All of our boats are half off Tuesday, Wednesday, and Thursdays, including Patio Boats!!

CATFISH

Several catfish were reported caught this past week. Ken Kruse of San Lorenzo continues to catch to limit out on catfish, fishing near the island using mackerel. Typically, catfishing should be pretty good this time of the year. When fishing for catfish, the best bait to use is either chicken liver or mackerel. Make sure to cut a 2" inch chunk of mackerel and put it on a size 1 or 2 hook and a half ounce weight works best. A simple trick to use when using this bait is wrapping magic thread around the bait to ensure that it doesn't fly off when casting. Typical hotspot for catfishing is fishing near the Island and back by Raccoon Point.

TROUT

We are going to have a good trout season. Anglers have been catching a few trout, trolling near the dam. A few limits were reported caught this past week. EBRPD planted 750 lbs. of trout over by Coots Landing on October 20th and we are expecting another plant of 1,000 lbs. later on this week. Trolling back by the dam using a pink flicker shad, and Rapalas has been successful these last couple weeks. With high water level this year, trout fishing should be better in the next couple weeks. Please call the marina or message us at our Facebook page at the end of the day for the most up to date fishing conditions.

BASS

Bass fishing has picked up quite a bit. Many anglers are using plastic worms to catch bass. There has been an abundance of smaller size bass (1 to 2 lbs.) being caught all over the lake. Senkos have been the most popular bait to use. Currently hot spots are over by the Island, Raccoon Point, and Alder Point. Please practice catch and release for bass, as they are not stocked into the lake and their population depends on you!
Source Link: