Jurassic Pond - Mono County, CA (Mono County)
Written by Tom Loe
6-13-2017
Website
Let the games begin here. We are getting into some of these monster 15-20lb + beasts. These are beautiful wild fish and some of the finest in Mono County you'll ever catch on a fly rod. It is a great place to spend a half a day with family and land that fish of a lifetime. Check out some of the recent fish we've had the pleasure of netting: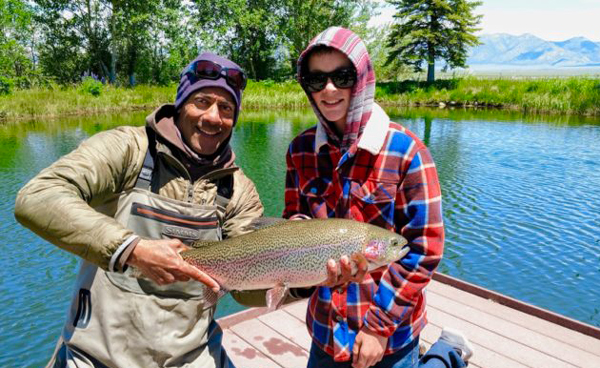 13 year old Tyler Solomon loves to fly fish! He scored some stellar rainbows!
***New for 2017! I have limited quantities of some new patterns that will guarantee advantage in your quest for trophy trout. Balanced patterns are the new rage for nymphing, & streamer fishing. We have been guide testing these patterns for several years, & I can honestly say they are the most significant improvement in fly design in over a decade. They are truly superior to conventional fly designs. The flies ride "parallel"; or "level" to the bottom giving them a far more realistic profile. The jig style hook becomes more effective as it seldom gets snagged on the bottom, & sets efficiently in the fishes mouth. These flies are intended to fish as your bottom fly in a multi fly; or tandem rig. They are deadly fished solo as a streamer. Add these patterns to your quiver for all fisheries that you still water nymph; or cast streamers. Some sizes are not available due to back orders on jig hooks, & are only available online at this time. I will add more sizes on some patterns as we get shipments in. Click on "fly sales" on the nav bar above, hit "menu" first from a mobile device to access the nav bar.
If you would like to go fly fishing with Sierra Drifters give them a call at (760) 935 4250 and for more information visit their website www.sierradriters.com.