The Elko Daily Free Press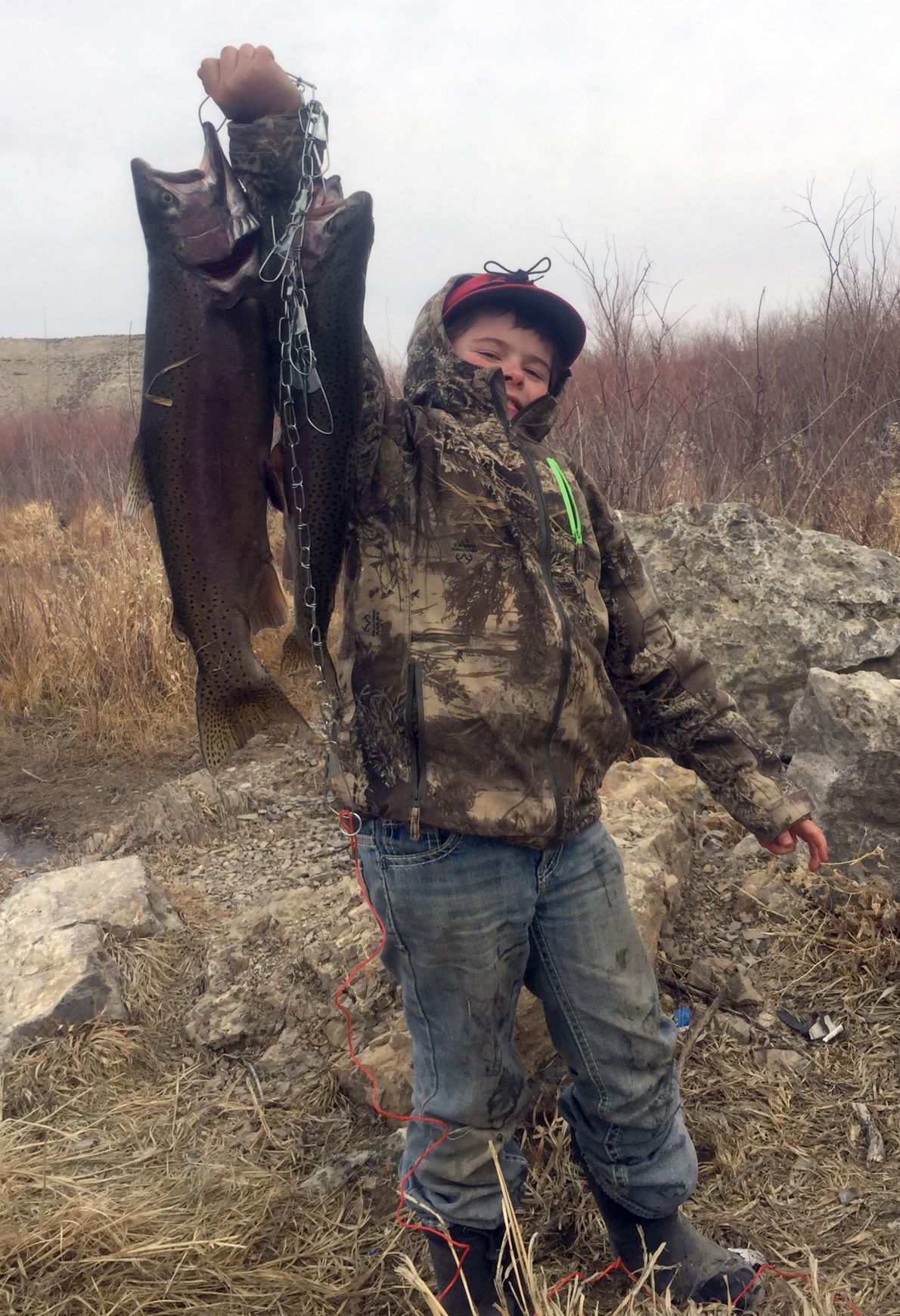 Ace Carone, 9, was fishing with his father John at South Fork Reservoir on Feb. 11 and they were able to hook into a few nice fish. While fishing at South Fork has been slow to fair, when you do catch fish, they are trophy sized.

The Annual Wild Horse Trout Derby is scheduled for this weekend, Feb. 17-18 at the Wild Horse Resort and Mile High Steak House. This annual event is very popular due to the fact that 100 percent of the registration fees are paid back in prize money.
Each day is run as a separate tournament. But it is also a fundraiser for the Wildhorse Estates to help them pay for road maintenance in their neighborhood. There are lots of great prizes they raffle off on top of the prizes given for first, second and third places. For more information, call the Wild Horse Resort at 775-397-7155.
Next weekend, Feb. 24-25, is the third annual Elko Sportsman's Expo at the Conference Center in the Elko Convention Center. This year the Nevada Department of Wildlife, with the help of Elko Broadcasting, is the host of the event. As always it is free and lots to see for both the kids and adults.
NDOW will have the very popular kids room set up with lots of hands on activities for the youngsters. Activities include an archery range, fly tying, lasershot (an interactive shooting skills game), and wildlife skins, antlers and horns. While supplies last, there will be t-shirts to decorate with wildlife stencils and stamps. This is all free!
In the main room there will be lots for the adults to check out with vendors with lots of great stuff. Visitors can check out the latest in firearms, taxidermy, trucks, OHVs, RVs and trailers, camouflage, metal art and a whole lot more.
Lots of local nonprofit outdoor groups will be there as well. Come learn about the missions and programs that groups like Elko Bighorns Unlimited, Rocky Mountain Elk Foundation, National Wild Turkey Federation, Ruby Mountain Clay Breakers and a whole lot more do every year for wildlife, the habitat and our communities.
Anyone who says there is nothing to do over the next couple of weeks obviously needs to get out and come to one of these great events.
WILDHORSE
Wildhorse has approximately six inches of ice with an inch or so of snow on the ice. There is open water around pressure ridges, the bridge on the Hendricks Arm and near rock faces that border the lake.
The ice thins out near the shorelines and there is some variance in ice thickness in the middle of the lake with even a few spots of open water, so ATV's and snowmobiles are not recommended for travel on the ice. Anglers should also stay away from the pressure ridges and take care when travelling on the lake as the snow can hide some of the thinner spots. Fishing the open water has been good and fishing through the ice has been fair to good. If you can fish the open water near the ice edges, this is generally good fishing . As a general rule, anglers should find trout in six to 10 feet of water.
For the most part, the fish are averaging 15 to 20 inches in length. Garlic flavored PowerBait or PowerEggs have been working well. Jigging should improve the odds of catching a fish.
SOUTH FORK RESERVOIR
Very little change here as South Fork is 98-percent ice free with some ice at the back of coves and along the face of the dam. Water temperature earlier this week was 43 degrees. Fishing has been just fair, but those fish being caught ranged from 18 to 22 inches with the occasional 25 inch fish being reported. Most anglers are having some success with PowerBait or worms, while fly rodders should be using chironomids, hares ears, prince nymphs and buggers. Sherbet PowerBait fished using a slip sinker off of the bottom about 25-30 feet from shore seemed to work the best.
JIGGS/ZUNINO RESERVOIR
Open water at Jiggs Reservoir and fishing is slow to fair. Use the same presentations at Jiggs as you would at South Fork.
WILSON RESERVOIR
At last report the road to Wilson was rutted though little to no snow. We did get some snow this week and that may mean frozen road in the morning with muddy road (think 4WD) in the afternoons. The lake is ice free and water temperature should be close to 40 degrees. The water level is approximately 50 percent of capacity with lite flow at the inlet to the lake. Fishing has been fair to good for 14 to 19 inch fish. No report on what anglers are using.
RUBY LAKE NWR
Fishing has been fair to good at the collection ditch depending upon the day and the experience of the angler. Small spinners and minnow imitations were producing some fish for spin fishermen, but fly rodders were doing better. Fly rodders should be using hare's ears, pheasant tails, prince nymphs, midge patterns, eggs and egg sucking leeches. The fish are moving, so if you don't have much luck in one area, pack up and hit another. With the snow we had this week the road over Harrison Pass is 4WD only and make sure to take it slow.
JAKES CREEK/BOIES RESERVOIR
A week ago Jakes Creek was about 60 percent open water and with the recent cold spell, expect that to be the same this week. As the ice comes off expect the fishing to pick up. Early spring is a good time for fishing as the weeds haven't come up yet so shore anglers have good access to the water. The usual PowerBait or worms for bait anglers and small dark spinners for spin fishermen. Fly rodders should be using chironomids, hares ears, prince nymphs and olive or black wooly buggers.
COLD CREEK RESERVOIR
Cold Creek is 100 percent open water and expect fishing to be fair to good for trout though there is no recent report of anglers fishing here.
CAVE LAKE
At last report there was unsafe ice with some open water at the inlet where you can fish. The usual PowerBait or worms as well as small spinners, panther Martins or rooster tails should all work.
COMINS LAKE
Unsafe ice with open water in the north lake and the extreme south end of the lake that is fishable. Anglers report catching limits in the open water using worms, though PowerBait should also work. Fly fishermen should be using wooly buggers, prince nymphs, damsel fly nymphs, hares ears and pheasant tail nymphs.
ILLIPAH
Illipah is approximately 45 percent open water, primarily along the dam side. The rest of the lake is covered in unsafe ice. Expect fishing to be fair to good along the ice edges using the usual PowerBait or worms. If you are throwing hardware, small bright spinners, rooster tails and small minnow imitations can be productive here.
Source Link:
Shop Torn Waders

A true heavy weight, the durable 100% ring spun cotton resists both fading and shrinking. These shirts will quickly become your favorite. Our 5-Star design is inspired and bold.