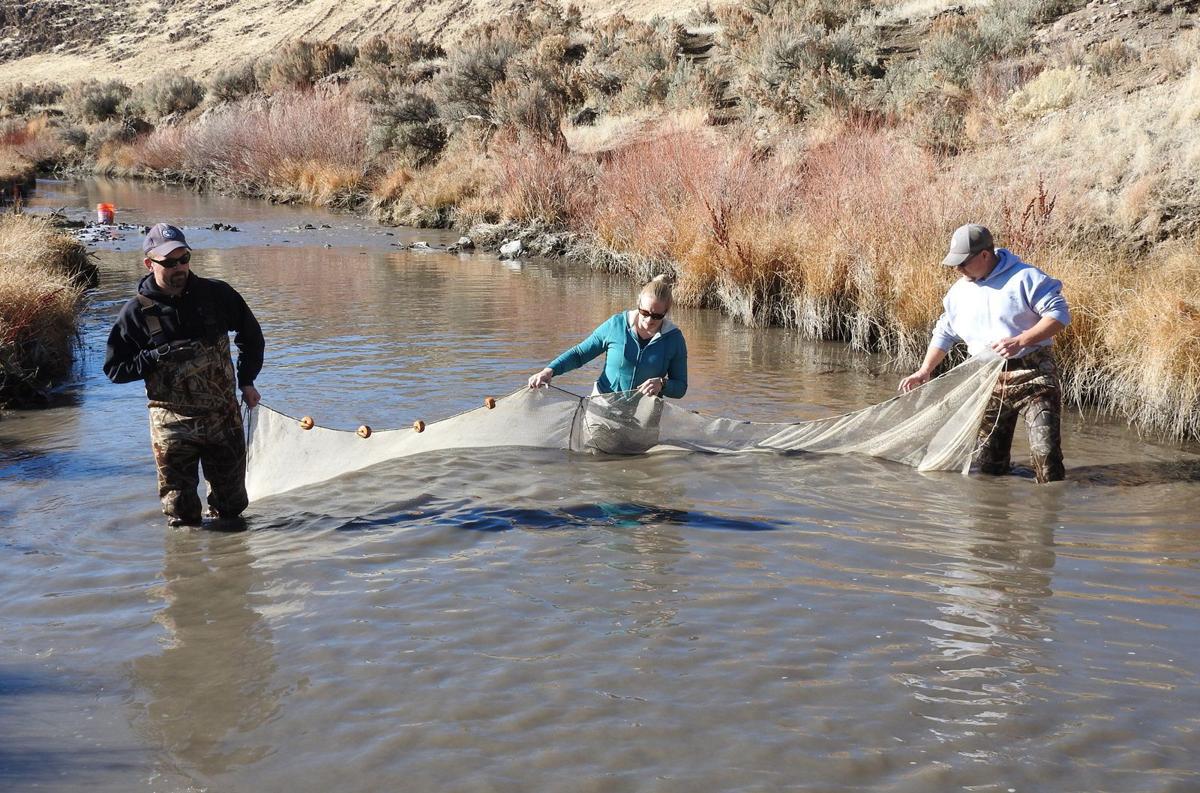 NDOW staff salvaged approximately 4,200 white crappie from the Willow Creek below Willow Creek Reservoir last week. Rye Patch Reservoir received 1,300 fish and Wildhorse Reservoir received the rest. More fish were salvaged on Thursday with 500 additional crappie heading to Wildhorse.
With cooler temperatures, expect fishing to start to slow down as the water approaches freezing and lakes begin to ice up. White Pine County waters are all freezing over and Wild Horse has become partially frozen. And while Wild Horse Reservoir may completely freeze over any day now, South Fork still may be a couple of weeks or more from starting to ice up.
Due to the cold temperatures, fish bites will be very subtle and anglers should pay close attention to their lines or miss the strikes. For water to turn to ice, it actually drops below freezing. At this time, the metabolism of the cold-blooded fish slows way down. Once the lake is frozen over, it provides a thermal barrier to the cold air above and the water temperature below the ice will be warmer than if it wasn't covered by ice.
At this time the fish, due to both the slight warming of the water and possibly their acclimation to the colder temperatures, do start to feed again. So once the ice is safe enough, fishing generally picks up.
Due to our above average temperatures this year, both Wild Horse and South Fork will be freezing over later than normal. Unless we get a really good cold spell, South Fork may not have safe enough ice to walk on for quite a while.
At this time consider any ice to be unsafe!
WILDHORSE
As of Wednesday, the southern half of the lake had a thin covering of ice over it along with ice in the coves. Barring a weather event with a lot of wind, expect this lake to ice over sometime over the next week. While later in the afternoons there may be some shorelines open for fishing, they will be difficult to find. This lake is in transition and it will probably be at least New Year's before the ice is safe unless we have a deep freeze set in.
SOUTH FORK RESERVOIR
Water is cooling into the low 40s and fishing has picked up, though still not the normal great fall fishing we expect from South Fork. This lake is a few weeks behind normal in water temperatures. That being said, the shallower water in the coves has been getting skim ice in the mornings and it may start icing up over the next few weeks. Anglers report catching fish on the southeast side of the lake in eight to 10 feet of water from float tubes and boats trolling wooly buggers. The trout being caught are averaging between 14 and 18 inches with an occasional 20-incher. Other flies to try include hares ears, scuds, copper Johns, prince nymphs, damsel nymphs, blood midges and of course wooly, crystal and seal buggers. Some anglers also report a few fish along Jet Ski Beach using worms and PowerBait. The trout fishing should be picking up. Bass fishing has really slowed down, with few being caught. Bass anglers should be targeting south facing shorelines where the sun will have the most exposure heating up the water.
JIGGS/ZUNINO RESERVOIR
Jiggs is iced over with very unsafe ice. NDOW runs an aerator through the winter to keep winter mortality on the fish down making this reservoir unsafe for ice fishing. There won't be a fishing report until spring.
WILSON RESERVOIR
Water level is good for this time of year with no recent report on fishing conditions. Like many of the area reservoirs expect ice in the coves and it won't be long until it is iced over. The road should be drying out. The usual PowerBait or worms work well. Gold, green and yellow, or black and yellow spinners are still working. Fly fishermen should be using chironomids, mayfly nymphs and emergers, or black crystal buggers for best results.
RUBY LAKE NWR
Bass fishing is done for the year and with the colder temperatures expect the south marsh to start freezing over. Fishing in the ditch has been fair to good for trout, though most of the ditch has low clear water. Fly rodders should try the usual assortment of nymphs under an indicator as well as wooly, seal and crystal buggers. Scuds, midges, pale morning duns, small blue winged olives and damselfly nymphs are all worth a try. Of course the usual small hares ears, PT's, copper Johns and buggers are all staples in the ditch. Spin fishermen should try small minnow imitators and gold spinners. The collection ditch is artificial lures only and no wading is allowed. As of Dec. 6, Harrison Pass was open for 4WD vehicles. Expect slippery conditions with some ice and snow on the road.
JAKES CREEK/BOIES RESERVOIR
Fishing from shore has improved with the die-off of weeds. However, expect this lake to ice up any time now. Trout fishing has been good while bass fishing is done for the year. Worms and PowerBait are popular here for trout as are black or olive woolly buggers, prince nymphs, PTs, leech patterns, scuds and hares ears.
COLD CREEK RESERVOIR
Approximately 85 percent ice covered with very thin unsafe ice.
Cave Lake is covered with a very thin layer of very unsafe ice. There is a small piece of open water at the Cave Creek inlet that is fishable.
COMINS LAKE
Comins Lake is completely covered with one to two inches of ice. Consider it very unsafe.
ILLIPAH
Illipah is now ice covered with approximately an inch and a half of unsafe ice.
WILLOW CREEK RESERVOIR
Due to a damaged outflow structure, the lake has completely drained.
ANGEL LAKE
The lake is ice covered and the road to Angel Lake is closed. There will be no more fishing reports until late next spring or early summer depending upon winter conditions.
ALPINE LAKES
Most of the lakes are iced up and travel is not recommended. There will be no further fishing reports on the high mountain lakes until next spring or early summer depending upon the winter.
STREAMS
The slow moving water, pools and water behind beaver dams are all icing up making fishing difficult. Getting to the Bruneau and the Jarbidge Rivers will start being tricky due to the recent precipitation. It won't be long, if it hasn't happened already, that you will have to go into Idaho to get to both streams. Many of the streams aren't reporting flows due to ice. Fishing is tricky this time of year due to ice, snow and mud on warm afternoons. Fish are lethargic due to the colder temps and presentations must be slowed down.
Source Link: