Courtesy of
The Elko Daily Free Press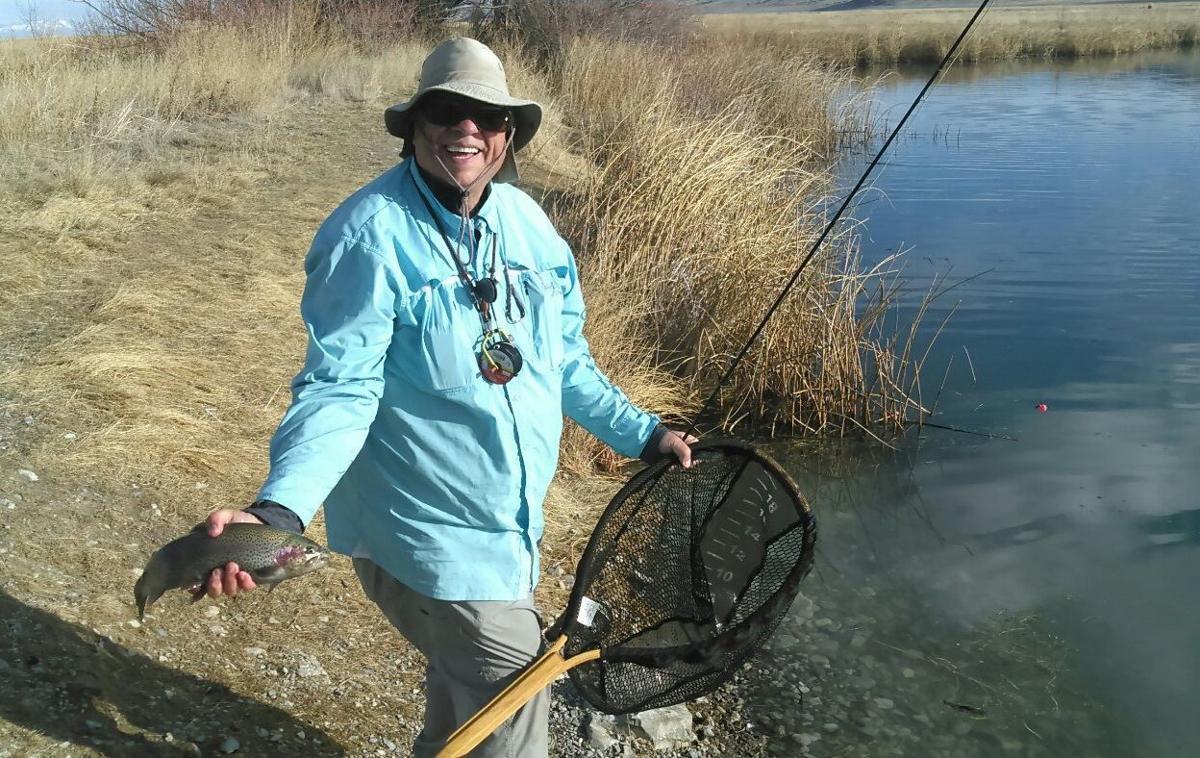 Mike Mott, vice president of the Ruby Mountain Fly Fishers, shows off a nice rainbow he caught on the first cast of the day at Ruby Lake National Wildlife Refuge on New Year's Day. Fishing has been good in the collection ditch for fly fishermen using nymphs and egg patterns.
Happy New Year everyone! Hope you got out to enjoy the great weather and get some fishing in. The Ruby Mountain Fly Fishers (RMFF) went to Ruby Lake NWR on New Year's Day and fishing was good, but the weather was better.
RMFF is having its monthly meeting this Wednesday, Jan. 10, at the NDOW office at 6:30 pm. After a short business meeting, there will be a presentation by Mike McFarlane on fishing the Olympic Peninsula for steelhead and salmon. Should be fun.
With the New Year comes major changes to NDOW's license system. There will no longer be state stamps that have to be purchased for the different licenses. The stamps will all be included in the price of the license. This will make it much easier to purchase a license.
Hunting and fishing licenses will also be good for one year from the date of purchase. This is more good news for the sportsmen and sportswomen of Nevada. So if you buy your fishing license in December to go ice fishing, it won't expire on Feb. 28 like the old system, it will be good until the following December so you can take advantage of fishing the rest of the year without purchasing a new one in March.
Look for more information on the new license structure in the weeks ahead.
WILDHORSE
As of Jan. 4, Wildhorse had approximately eight to nine inches of good ice with some snow on top, though the wind has blown some snow away leaving very slick icy spots. Anglers should plan on wearing some traction devices on their boots to keep from falling on their keesters! There are still some major pressure ridges on the lake that contain areas of unsafe ice. Please stay away from them. The Hendricks Arm is still the best fishing, though fish are being caught in Penrod and off of the state park. As a general rule, anglers should find trout in six to 10 feet of water this time of year, so you don't need to head to the middle. Trout fishing has been fair to good in eight to ten feet of water fishing halfway down in the water column. Garlic flavored PowerBait or eggs have been working well.
SOUTH FORK RESERVOIR
As of Jan. 4, the South Fork had just as much open water as it did ice and there was even a boat or two on the water. Fishing has been just fair, but those fish being caught ranged from 18 to 22 inches! The ice that is on the lake is rotten and don't expect safe ice on South Fork any time soon.
JIGGS/ZUNINO RESERVOIR
The ice on Jiggs is very unsafe and there is open water both in the middle where the aerator is operating and along some of the shorelines. Due to the aerator, don't expect safe ice here at all.
WILSON RESERVOIR
Wilson has approximately five and a half inches of ice with a very muddy road. No evidence of anyone fishing and no report. Due to the muddy road 4WD only is recommended.
RUBY LAKE NWR
With temperatures warmer than forecast, the collection ditch is open and there is open water in Unit 21. Fishing on New Year's Day was good, with fish averaging between 14 and 18 inches with a couple that were pushing 20 inches. Small spinners and minnow imitations should work for spin fishermen. Fly rodders should be using hare's ears, pheasant tails, prince nymphs, midge patterns, eggs and egg sucking leeches. Best places to fish appear to be where the current is strongest.
Jakes Creek is covered with five inches of good hard clear ice. The ice is extremely slick, so take care walking on it. There were no signs of anyone fishing the lake so we have no report on fishing conditions.
CAVE LAKE
Last week Cave Lake was covered with ice that is approximately four to five inches of good clear ice. But due to the warmer weather, drill some test holes. However, the nights have dipped into the teens and low 20s so it shouldn't be losing too much ice at this time. Fishing has been fair to good for 10 to 12 inch trout using PowerBait or worms.
COMINS LAKE
Comins has approximately five inches of ice but it is very patchy with some open water near the dam. Stay away from this area. The lake level has come up a bit causing some open water along the edges, where the ice may actually be thinner. Drill test holes before going out too far! Those anglers who have fished through the ice have seen fair to good fishing for fish 16 to 18 inches. Worms and PowerBait have been productive.
ILLIPAH
Ice thickness at Illipah is also around five inches. Some water was visible along the shoreline in areas due to water still filling the reservoir. Anglers should be mindful of this water since it could weaken ice along the shoreline. No indication that anyone has ice fished here.
STREAMS
With the cold temperatures, the streams are all icing up, especially the slow running pools and beaver ponds. Streambanks are very slick with ice and snow. Many of the streams aren't reporting flows due to ice and snow and fishing is difficult. Fish are lethargic due to the colder temps and presentations must be slowed down. Travel to both Jarbidge and the Bruneau is now through Idaho.
Source Link: