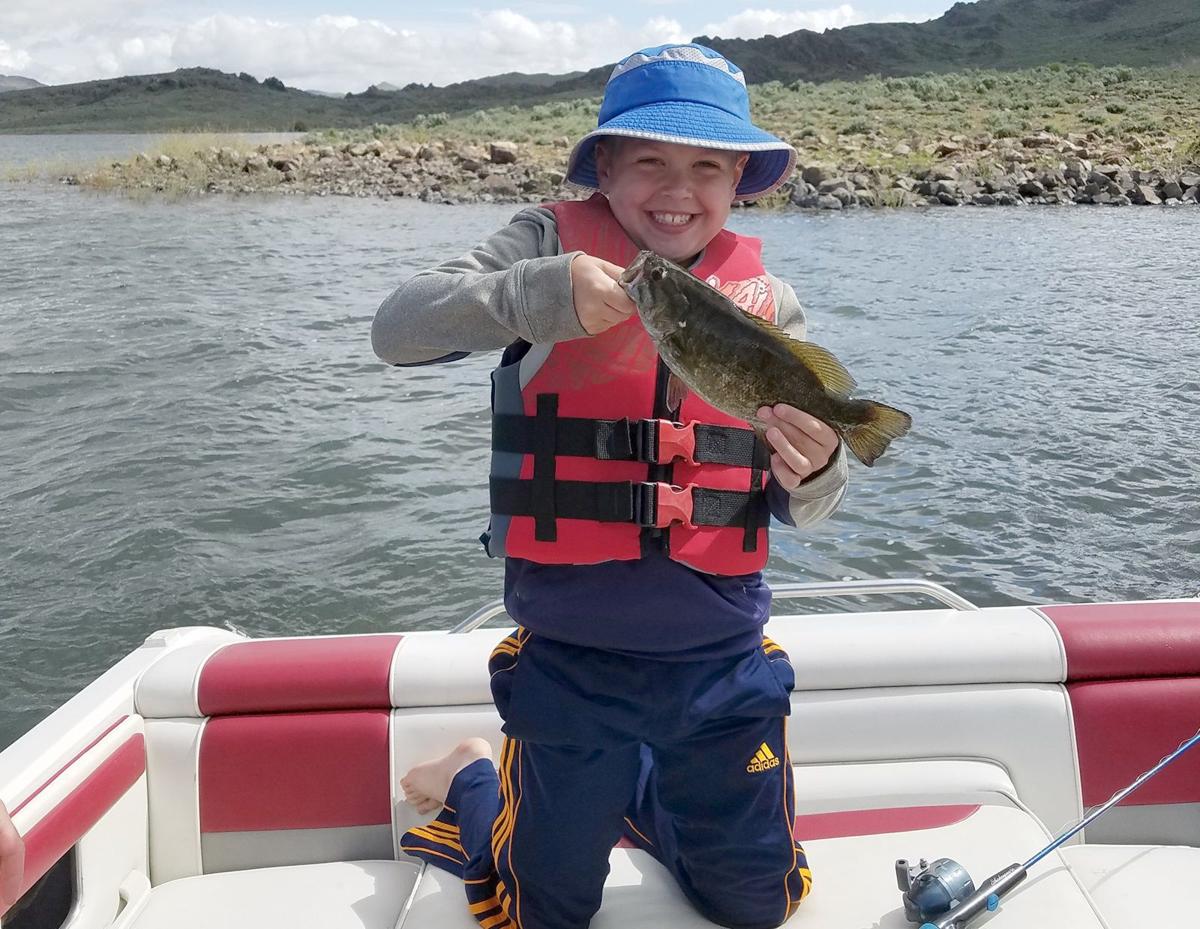 Eight-year-old Gavin Petersen proudly shows off a nice smallmouth bass he caught on Memorial Day at Wildhorse Reservoir. All black bass must be returned to the water as soon as they are caught at both Wildhorse and South Fork Reservoirs until July 1.
The Elko Daily Free Press
With all the thunderstorms that have been popping up, it may be time to re-visit water safety when there are storms on the horizon.
First of all, lightning, fishing rods and water are a deadly combination. According to the National Weather Service, lightning killed 26 fishermen between 2006 and 2013. This is the top category for lightning deaths in leisure activities across the United States. Boating ranked third in lightning deaths with 14 people dying when they were struck by lightning while boating.
As a general rule of thumb, if you can hear thunder, lightning is close enough to cause you harm. Lightning may strike your area while the storm may be as far as 10 miles away!
The NWS recommends the 30-30 rule. When you see lightning, start counting. If you hear the thunder before you get to 30, it's close enough to cause problems.
If you are on the water when you see lightning or hear thunder, put your fishing rod down and head to the nearest shore with a building or hard top vehicle and get inside. You should then wait 30 minutes after the storm passes before venturing outside.
Let's change the subject to something more fun.
Next Saturday is Free Fishing Day. This is the one day of the year that anglers may fish without a license, though all regulations and limits apply. NDOW will be hosting a non-competitive kids fishing derby on that day at the Chinese Gardens Nature Study Area in Carlin. The event is open to children 15 or younger, though the whole family is encouraged to fish. Contestants must be accompanied by an adult.
There will be volunteers to help participants fish if needed, a t-shirt decorating booth and the Ruby Mountain Fly Fishers will be there to show kids how to tie flies. All of this is free. In addition, every child who participates will receive a free fishing rod and reel, while supplies last.
If you are going to be in the Ely area, their Free Fishing Day event will be at Cave Lake State Park with NDOW staff on hand to help kids fish and a free random drawing for prizes starting at 11:30.
Registration for both events starts at 8:00 with the derby running from 8:30 a.m. to 11:30 a.m. For more information, please call 777-2305 or e-mail jdoucette@ndow.org.
WILDHORSE
Water level at Wildhorse is still holding above 95 percent, surface water temperatures are in the high 50's and fishing continues to be good with clear water conditions. However, algae is starting to grow and will probably bloom with the forecast sunny warm conditions over the next week. Trout are averaging 14 to 17 inches with the occasional 20+ inch fish being taken. Anglers report success all along the state park shoreline, Hendricks arm, Penrod and north to the last cove before the canyon to the dam, though the Hendricks Arm east of the highway has been producing limits of fish regularly. Sherbet and rainbow PowerBait seems to be working well, but anglers report catching trout on worms, spinners, small spoons and evens small minnow imitations. For fly rodders should be using most common nymph patterns such as hares ears, prince, PT's and damselfly nymphs. Other flies to try include black leeches, balanced leeches, and wooly buggers. Approximately 55,000 eight inch fish have been stocked in Wildhorse this spring. The dock is in the water for boaters to use at the State Park boat ramp. No black bass may be kept until July 1.
SOUTH FORK RESERVOIR
Fishing for trout at South Fork has been slow, but several anglers report good success at the south end fishing from float tubes near the willows for trout. Surface water temperatures are in the high 50s to low 60s depending upon where on the lake you are. Fishing for both black bass and wipers has been fair to good. The south end of the lake is producing wipers and some bass as the surface water temperatures climb into the high 50s. This was before the storms that moved in on Thursday that probably dropped the surface water temperatures a few degrees. Most bait anglers are having some success for trout with PowerBait or worms floated off of the bottom, while fly rodders should be using chironomids, hares ears, flash back PT nymphs, prince nymphs, balanced leeches and buggers. Damselfly nymphs are on the move so those patterns should also be tried. Small dark spinners and minnow imitating lures with some red in them have produced a few fish. Black bass may not be kept until July 1. One wiper 15 inches or longer may be kept.
JIGGS/ZUNINO RESERVOIR
Fishing is fair at Zunino though one angler reported catching some blue gill. The water level is low, which should have the fish concentrated, though anglers may have to walk through some mud in areas to reach the shoreline especially after this week's thunderstorms. PowerBait, nightcrawlers, and dark spinners with some red or yellow accents seem to be working. Brown or olive nymphs as well as red copper Johns and blood worm patterns for fly fishermen are good choices. Jiggs was stocked with approximately 3,100 eight to ten inch trout last month.
WILSON RESERVOIR
The road to Wilson is very rough and extremely muddy after all the storms we have had, and taking a trailer out there isn't recommended right now. Give it a few days to dry out. The lake is no longer spilling and there are few fish below the spillway. The surface water temperature is in the mid to high 50s, clearing up, and fishing for trout has been good in the lake itself. Several anglers report not only good numbers of fish but even a few fish over 20 inches, which is rare for Wilson. The same techniques and presentations that work at South Fork should work here.
RUBY LAKE NWR
Fishing continues to be good at the collection ditch. The water is clear and levels are good. Small spinners and minnow imitations were producing some fish for spin fishermen, but fly rodders were doing better. Fly rodders should be using hare's ears, pheasant tails, prince nymphs, midge patterns, leeches, and wooly buggers. On the warmer afternoons, there have been some small mayfly and midge hatches so blue winged olives, Griffith's gnats, and small Adams are all worth a try. Remember, if you can see the fish, they can see you. Go low, slow and wear drab clothing. Anglers may put boats with electric motors on the marsh starting June 15.
JAKES CREEK/BOIES RESERVOIR
The lake is full with no significant weed growth yet and fishing has been good the past couple of weeks. Anglers can use a variety of presentations including worms, PowerBait, spinners and flies. Chironomids, wooly buggers, hares ears, prince nymphs and damselfly nymphs are recommended. The lake was stocked with approximately 3,800 eight inch fish this spring.
COLD CREEK RESERVOIR:
Fishing has been good for trout. Anglers should do well on Power Bait, Mepps, Panther Martins, and nightcrawlers. Flyfishers will do well on nymphs and emerger patterns, though with the warmer afternoons, dry flies may work if you see a hatch. Dry flies to try include PMDs, elk hair caddis, Griffith's gnats, and Adams. Cold Creek has been stocked with approximately 2100 trout this spring.
CAVE LAKE
With surface water temperatures in the mid 50s, Cave Lake continues to fish well for 9 to 11-inch trout. The usual PowerBait or worms as well as small spinners, panther Martins or rooster tails should all work. Fly fishermen have been doing well with small wooly buggers, prince nymphs, hare's ears, pheasant tails and damselfly nymphs. More than 12,000 trout have been stocked here this spring.
COMINS LAKE
The lake is at capacity and anglers continue to catch quality rainbow trout over 16 inches off a variety of bait, lures, and flies. The lake is just below capacity and boaters and float tubers are able to access most of the lake easily. Anglers should do well on Power Bait, Mepps, Panther Martins, and nightcrawlers. Fly fishers will do well on smaller nymphs and emerger patterns. Comins has been stocked with almost 10,000 trout averaging approximately 10 inches this spring. Expect bass fishing to pick up as the water temperature warms up.
ILLIPAH
Water levels have dropped over the past couple of weeks and the lake is sitting at around 60 percent of capacity with surface water temperatures in the mid 50s. Anglers should do well on Power Bait, Mepps, Panther Martins, and nightcrawlers. This time of year fly rodders should be using black or olive wooly buggers as well as chironomids, hare's ears, leech patterns and PT nymphs. Illipah has been stocked with approximately 7,600 trout so far this spring.
ANGEL LAKE
The road has been cleared and the lake is free of ice, though there is snow along some of the shorelines. Fishing was good last weekend for fly fishermen using beadhead hares ears and small black crystal buggers. Small worms seem to work better than PowerBait here. Also small spinners in black and gold or dark green and gold are also effective at Angel Lake.
STREAMS
With the recent storms, stream flows are high and difficult to fish. With the below average snowpack expect flows to start to subside over the next couple of weeks. Expect turbid conditions due to this week's rain. High turbid conditions should continue into early next week making for difficult fishing conditions. Anglers should be aware that as you approach the streams, the roads often become quite soft and it is easy to get stuck. Swinging small spinners or streamers, Nymphing or dead drifting a worm are your best bets in the streams. Dry fly fishing is still a few weeks away.
Source Link:
Shop Torn Waders

A true heavy weight, the durable 100% ring spun cotton resists both fading and shrinking. These shirts will quickly become your favorite. Our 5-Star design on black will help you solve pi.