Courtesy of Elko Daily Free Press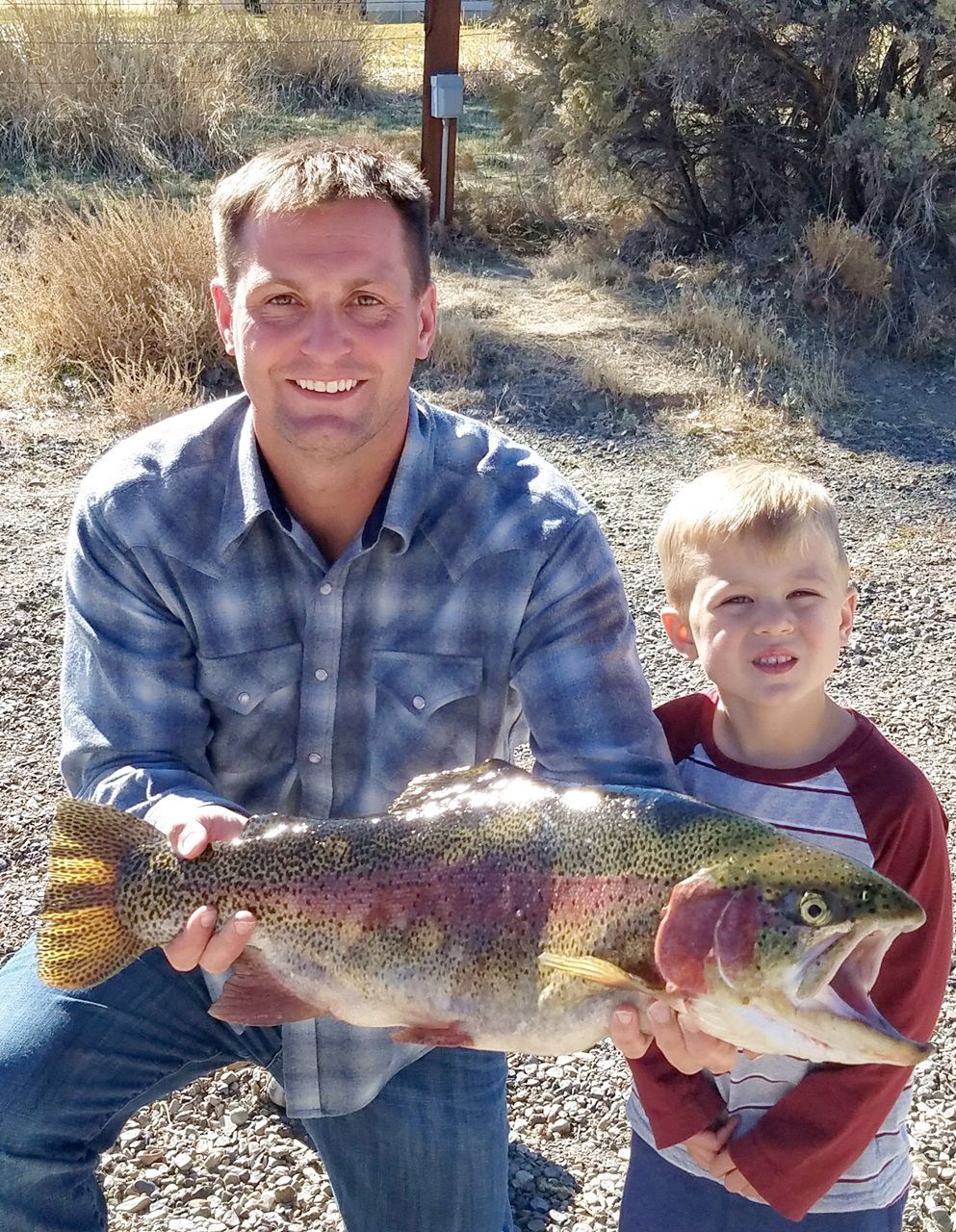 Elko angler Brent Stokes and his son Bodie show off a beautiful 14-pound rainbow trout that Brent caught last weekend. Fall is a great time of year to catch larger fish as they become more active looking for food to prepare for northern Nevada's long, cold winters.
Often during the summer, I hear anglers talk about the lake turning as the algae comes on strong and the color of the water changes. But a lake turns when the surface water temperatures equalize with the water temperatures of the depths in the fall, not the summer. With this fall's above average temperatures, surface water changes are well above normal and area lakes will likely turn over later than normal.
Temperature changes very slowly in a large body of water as its mass acts as a storage unit for heat. During the summer, the top layer of water heats up, while the depths hold the cooler denser water. The two layers are separated by another layer called a thermocline. This is an area of rapid oxygen and temperature change in a relatively thin layer.
As the surface layer cools down with the longer nights and colder weather it becomes denser. When it gets close to the temperature of the depths, generally around 50 degrees, it starts to sink into and through the thermocline.
Eventually the temperature of all the layers becomes similar and the different layers mix together. This is when the lake turns. The surface is stirred by winds mixing oxygen into the water, it becomes cooler, and therefore denser because it is exposed to the cold air temperatures and sinks deeper, drawing the less oxygenated warmer water to the surface. This cycle continues for a while, drawing oxygen down into the depths.
Like most compounds, water gets denser as it gets colder, until around 39 degrees. That is where it is at its densest. Below that temperature it gets lighter, until it becomes a solid at 32 degrees where it is so light that it floats on the denser, colder water. This ice on the surface helps insulate the water below from even colder air temperatures.
With the oxygen being replenished in the deeper water, fish can descend into that area, which during the cold of winter is actually warmer than near the surface. This is how many fish can survive Nevada's harsh winters. It also keeps the depths of the lake from becoming sterile areas as the decay of dead plants and animals that settle to bottom would use up most of the oxygen without this mixing.
Both Wild Horse and South Fork are dimictic (the word of the day), which means that they mix twice a year, once in the spring and then again in the fall.
NDOW will be holding free fly tying classes starting Nov. 15, at 6 p.m. They will be held at the NDOW office at 60 Youth Center Road. This is a progressive fly tying class that will take place every Wednesday night except during holiday weeks until mid-March. The class will end with an introductory fly fishing class in the spring.
There are some fly tying kits available for loan on a first come first served basis. Supplies for the class are free and provided by NDOW. For more information or to reserve a space in the class, call 777-2305 or email to jdoucette@ndow.org.
Little change here as the water is clearing and Wildhorse is fishing very well as shore anglers report good fishing for trout in the Hendrick's Arm on both sides of the highway and all the way to the canyon that leads to the dam. Fish are averaging 14 to 17 inches with the occasional fish between 20 and 24 inches. Penrod arm is also fishing well as is the area on the west side of the lake near the hot springs. Boaters are also doing well, though no report on how the canyon by the dam is fishing. Minnow imitators with black or blue over white or silver should work as well as fire tiger patterns. Fishing Bait fishermen should use the usual worms or PowerBait for trout. While most fly rodders report good luck with leeches, especially when fished under an indicator (bobber), they also should be trying the standard fall reservoir patterns: scuds, damselfly nymphs, and blood midges. Chironomid patterns should also be near the top of the list for flies. Fall stocking wrapped up a couple of weeks ago bringing this year's total to almost 186,000 fish stocked in Wildhorse Reservoir!
Surface water temperatures range from the high 40's to low 50's, depending upon where on the lake you are and time of day. There is still a fair amount of algae in the lake which appears to be affecting fishing, though hopefully this weekend's stormy weather and cooler temperatures will change that. Fishing has improved from slow to fair. Anglers report catching some fish on the southeast side of the lake in eight to 10 feet of water from float tubes using olive or peacock bead head crystal buggers. The trout being caught are averaging between 14 and 18 inches with an occasional 20 incher. Other flies to try include hares ears, scuds, copper Johns, prince nymphs, damsel nymphs, blood midges and of course wooly, crystal and seal buggers. Bass fishing is also slowing down, but what it lacks in numbers it makes up for in size as large bass are on the prowl fattening up for winter. Bass anglers should be targeting south facing shorelines where the sun will have the most exposure heating up the water. South Fork was stocked with more than 96,000 trout this year.
Fishing from shore continues to improve and anglers are catching 12 to 14 inch fish with a few 19 to 20 inch fish thrown in for good measure. Worms fished below a bobber or PowerBait suspended off of the bottom should produce fish, though PowerBait has been doing better than worms from most reports. Black and gold or green and gold spinners and rooster tails should also be effective, while fly rodders should be using leeches, blood midges, snail patterns, small nymphs and wooly buggers. Please return any black bass or blue gill back to the lake to help with rebuilding the warm water fishery here. Jiggs was recently stocked with approximately 2,000 trout.
The water is clear with the lake about 50% of capacity and trout are moving into shallower water near the boat ramp or along the north shore near the cabin. The usual PowerBait or worms work well. Gold, green and yellow, or black and yellow spinners are still working. Fly fishermen should be using chironomids, mayfly nymphs and emergers, or black crystal buggers for best results. Expect bass numbers to go down with the cooler temperatures. Wilson was stocked with approximately 45,000 fish this year.
Bass fishing has slowed considerably due to the cooler temperatures with surface water temperatures here in the 40's. Best fishing for bass is late afternoon when the water temperatures are at their warmest. Fishing in the ditch for trout has been good for trout, though most of the ditch has low clear water with weeds. Anglers are hooking a lot of fish, but in some areas having trouble landing them as they head for the weeds. Fly rodders should try the usual assortment of nymphs under an indicator as well as wooly, seal and crystal buggers. Scuds, midges, pale morning duns, small blue winged olives and damselfly nymphs are all worth a try. Of course the usual small hares ears, PT's, copper Johns and buggers are all staples in the ditch. Fish are even taking a few hoppers and stimulators on the surface. The trick seems to be to give the dry flies a small twitch every so often. Spin fishermen should try small minnow imitators and gold spinners. The collection ditch is artificial lures only and no wading is allowed.
JAKES CREEK/BOIES RESERVOIR
The weeds are dying off, and while shore fishing is getting easier, a small boat or float tube will still give you an advantage. Trout fishing is picking up while bass fishing is slowing down due to cooler water temperatures. Dark soft plastics in blue or black with sparkles were working for bass. Worms and PowerBait are popular here as are black or olive woolly buggers, prince nymphs, PT's, leech patterns, scuds and hares ears. Fish the edges of the dying weeds with scuds or leech patterns.
Water temperaturess are sitting in the high 40's to low 50's. Anglers will do well on night crawlers, Mepps, Panther Martins and Cast Masters for trout. Bass have been moving but are not extremely active yet. Trout fishing has been good using common nymph and emerger patterns as well as buggers.
Fishing at Cave Lake continues to be productive. Anglers are catching summer carryover trout and fall stocked trout. Most fish being caught are 10 inches to 12 inches with the occasional 14+ inch rainbow. Water temperatures are in the low 50s. PowerBait, nightcrawlers, mealworms, Mepps, and Panther Martins should do well on Cave Lake. For fly rodders: hare's ears, pheasant tail nymphs, prince nymphs, small crystal buggers and Cave Lake specials are all good flies.
Fishing has been very good for trout with an occasional bass being caught. Anglers have been catching trout on a little bit of everything including, Powerbait, nightcrawlers, Panther Martins, Mepps, and Cast Masters. Flyfishers can use a variety of nymphs including scuds, chironomids, zebra midges, pheasant tails. Wooly buggers should also be on the menu. Anglers can expect to catch 12+ inch trout with some trout being over 19 inches. Please return any black bass back to the lake while the bass fishery rebuilds.
Surface water temps are currently setting around the high 40's to low 50's depending upon where on the lake you are and time of day. Fishing has been fair to good as anglers have been catching mostly rainbow trout but several brown trout have shown up in creel surveys. Best fishing for browns would be first thing in the morning or late in the evening. Anglers should continue to do well using Powerbait, nightcrawlers, Panther Martins, Cast Masters, and Mepps. Fly fishermen should be using wooly or crystal buggers, chironomid patterns, copper Johns and blood midges.
The road is rough so care should be taken driving here. Crappie like structure so fish near submerged brush, willows and rocks. Fishing for crappie has been good, so the lake is worth a try if you happen to be in the area. White jigs fished under a bobber near structure such as the riprap on the dam may be productive. Crappie fishing has been good and if the weather holds, should continue to be good for a bit.
Fishing continues to be good with the trout trying to fatten up for the long winter under the ice. The fall has some of the best fishing at Angel Lake, especially for fly fishermen. It won't be long before this lake freezes over, so get out while you can. Dress in layers here as the lake is at 8400 feet of elevation with cold mornings and warm afternoons. Bait anglers have seen fishing slow as trout are keying on aquatic insects. Fly rodders have had success using small elk hair caddis, hopper or yellow stimulator with an olive or peacock soft hackle dropper below, though any dropper fly with green or peacock herl will work. Small spinners and rooster tails should also be effective, just give them enough time to sink to the level the fish are at. Spin anglers can put a fly behind a bobber for casting and have better luck that way.
Anglers will need to prepare to get to the lakes through snow. Lakes are starting to ice over though the recent warm spell has kept some open water on most of the lower elevation lakes. It won't be long before they are completely iced over. With the precipitation predicted this weekend, only experienced back country travelers should attempt fishing the high mountain lakes. The same presentations and techniques that work at Angel all work well up here. Remember the further you get from the trailhead, there is less fishing pressure therefore the better the fishing is. Many local fly fishermen like flies with yellow or red in them such as small humpies or stimulators. However, take a supply of small black flies such as black Adams, beetles, ants, chironomids and Griffith's gnats. When nothing else seems to work, turn to the small black flies. Expect changing weather conditions in the high elevations and dress accordingly. Be prepared to spend the night.
Most area streams are near normal for flows for this time of year with little or no change from last week. Lamoille Creek is flowing at 5 cfs, Bruneau River at 29 cfs, Jarbidge at 7 cfs and the east fork of the Owyhee near Mountain City is flowing at approximately 14 cfs. The Owyhee is very low and fish are hanging in the pools. East central Nevada streams: Cleve Creek is flowing at 6 cfs and Steptoe at 4 cfs, This is a good time of year to target brook and brown trout as they are very active as many are in spawning mode and very colorful. Dead drifting worms on a light wire hook through the pools and runs can be productive. Very small panther martins and rooster tails in the pools will also work. Fly rodders can still expect dry flies to work, starting with small stimulators and elk hair caddis. Terrestrials such as hoppers, beetles and ants will also produce fish. Swinging soft hackle nymphs in the runs or at the bottom and tops of pools can be very productive.
Source Link: