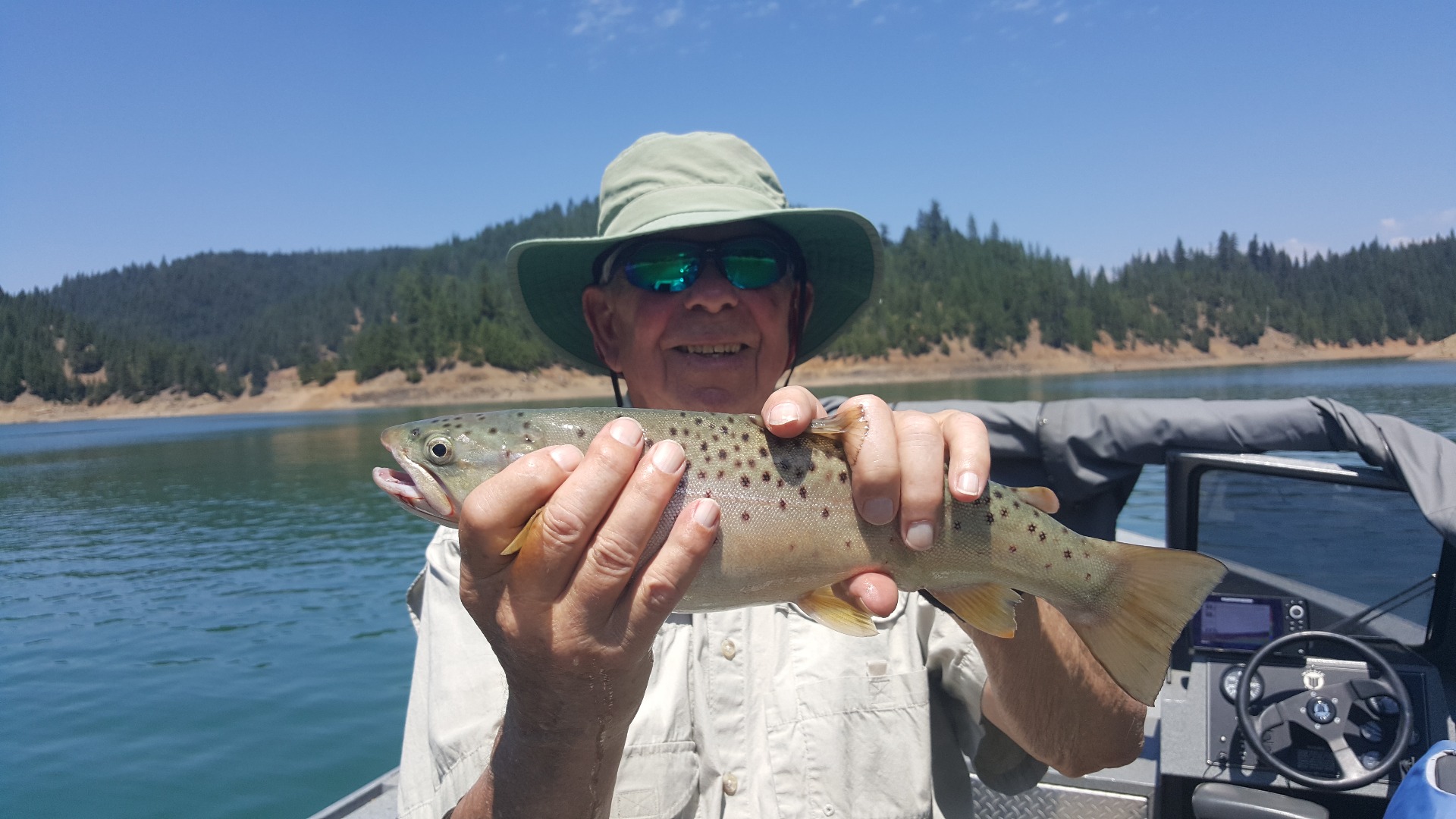 Photo Credit: Scott Caldwell
by Scott Caldwell
7-25-2017
Website
July is just about over but the Summer heat will continue into August. This is a typical weather pattern here in the Yreka/Mount Shasta area. Another pattern that is typical for this time of year is the hot Trout bite at McCloud reservoir. Yesterday, my client Gary Hibner (Ventura, Ca.), experienced this McCloud reservoir pattern for the first time. 
Gary and I launched the my 21ft Willie Raptor at about 6am and from that point on we had bring Trout until we left in the afternoon. We caught and released Brown and Rainbow Trout using a variety of methods. In the morning we casted Dry flies and sinking flies, and as the sun began to show itself we switched to over trolling tackle.
Gold Seps Dodger with a gold Super Duper trailer, a Maglip 2.5 frog pattern, and a Gold Seps Dodger with a woolly bugger trailer were the hit trolling set ups. Each set up was dipped in Pro-Cure shrimp/krill oil these McCloud Trout love this scent. We fished the water column from 10 to 35 feet trolling in an S pattern at 1 to 2 mph. 
Gary and I caught fish near the shore as well as right out in the middle of channel in 150 feet of water as we trolled from the launch out to the dam and back. Most of the Brown Trout were caught using my Canon Mag 20 down rigger at depths between 25 and 35 feet. The Browns liked bit on all 3 set ups I previously mentioned. 
Fish size ranged from 6 to 19 inches most in the 10 to 14 inch class. The biggest fish of the day was a fat Brown weighing between 3 and 4 pounds. It smashed the Seps dodger and super duper combo at 1 pm in the afternoon when the sun was directly over head and hot.
The McCloud river that feeds the reservoir always runs some where between 45 and 50 degrees. This keeps the temperatures in the reservoir down as well providing great water for the fish, so don't let the hot air temperatures fool You into thinking it is to hot to fish. McCloud is a summer time jewel and a great place to fish and beat the heat! 
http://www.myoutdoorbuddy.com/articles/67880072/hot-weather-hot-trout-bite-at-mccloud-reservoir.php