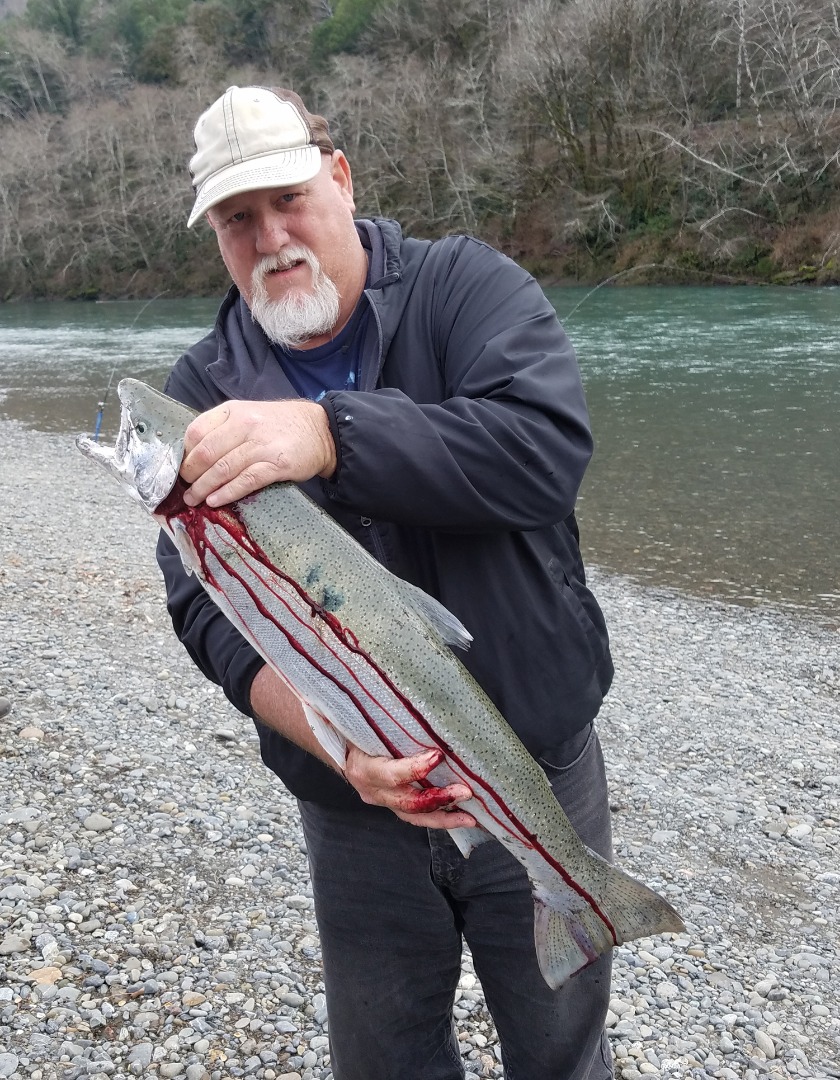 A local angler holds up a nice 12-pound hatchery steelhead caught while plunking a Spin-N-Glo on the Chetco River last week just before the rains came, photo by Larry Ellis
Earlier in the week from Sunday through Tuesday, both boaters and bankies on the Chetco River were catching the occasional winter steelhead.  They may not have been numerous, but they were worth the wait - fat and sassy specimens averaging anywhere from 8 to 12 pounds.
Not a bad average, especially for hatchery steelhead. Those could be 2- or 3-salt fish, depending on how well they ate in the briny deep.
Many of the bank-caught chromers were hooked by plunkers.  This week's photo of the steelhead with blood dripping down its side was at least a 12 pounder and was caught on a - you guessed it - a size 4 Spin-N-Glo.  Pearl Pink with white wings was the magic color.
That was 2,100 cubic feet per second ago. A lot has happened since then.
For example, as I sit here writing this column, which is on a very early Friday morning, the Chetco is currently flowing at 6,870 cubic feet per second and is supposed to crest at 7,000 cfs.
And I can't help but get just a wee bit excited about plunking on any river, especially the Chetco.
And so the age-old question arises, 'What is it about plunkers and physical age'?
Do you plunk because you get old, or do you get old because you plunk?
To that question I can only answer, "Neither".  Plunking definitely has its place in the fishing repertoire, along with side-drifting, drift-fishing, plug pulling and back-bouncing roe. You won't find any drift boats on the river when the Chetco is at a perfect plunking scenario - greater than 4,000 cfs.
I've lived and fished the Chetco for 37 years now, and this I can say with confidence: If the Chetco does not rise any more this weekend, it should provide perfect plunking conditions on late Saturday or early Sunday. And here's why.
On Thursday, the Chetco blew out and was chocolate brown.  Very little rain was expected on Friday and over the weekend, meaning that the river should be slowly dropping and clearing between 5,100 cfs on Saturday and then an even lower drop to 4,000 cfs on Sunday. On one of these two days, the river will be perfect for plunking.
But again, no rain is my disclaimer. Oh, it can rain a little bit on Sunday and the river can still be on-the-drop or remain at a status quo.  Both those conditions produce steelhead.  You'll just have to poke your head out and follow the color.  If the river is dropping and has a coloration ranging from a light pea-green complexion to a slate grey-appearance, break out your plunking boxes.
There should be only one or two days when the Chetco will fish before the area gets hammered by a second storm, which is predicted to bring the river up to 18,000 cfs by Monday.
So keep your eyes peeled to the National Weather Service forecasts just in case they make a mistake.  Remember, being a meteorologist is the only occupation where you can be wrong 50 percent of the time and still hold your job.
This high water is a blessing in disguise for the lower Rogue, which should be getting more wild and hatchery winter steelhead as its flows level out and the river begins to clear.  Remember that the lower Rogue will fish well with slightly-stained, semi-muddy looking water.
Oregon South Coast Fishermen's Upcoming Project
I have to brag a little bit about my home town of Brookings.  It has, by far, the best fish-cleaning station on the Oregon coast, and trust me - I have visited all of them!
This fish-filleting facility has 8 fillet tables with fresh water available at all of the tables.  In addition, it also has electrical outlets for the person who is electric fillet knife savvy.
It probably gets visited by more folks fishing other river systems than I can count.
Well, this facility is getting a major facelift, thanks to the Oregon South Coast Fishermen and a grant from the R&E board. R&E stands for restoration and enhancement and is an ODFW program.
"The R&E board will recommend to the Commission in March that a grant right around $6,500 be approved," said Richard Heap, the Oregon Sportfishing Representative on the PFMC Salmon Advisory Sub-panel. "The R&E board did bless it so that's a very good positive step forward."
With the help of OSCF, the grant will replace all the plumbing above the floor.
"So all the piping will be stainless steel," notes Heap.  "We're going to put in new cutting surfaces and we're going to move the electrical boxes to the end of the tables, so every table will have an outlet available to it. Each side will now be able to plug into the same box.
"We're also going to replace the fascia boards outside, as well as all the wiring, and we're going to completely paint the inside and outside.  In addition, we're also going to replace the roof. It's going to get a complete redo."
Additionally, the Oregon South Coast Fishermen also got a $1,500 grant from the City of Brookings.
"We're going to put in a big metal sign that says, 'Port of Brookings Harbor' and it will have fish-hanging hooks on it for the purpose of getting pictures," says Heap.
More Oregon South Coast Fishermen projects will be continued in weeks to come. This is one of the friendliest and more active volunteer clubs on the Oregon coast.
Tight lines!
 Larry Ellis, author, writer, columnist and photographer has had a 50-year passion for fishing in California and Oregon's saltwater and freshwater venues. He is a well-known writer for Oregon, Washington and California Fishing and Hunting News, Northwest Sportsman, California Sportsman and Pacific Coast Sportfishing. He currently writes monthly for Salmon Trout Steelheader Magazine, and is the author of two books, "Plug Fishing for Salmon" and "Buoy 10, the World's Largest Salmon Run."  Both books can be bought from Amato Publications (amatobooks.com), Amazon and eBay. Ellis particularly loves living in his hometown of Brookings, Oregon - The heart of salmon country and gateway to fishing paradise.
Source Link: