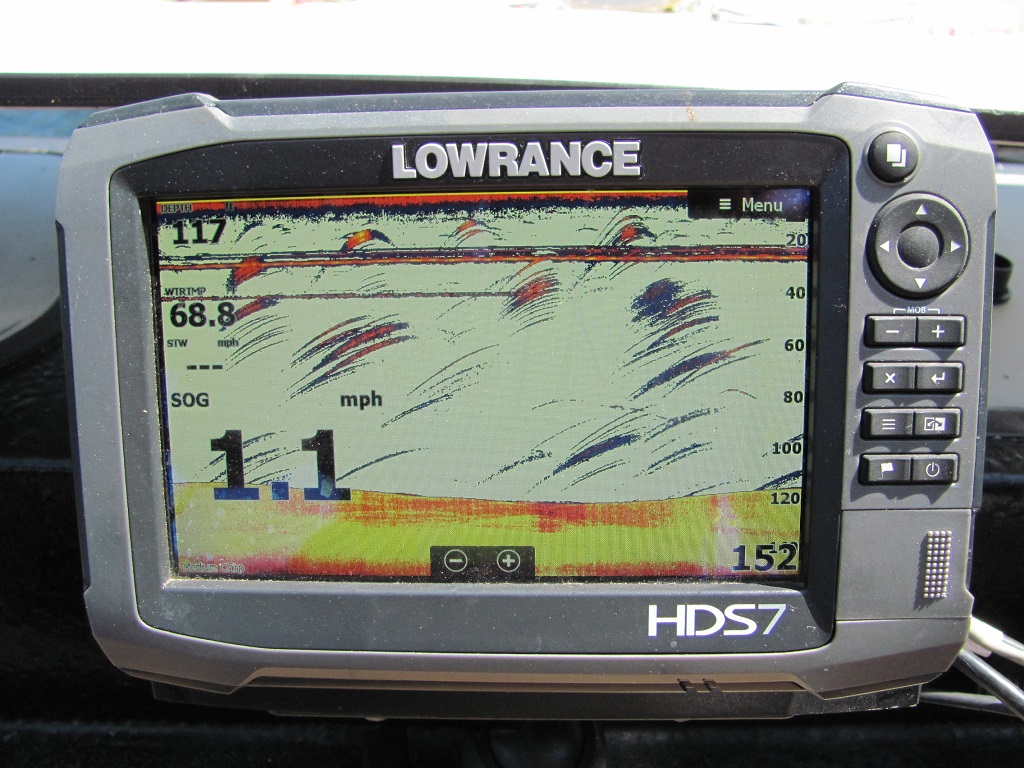 If you like camping and fishing in extremely remote locales, Hell Hole Reservoir is for you. It's located in the Eldorado National Forest, reached by very long, sinuous roads, and there's rainbows, browns, mackinaw, and kokanee to fish for. Like many other Sierra lakes, Hell Hole also contains a healthy population of crawdads.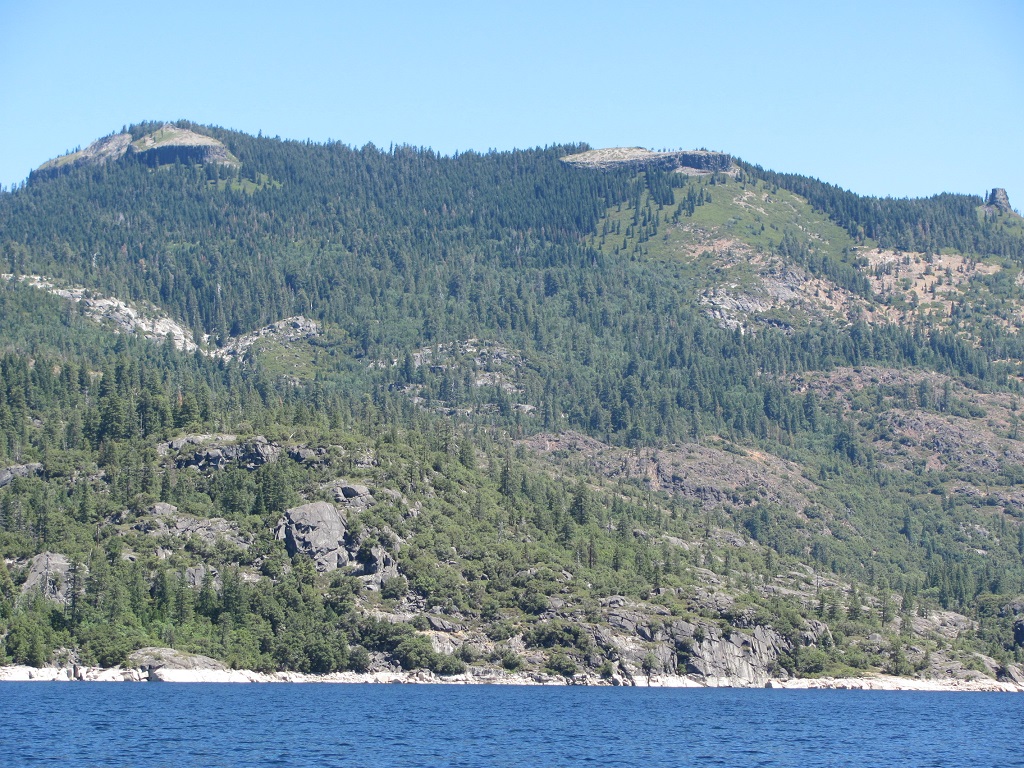 Hell Hole Reservoir, where the makeup of the terrain is a geological interface of granite and volcanic.
My cohort, Kevin Ogg, and I visited Hell Hole this past weekend and caught our limits of kokanee both Friday and Saturday, but there were some slow bite periods for us. After a couple of productive passes through a school of kokanee, they would seemingly spook, the bite would shutoff, then, time to find another school. But revisit that school later, you'll be able to pick up another couple.
That kinda sums up our experience except for one exceptionally slow period late morning of our second day, Kevin puts a Dr. Kevorkian at 70' and this remained our goto lure that day, clearly out performing any other setup, even matching color presentations. Our first day the fish primarily came on orange Paulina Peak terminal gear. Fishing deeper than 50', we had very short setbacks behind hammered chrome shark weights and Ken's Custom Tackle ball flashers. Fish were caught from 24' to 70' OTW, depending on location and time of day, and our trolling speed varied based on the tackle being deployed.
Together this year, Kevin and I have sampled kokanee from many different waters, including Flaming Gorge, and we agree these kokanee from Hell Hole are the best quality. Not the fastest action, or the largest...just decent CA size (15" the biggest) and very high quality.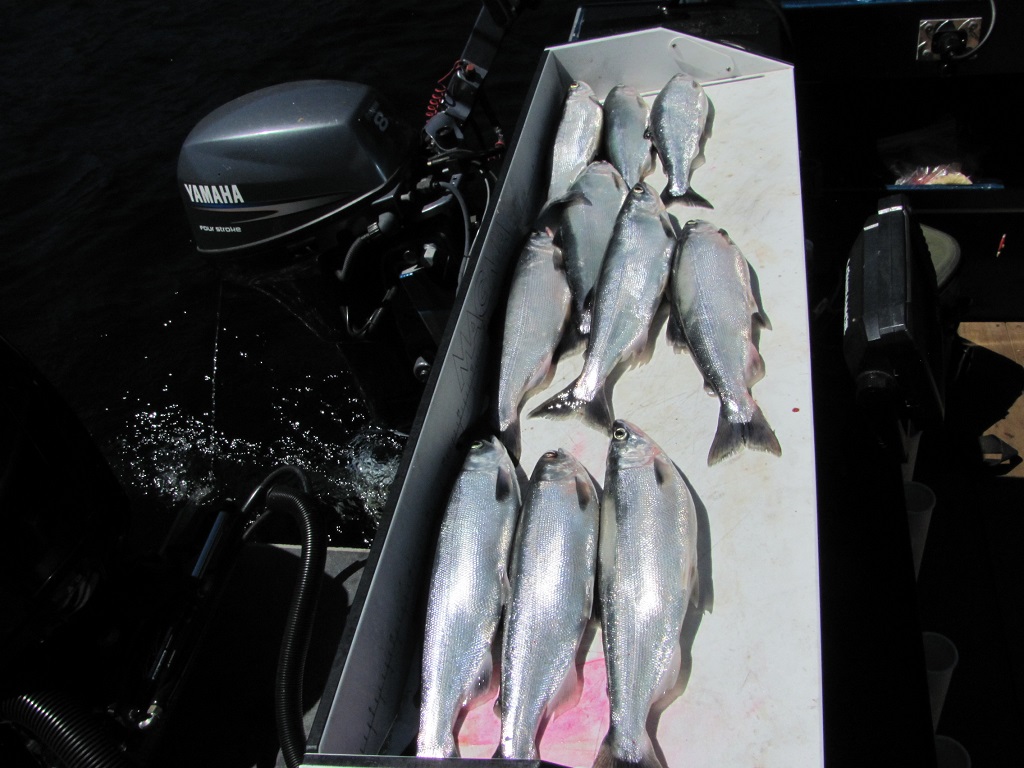 Limits of quality kokanee from Hell Hole.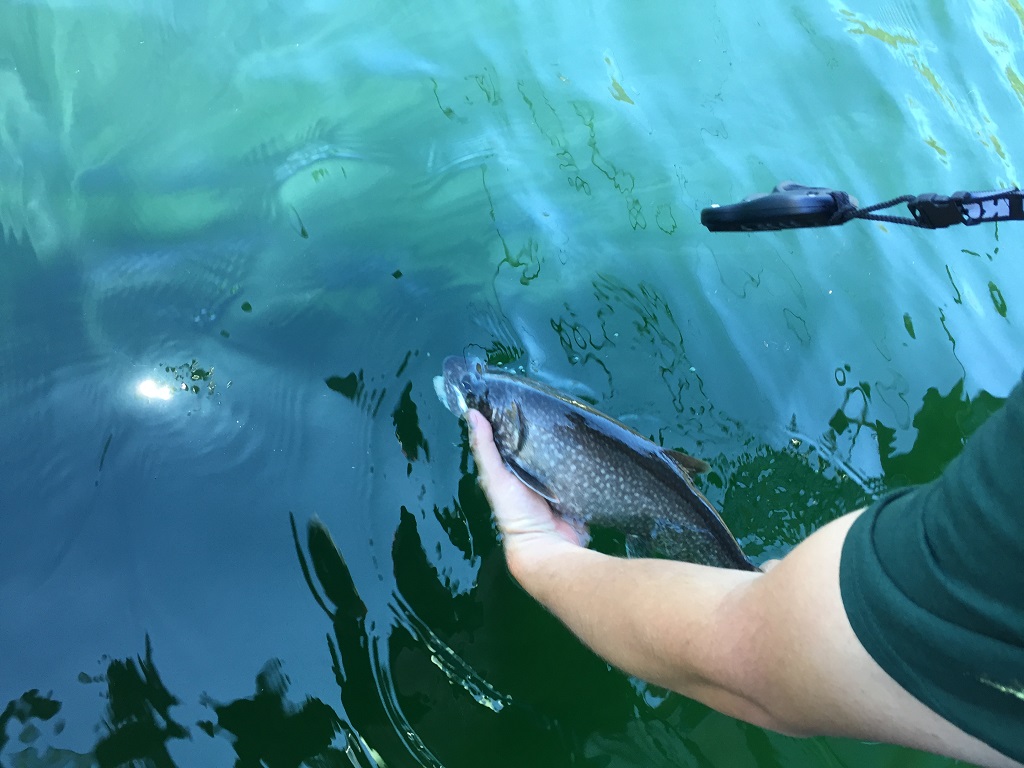 By accident, we also caught rainbow and mackinaw.
A crawdad boil is a perfect addition to kokanee. Set the traps out early, then go fish for the day. Return to the traps when leaving the water, unload the crawdads, and re-bait the traps. Keep the crawdads alive in cold, fresh water until you emerge them in the boil.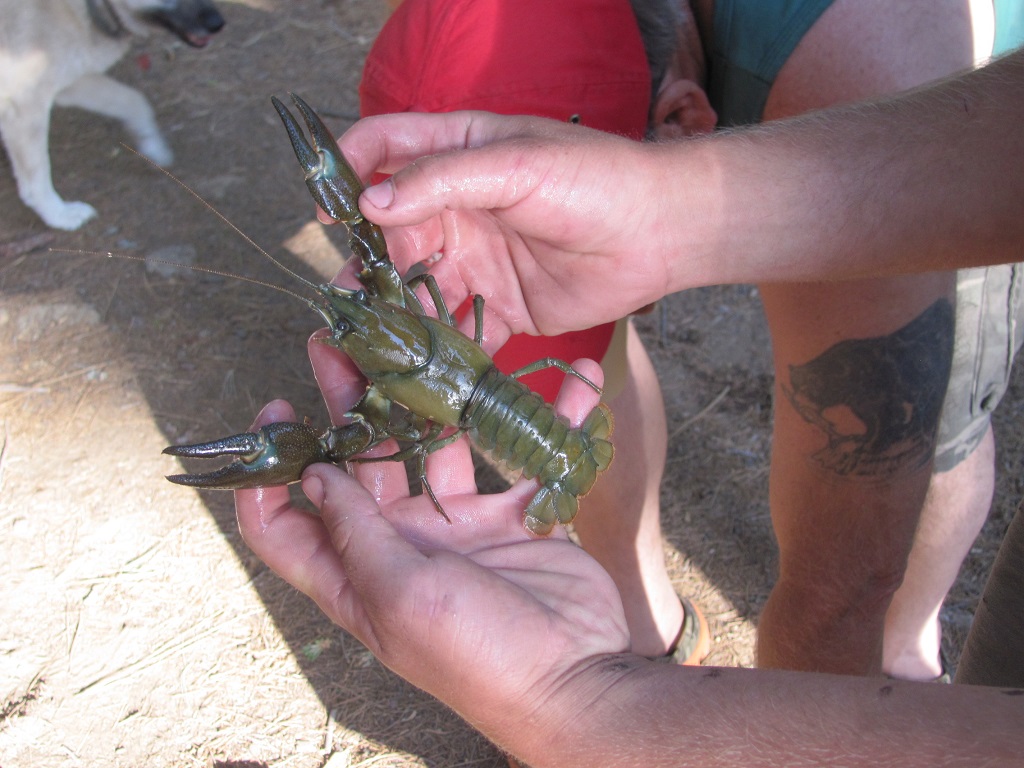 This is the largest crawdad I've seen come out of Hell Hole.
Crayfish are harvested both for bait and human consumption. Signal crawdads, Shasta crawdads, red swamp crawdads, and virile crawdads are the predominant species recognized in California. The Shasta crawdad is protected -- check CA DFW regulations. For more on the endangered Shasta crawdad including identifying characteristics, see "A Safe Place for the Endangered Shasta Crayfish."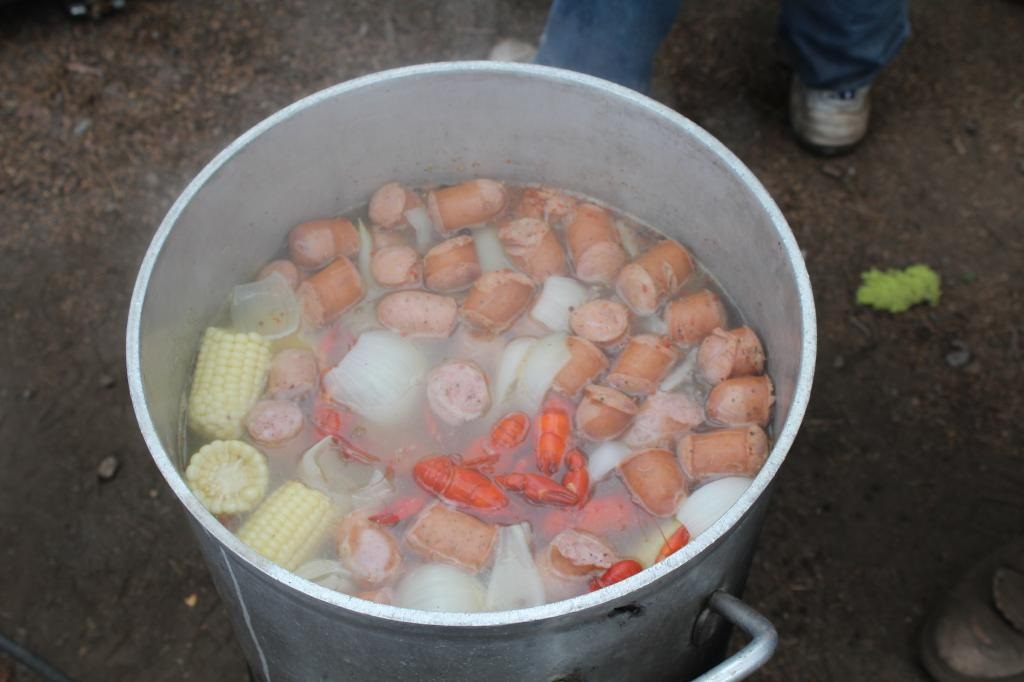 All cooked and ready to go! It's important to keep crawdads alive in cold, fresh water until adding to a rolling boil. Rinse them well directly before cooking. Don't ever put a dead crawdad in the boil.
Ingredients to a crawdad boil is individual, so use whatever you like best. Along with crawdads, basic ingredients are corn, potatoes, peppers, onion, celery, green beans, even other meats such as sausage. For seasoning, it's generally a Cajun gig. You can invent your own Cajun seasoning or there's seasoning packages you can purchase, such as Zatarain's Crab Boil or Louisiana brand Crawfish, Crab, and Shrimp Boil. I prefer Cajun seasonings, I mean come on...spice it up folks, it's crawdads! Blackened kokanee, long-grain wild rice, and a crawdad boil is tough to beat.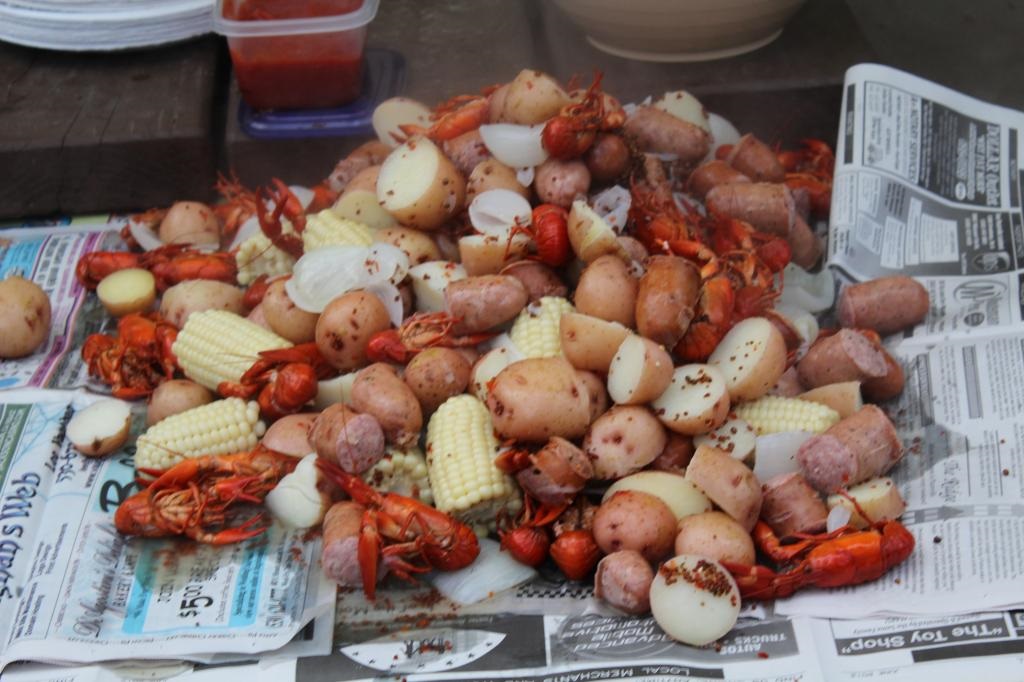 Grab a plate.
If you plan on visiting Hell Hole, please realize its remoteness. There's a lot of forest road to travel to get there. There's no running to the store for something you forgot. Have plenty of gas before going, in case you take a wrong turn. There's two campgrounds; Hell Hole and Big Meadows. Big Meadows is by far the better option, the other is a swampy, mosquito-infested hole. Currently, there's an active bear in Big Meadows so store your food properly...there's bear boxes in each campsite.
The construction of a dam on the Rubicon River created this reservoir, before that, the remote canyon was known as "one hell of a hole." Plan well, be safe and have fun camping, fishing, and eating at Hell Hole.
Phil "Flip" Akers is a diverse angler and outdoor adventurer. For over 25 years he has backpacked, packed llamas and fly-fished the Sierra Nevada and Cascade mountain ranges, venturing into the farthest reaches of our wilderness areas pursuing quality trout and solitude. He enjoys sharing his experiences including tips, techniques, outdoor cooking recipes, and storytelling. He is certified in wilderness first response and rescue including swiftwater rescue, technical rope and technical animal rescue. Phil Akers can be reached at akers209@att.net.