Guru of all things fishing tames Willow Beach waters
Written By C. Douglas Nielsen Special to the Review-Journa
July 5, 2017 - 3:08 pm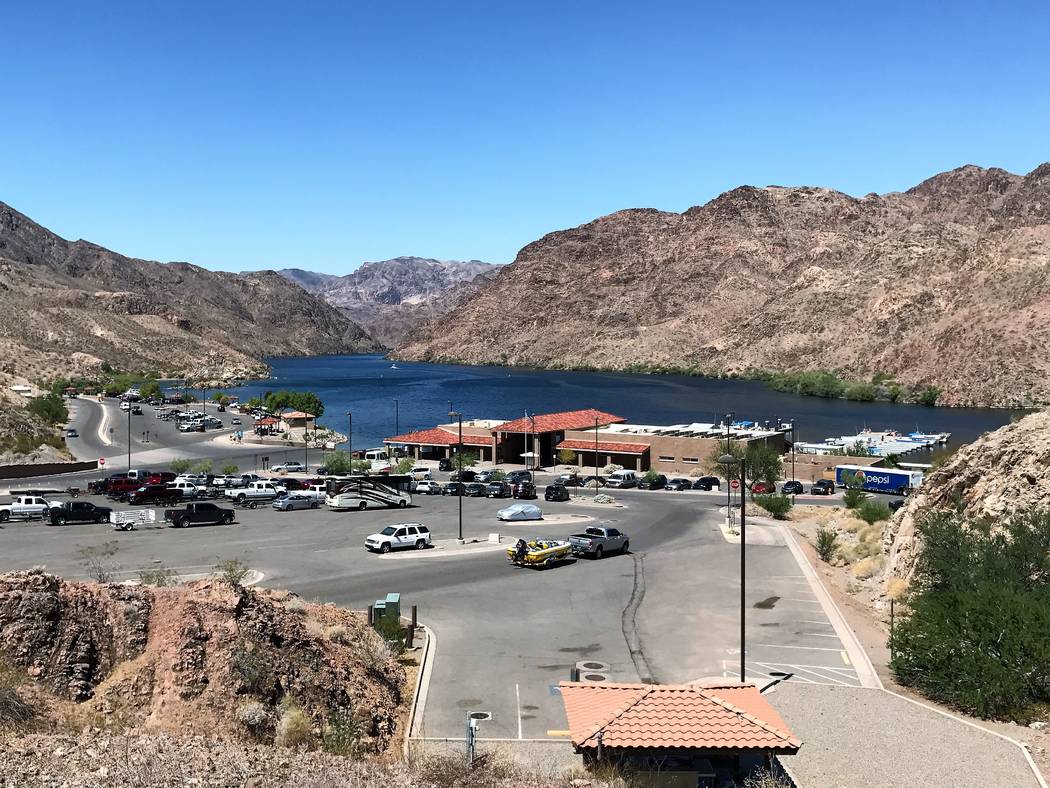 Some waters have a mind of their own when it comes to fishing. They have the unique ability to humble one angler while making another look like the guru of all things fishing.
I still can remember standing waist deep next to my dad in a cold mountain lake high in the Wasatch Mountains of Utah. Just down the way was a wader-clad angler who reeled in fish after fish while we waited anxiously for the bite that never came. No matter what we threw, the only action we saw was the movement our constant shivering gave to our fishing rods. Blue jeans and tennis shoes just don't cut it when it comes to staying dry and warm while wading.
Looking back, there was a good chance we never would have felt the bite of a nervous fish had one decided to take our bait. We kept fishing until the cold turned to hurt and then left empty-handed. As we hiked back toward camp, I couldn't help but wonder how the fish in that lake knew to bite only our neighbor's bait. Or why the fish stayed only where he was fishing.
Throughout the years, I have experienced this phenomenon on various waters, including in Southern Nevada.
Sandwiched between Lake Mead and Lake Mohave is a stretch of the lower Colorado River that tests the skills of the most experienced anglers. Technically, it is the upper end of Lake Mohave, but because the water flows through Black Canyon, it maintains the characteristics of a river. Therefore, most people still refer to this part of the lake as the Colorado River.
About 12 miles below Hoover Dam, the river takes a wide, sweeping turn to the southwest. Here the river flows clear, so clear that when there is little wind, one can see the bottom in 30 feet of water. This is Willow Beach, and in the corner of the bend is a marina called by that same name. Here one can launch a boat, rent a boat or kayak and catch fish. But not just any fish.
Willow Beach is home to rather large striped bass. Fish pushing past the 10-pound mark are common, fish weighing more than 20 pounds aren't unheard of, and every now and again an angler will reel in one that weighs more than 30 or 40 pounds.
Sounds inviting, doesn't it? The problem is, Willow Beach is one of those waters that humbles one angler and makes another look like a guru of all things fishing. It seems like there is no middle ground. Either you catch fish at Willow Beach, or you don't.
In recent weeks, there have been several reports of anglers weighing in fish at more than 10 pounds. In the marina store, you will find a bragging board with a long list of anglers who have caught double-digit stripers and their bait of choice. Almost all are using some variation of a rainbow trout imitation ranging from affordable to ouch in price. Trout imitations make sense because in this part of the river the striped bass feed on stocked rainbows.
With hopes of getting rid of some of the Willow Beach humility I have earned over the years, I loaded up the kayak Monday morning and headed south.
When I pulled into the parking lot, the river was glass smooth and inviting. I tied on an LA Slider and started paddling. I slow-trolled the trout imitation in a grid pattern, working my way back and forth. First north to south and then east to west. At one point, I caught the silvery glow of good striper swimming along the channel bottom on the Nevada side of the river. Was he a 10-pounder? Probably not, but a good fish nonetheless. I was just too slow and missed the opportunity.
After more than two hours of exercise, I packed up and called it a day, taking with me another helping of Willow Beach humility. Luckily, nobody else was catching fish, either, so there were no gurus of all things fishing. Or so I thought.
Then on Tuesday afternoon, I checked the Willow Beach Facebook page and found a picture of an angler known as Pokey with a 33-pound striper he caught Monday on an unnamed top-water lure. There is a guru of all things fishing at Willow Beach after all.
Freelance writer Doug Nielsen is a conservation educator for the Nevada Department of Wildlife. His "In the Outdoors" column, published Thursday in the Las Vegas Review-Journal, is not affiliated with or endorsed by the NDOW. Any opinions in his column are his own. Find him on Facebook at @dougwritesoutdoors. He can be reached at intheoutdoorslv@gmail.com.
https://www.reviewjournal.com/sports/sports-columns/in-the-outdoors/guru-of-all-things-fishing-tames-willow-beach-waters/